Eco-Friendly Gift Wrapping Ideas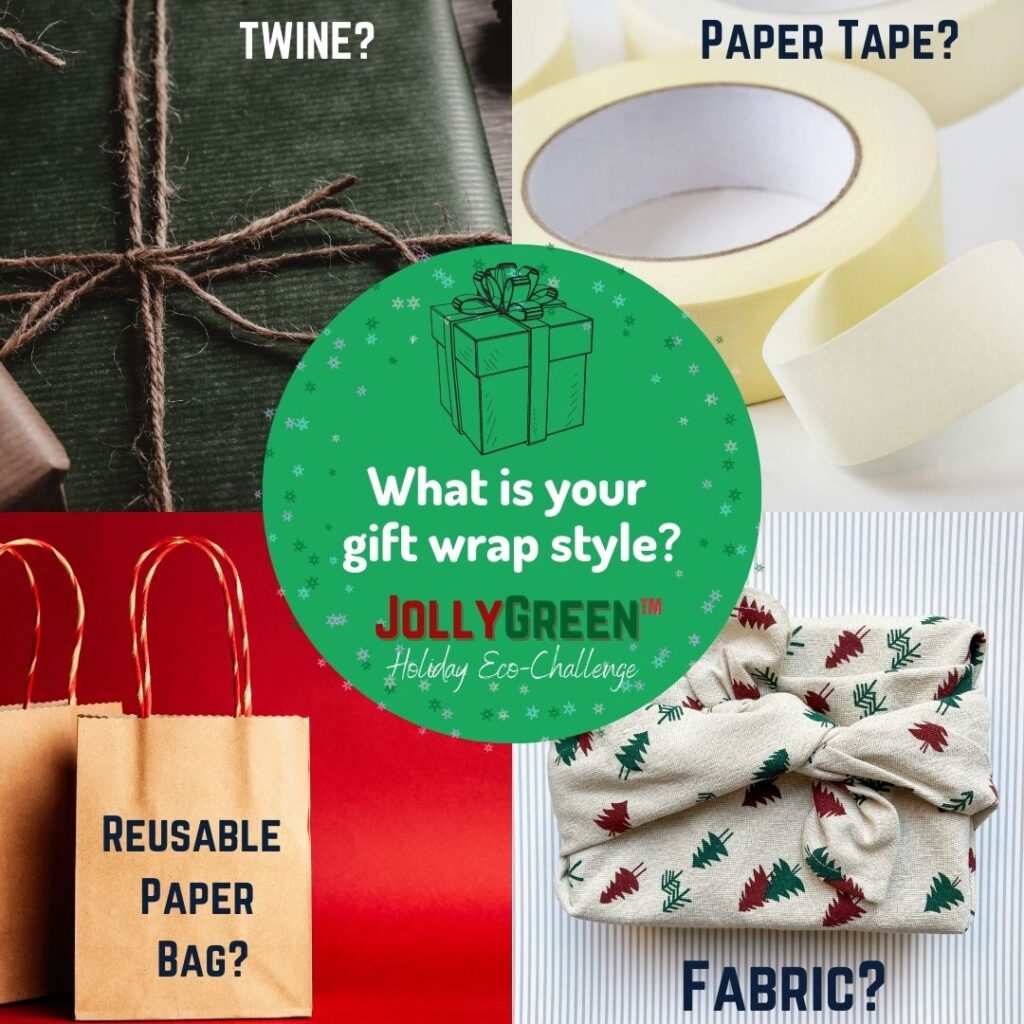 First of all, can wrapping paper be recycled?
This can be a hard question to answer. The answer to 'can this be recycled?' will always depend on your local recycling facility and its capabilities – this can vary from region to region. Check your local rules before placing items into the bin. This article will help inspire you with eco-friendly gift-wrapping ideas!
DID YOU KNOW? 
540,000 tonnes of wrapping paper — the equivalent of the weight of 100,000 elephants or 4.5 CN Towers — ends up in landfills following the holidays.  (Source:  Zero Waste Canada, 2017)
Not many people realize that the mishmash of so many non-paper materials like foil, glitter (plastic), and laminate (plastic coating material!) makes a lot of holiday wrapping – unrecyclable. Don't forget the sticky tape, ribbons, and cellophane. 
We can do this differently. We need to! 
We challenge you to get creative with your gift wrapping – for any occasion!
Upcycled Paper Bag Gift Wrap
You don't need to look further than your recycle bin for materials to wrap your gifts.  The video below shows how to wrap a gift using the inside of a paper bag.
This can give you the basic how-to wrap a gift in recyclable and upcycled materials.  From here, you can level up your gift wrap by adding on garnishes made from natural, recyclable or reusable materials. Read on for more ideas on those extra special details. 
Upcycled Gift Wrap Garnishes
This video also demonstrates a gift wrapped in recycled materials.
You can level up your plain paper bag with designs on the paper or add decorative elements. This video below shows you how to make a festive stamp using a wine cork and aluminum foil to make a sparkly bow. 
Reusable Wrapping Paper? Try this instead!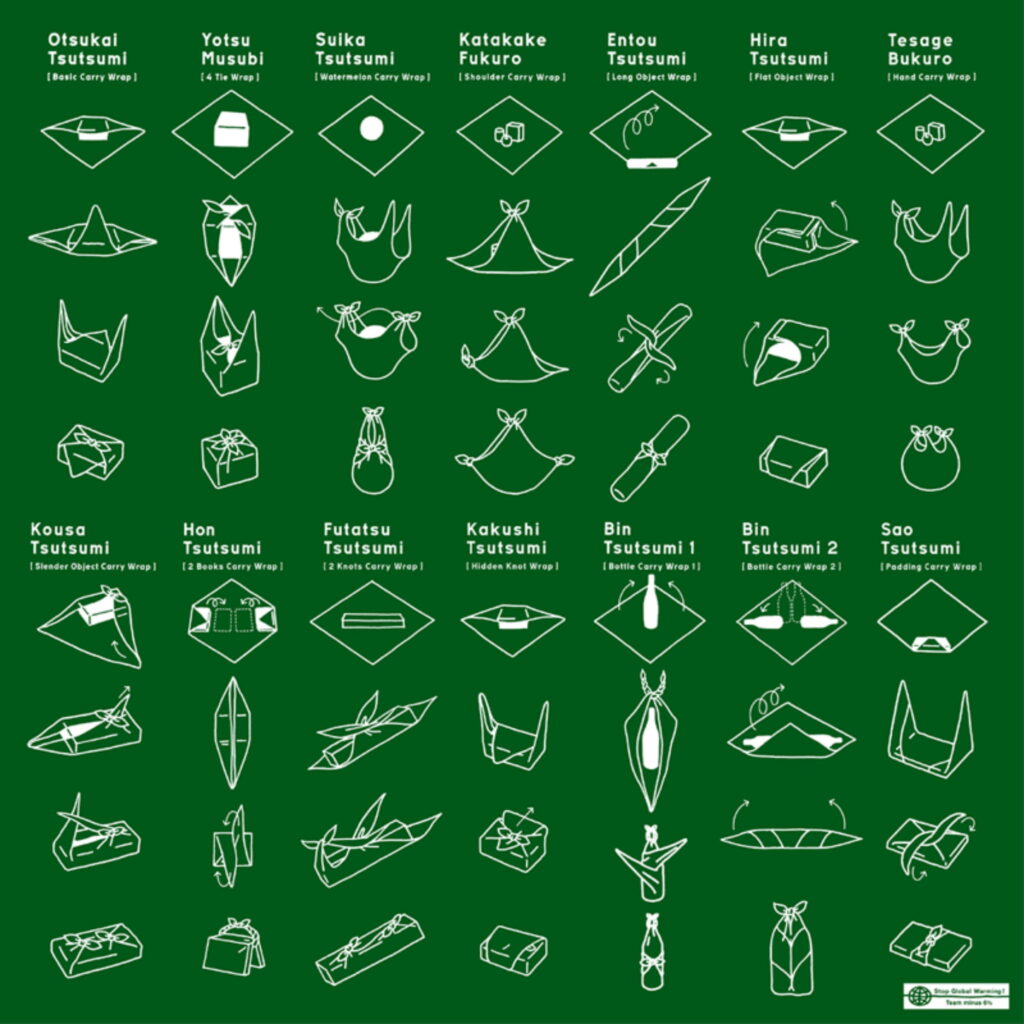 What is Furoshiki? They are traditional Japanese wrapping cloths traditionally used to wrap and/or to transport goods. 
The inspiration of Isa Monyo patterns comes from nature and landscape. You can purchase furoshiki wraps from eco-friendly providers like these here.
Alternatively, you can seek out fabrics from your local buy-nothing group, secondhand stores, Facebook Marketplace or other thrifty networks local to you. 
Think beyond a gift bag and check out the fabric or linen section. You can use a bandana, handkerchief or tea towel to wrap a gift. 
Learn more about folding techniques from the image above from the Japanese Department of Environment or in the video below! 
Plastic Tape Alternatives
how to wrap christmas presents: Alternative Gift Wrapping Ideas
Check out these submissions from our community members who made use of materials like:
old maps
newspapers
kid's artwork
Anything can be wrapping paper, especially if it gives that material added life and prevents the use of new materials. Always be mindful of it's afterlife when adding decoration. Glitter is litter so refrain from adding extra plastic elements that may make your gift wrap unrecyclable.
Be a Green Elf and use eco-friendly wrapping paper is one of our challenge actions. 
Did you know that globally, our waste levels increase by 25-35% during the holidays? 

Join Our JollyGreen Holiday Eco-Challenge for more ideas to reduce waste at this festive time of year.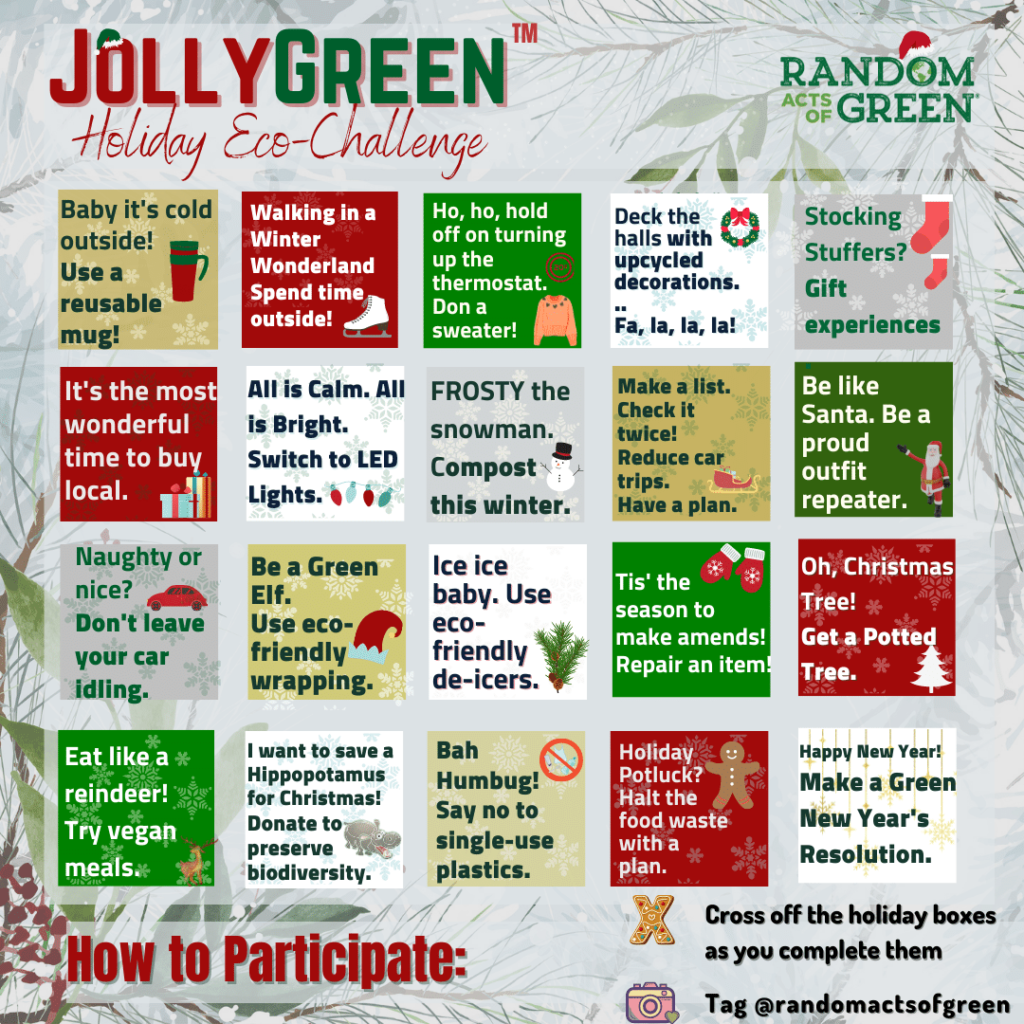 A Question That Generates Many Discussions:

If you receive a gift in a reusable bag, do you offer the bag back to the giver?
Take this conversation to socials by sharing this article and seeing what others think.

Get ready for green learning with our unique eco-friendly school supplies checklist for back to school season.
Read the Full Story

Stay on track with your Green Goals with our list of 13 paw-some eco-friendly pet products to try this August.
Read the Full Story