Would you consider your Halloween green?
For us, the scariest thing about Halloween is the impacts of this holiday on our planet. 
The amount of waste that this single holiday can generate is mind-boggling: from flimsy single-use costumes to plastic candy wrappers, to mass-produced decorations.
That's why the team at Random Acts of Green designed a unique opportunity to help keep the climate action momentum strong: our 6th annual HallowGreen Challenge™!
Check it out here: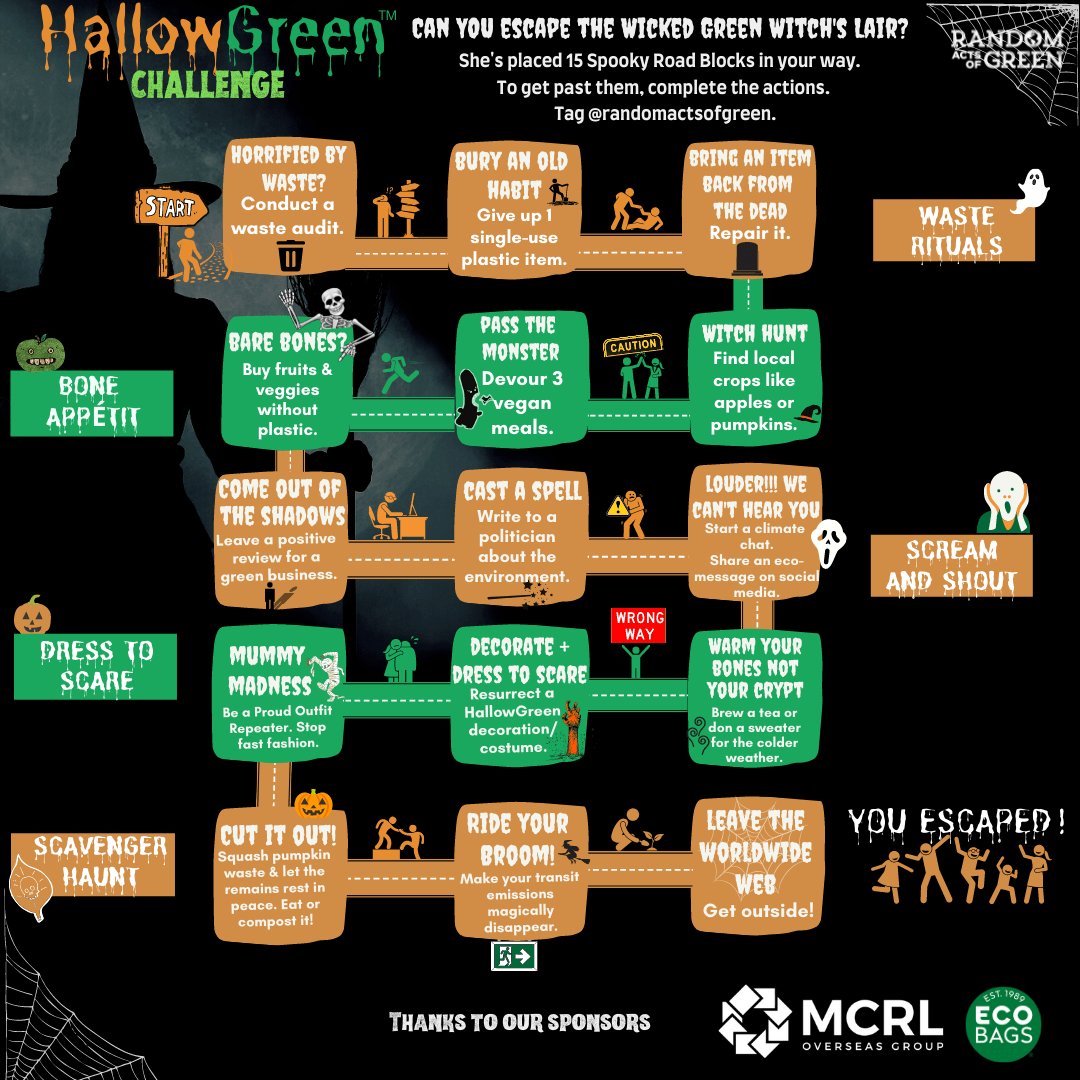 Here's how you can participate in HallowGreen™ this year:
Complete as many HallowGreen™ Acts as you can!
Share your progress by tagging @randomactsofgreen
Scare others into making lifestyle s-witches and challenge them to join in!

 
Below, we have also compiled a list of lifestyle s-witches you can make to keep the Green in HallowGreen™ !
So come out of the shadows and check out our HallowGreen
™ 

Acts that will be sure to create a chilling holiday season:
An Enchanting Green Trick for Custom Gift Boxes!
Here are 3 ways our friends at MCRL, a company that creates boo-tiful custom print jobs, produce greener custom gift boxes and packaging that we think you will love:
➡️  Dress Up Your Packaging with ESKA®Board
ESKA®Board uses 100% recycled raw materials – the gold standard in recycling and solid board construction.  It also lays flat and stays flat.
Looking for Collapsible, Magnetic Closure or Drawer Boxes? Packaging or Subscription Gift Boxes? 
You name it, MCRL makes it. Innovate your packaging with ESKAboard. 
➡️  Oh not so Soy Scary Ink 
MCRL only uses soy ink. Why? Because soy-based ink is safer to humans and the environment than lead-based inks. Plus soy ink is more vibrant and less expensive than petroleum inks.
MCRL's custom boxes create positive impressions and memorable experiences, at an affordable price with a minimal carbon footprint.
➡️  Trick-or-Tree
In an effort to protect our forests, MCRL recommends using FSC paper or bamboo  paper stock for all book, journal and packaging projects.
We love that MCRL donates 10,000 trees each year to Trees.org for the Future. If you choose eco-friendly print options, they'll add a badge of support to your printed book, journal or packaging. 
Whether you are designing a new custom gift box or updating product packaging, get more eyeballs and delight your customers by choosing less environmentally scary packaging. 
For packaging videos, checkout MCRL's YouTube Channel  For printing tips and product ideas,  follow @mcrlprint
To learn more about MCRL and to request an eco-friendly quote, click the button below:

Horrified by Waste? Keep your Halloween Green this year by creating upcycled decor using Loop's Recycled Paint.


Decorating is one of the best parts of Halloween but also the most wasteful. As the second-biggest decorating holiday of the year, many of the decorations are made from non-recyclable plastics.
This year, say "BOO" to the plastic, disposable Halloween decorations and create some fangtastic upcycled Halloween décor!
A staple for any crafting party is paint- but are you horrified of how much paint is wasted? So were Loop! So much so, they're turning wasted paint into a beautifying resource!
Every year, Ontarians generate more than 13 million kilos of leftover paint. If that paint doesn't get recycled, it gets incinerated or sent to landfill. That releases toxic chemicals into our air and water. Loop think it makes more sense to keep those chemicals where they belong—inside a paint can.
Loop Recycled Products are the only household-to-retail paint program in Ontario.
Their mission: To divert as much paint from landfill and incineration as possible.
How? Loop Paint collect leftover, unused paint, sort it by type, colour, and quality then professionally process it into recycled paint for resell.
It's great paint because it's made from great paint. Loop Paints are currently available in Giant Tiger locations.
To learn more about Loop Paints click the button below to visit their site. The RAOG team reviewed Loop paints earlier this year. You can learn more here.
Use an ECOBAG while Trick or Treating
Don't be a Forgetful Frankenstein this HallowGreen™ . Remember your reusable trick or treat bag this year! We recommend ECOBAGS.
ECOBAGS opened for business in 1989 at the New York City Earth Day Fair. They had 1 Mission: "clean up the planet, one bag at a time!"
Now here they are – 32 years later- and they've saved millions of plastic bags from entering the waste stream.
ECOBAGS makes 100% cotton, biodegradable, responsibly sourced, reusable bags that can be used over and over again for YEARS to come. How long, you ask? Well, they still have bags in use from 32 years ago when it all started!
ECOBAGS is a:
Certified B Corporation
A woman-owned company
Their recycled products are certified for both environmental and social responsibility by SA8000
Their products are organic, and are certified GOTS.
When you choose ECOBAGS, you're choosing the truly environmental and ethical bag: it's good for you, it's good for the planet and even better for storing all your HallowGreen Treats…YUM.
Don't be a Forgetful Frankenstein and opt for a reusable trick or treating bag this year!
Interested in learning more? Click the button below to visit ECOBAG'S website!
Dressing up?
One of Halloween's worst environmental problems is the amount of single-use outfits.
Make your Halloween Green with these 2 steps:
👻 Step 1 – Create a costume using items you'd wear regularly!
👻 Step 2 – Be a proud outfit repeater.
Doing so will slow the pace of fast fashion while making your Halloween Green!
Super heroes (and super villains!) wear the same outfit everyday! We're not saying you need to take such drastic measures, however … we are suggesting a step away from 'Fast Fashion'.
Fast-fashion refers to cheap, mass-produced clothing, leaving the environment, and often the people who make them, to suffer.
The fast processes used in the fashion industry require cheap unnatural materials produced via poor agriculture practices, toxic chemicals and synthetic fabrics.
In fact, the fashion industry is the second largest polluter of the worlds clean water sources.
Polyester and other man-made acrylic fabrics are made from non-renewable crude oil, causing these fabrics to shed micro plastics. Plus, they become almost impossible to dispose of.
The speed at which garments are produced also means that more and more clothes are disposed of by consumers, creating a huge amount of textile waste.
The good news is that because we all need to wear clothes, we have the power to create change by making different choices about the garments we wear and buy and there are lots of easy options for side-stepping fast fashion and not contributing to the demand.
By shopping second-hand, swapping clothes with friends, shopping sustainable and ethical, slow-fashion brands, and remembering to shop your wardrobe to find clothes to wear, you can help curb the damage from fast fashion.
Support brands, like Mini-Cycle, that specialize in the circular economy for fashion.
Mini-Cycle offers new and preloved clothes 0 to 10 years old and guarantees to buy back everything once the kids outgrow their clothes.
Let's steer away from FAST FASHION industries that encourage waste❗️
Check them out!
Give up one wasteful item by burying a wasteful habit (not literally 👻):
While not necessarily Halloween Green -ifying – One of the green-acts in our HallowGreen Challenge™ this year encourages you to bury one wasteful habit this month. We're thinking outside of the box here …
Did you know that you can recycle contact lens blister packs?  Green-act business members Peterborough Optometric offer this very service.
And, and(!) Bi-Oh! Is now offered at Peterborough Optometric. This is a biodegradable cleaning solution with a unique biotechnology formula that dissolves grease through hydrolis and removes residue lodged in the hinges of glasses
Bi-Oh!'s unbeatable cleaning power relies on the formula's unparalleled enzymatic activity
This cleaning solution is:
🌎 Odourless
🌎 Alcohol-free
🌎 Solvent-free
🌎 VOC-free
🌎 Biodegradable in less than 14 days
Bi-Oh! is safe for anti-glare lens treatments and is suitable for all types of glasses and optical lenses, including camera lenses and telescopes
In addition to their creative recycling program and eco-friendly products, Peterborough Optometric have also gone paperless in their office, they're Bullfrog Powered and they encourage their staff to bike to work! Do you consider the environment when choosing your optometrist?
Horrified by waste? Conduct a waste audit!
Most businesses generate BILLIONS of tons of industrial solid waste each year, according to the U.S. EPA.
Much of it gets DUMPED in landfills that emit large amounts of greenhouse gas emissions.
But, some companies are changing their ways – including our Green Act Business Member: Hub Labels.
By tracking waste data, defining zero waste, prioritizing waste reduction, building sustainability as a culture, strengthening supplier partnerships, and resolving regulatory challenges…
Hub Labels has become 100% Landfill Free in September 2019.
This has eliminated over 750,000 lbs of waste to landfills annually!
There's SO much more. Visit Hub Labels at the button below for more information on this fantastically green company.
Did you know that …. Conducting A Waste Audit is one of our HallowGreen
™

Green-Acts?

Hub Labels above have certainly combat excess waste in the workplace, here are some ways you can interpret this green-act at home:

Evaluate your weekly waste:
🗑️ Do you put out 2 garbage bags every week? Try and cut it down to 1.5.
🗑️ Are you recycling everything you could? Check out your municipalities app to see what's recyclable and what's not.
🗑️ Set up a compost bin in your garden or in your house. The Box of Life and Eartheasy have fantastic compost solutions.

Make your Halloween Green! Conduct a HallowGreen Waste Audit!
🎃 Don't buy pumpkins as decor, make upcycled decor instead.
🎃  Give your kiddo's a reusable tote for candy. Ditch the plastic pumpkin buckets.
🎃  Support local if you can and get locally made candy and treats.
Learn about more spooky-centric arts and crafts here.
Leave the Worldwide Web – get outside!
Another HallowGreen Challenge™ act is to get outside and ditch the world wide web.
Halloween falls on a Sunday this year: We're challenging you to get outside on the Halloween weekend to reconnect with nature:
👻 Take a hike on a local trail;
👻 Sit on your balcony and listen to the outside world;
👻 Visit your local park
👻  or walk to the shops instead of driving your car!
Have kiddos? Explore new learning techniques that can incorporate nature. We wrote a whole blog about this very thing here.
Random Acts of Green business member, Play Unloosed sells creative kits that are compiled of products that are natural or biodegradable or reusable.
Play Unloosed promotes play with loose parts, a practice that is more sustainable that traditional play with toys. Loose parts are open-ended, authentic objects that children can manipulate because they are unattached. Since these objects have no predetermined play purpose, as a typical toy would, children are empowered to use their imagination.
Early childhood educators have used loose parts with children for a long time, but this practice is not widespread in the home. By providing parents with quality curated kits of loose parts, Play Unloosed are introducing parents to a new way of play that is more sustainable than standard toys and also greatly beneficial for kids.
Once parents realize how children explore the world, parents will realize that "toys" are everywhere, from the pine cones outside to the plastic containers in the recycling bin. This will change our consumeristic attitude toward playthings, spark greater awareness of our existing resources, and encourage more creativity and thinking skills among our children.
Learn more about Play Unloosed at the button below.
Come out of the shadows and leave a review for a green business!
We're often quick to leave a bad review when we feel disgruntled with a service. S-witch this this October by leaving a great review for an eco-friendly business.
Businesses that work with Ecoenclose are sure to get a thumbs up from Mother Earth!
Ecoenclose is the world's leading provider of sustainable ecommerce packaging.
"We love the eco-friendly companies we work with and make it our mission to help them be proud of how they ship. We do not compromise on sustainability – the majority of our products have as much recycled content as we can possibly utilize, are recyclable, and are printed with sustainable inks."
Ecoenclose offer many packaging options you can't find anywhere else, including Algae Ink, Zero Waste Shipping Labels and Stickers, and 100% Recycled Poly Mailers.
If you've purchased secondhand decor this October from a local charity shop, or maybe you rummaged in your local thrift store for your costume and had a great experience? —  Leave them a good review!
🧹 We hope that these Tips and Tricks have helped you make your Halloween Green this year! 🧹
Are you participating in our HallowGreen Challenge™? Be sure to tag us in your posts on your socials – #RandomActsOfGreen.