10 Environmental Activists You Should Be Following in 2023
The goal of an eco-activist is to protect our natural world from destruction and pollution- specifically from the damages caused by anthropogenic activities. As humanity is facing another mass extinction, occurring at a faster rate than ever before, we need people who are passionate about the environment and determined to make an impact. The actions of an environmental activist can involve: 
Efforts to influence legislation.

Coordinates protests or boycotts of certain products.

Carries out scientific investigations to draw attention to the climate crisis.

Encourages others to live more eco-friendly and sustainably (eat organic foods, reduce waste/overconsumption, recycle, etc.)


The harsh reality is that if we do not get climate change under control, the consequences will be catastrophic. The stakes are high, but there are reasons to be hopeful! We can use small actions to create large changes, and we can work together to combat climate change. 
Luckily, there are plenty of individuals who fiercely resist the status quo and are determined to redesign our current systems of extraction, overproduction, and overconsumption. Here are 10 environmental activists from around the globe, who are inspiring us now:
Dr. Ayana Elizabeth Johnson
Dr. Ayana Elizabeth Johnson is a leader in ocean and coastal conservation. As a marine biologist, policy expert, and writer she has co-founded the non-profit Urban Ocean Lab, co-founded the climate initiative The All We Can Save Project, and co-created the podcast How to Save a Planet. 
Her research and activism have focused on sustainable fishing practices, climate change, climate policy issues, and social justice. She encourages individuals to vote, protest, donate, spread the word, and work to protect the environment and lower their carbon footprint.
Famous for her work with primates, trailblazer Jane Goodall, has become an inspiration in the struggle to control climate change. Her contributions to conservationism have extended far beyond her work with chimpanzees. Through the Jane Goodall Institute, she has advocated for sustainable living, the protection of endangered species, and the restoration and growth of critical habitats. For anyone looking to challenge climate change, Jane Goodall renders an outstanding role model.
The internet's most celebrated environmentalist drag queen, Pattie Gonia, advocates for environmental and LGBTQ+ issues to promote the integration of queer identities in environmental discourse.
 Pattie Gonia is known for organizing inclusive environmental events and has co-founded a non-profit, the Outdoorist Oath, focusing on the diversity and inclusion of queer identities in climate conversations.
 Pattie Gonia shares social media posts about the importance of sustainability, respecting the planet, and getting outdoors!
As a central figure in discussions surrounding climate change, we couldn't overlook the famous Greta Thunberg. At age 15, she began her activism by protesting outside Swedish parliament buildings. 
She has used her fame to draw attention to the climate crisis and encourage others to hold political leaders accountable for their environmental inaction. A worldwide inspiration, Greta founded a movement known as "Fridays for Future".  This movement encourages others to demand climate justice and to fight for the future of humanity. It is especially empowering for young people, generally with less autonomy to take action.
Robin Greenfield, a radical eco-activist, and humanitarian, is on a mission to lead the world to live more sustainably and just. Robin is a big advocate for reducing food waste and living waste-free. He donates 100% of his media earnings to grassroots non-profit organizations, to show that we can live simply. His philosophy is rooted in the notion that genuine happiness, health, and freedom are derived from being deeply connected to our surroundings. 
Through his bold adventures and activism campaigns, he draws attention to environmental concerns and motivates people to make small changes that will positively impact the natural world. For example, to prove that we can break free from consumerism, he forged and grew 100% of his food for an entire year!
Kenyan eco-activist Elizabeth Wathuti became passionate about the environment when she witnessed the destruction of forests and rivers in her community. In 2021, she spoke at the UN Climate Change Conference, blaming climate change on the greed of our leaders to choose profits over people and our planet. She spoke about climate-related starvation in Kenya, drawing connections to the lack of food caused by deforestation, drought, and floods. Most importantly, she believes that change can occur if people begin to care for and appreciate nature. 
In the face of the world's escalating climate catastrophe, Elizabeth founded the Green Generation Initiative, calling for action to address the growing climate and ecological crises. Through education and empowerment, this initiative strives to educate youth, in hopes to create a generation of ecologically mindful individuals.
The co-founder of Enaleia, Lefteris Arapakis planned to act on the Greek economic and climate crisis. His family came from a history of active fishers. However, he began to realize that overfishing and pollution were detrimental to Greece's fisheries. Many of the fishing nets began hauling in nets full of trash, that fishermen dumped back into the oceans. 
To tackle plastic pollution, with the help of his Enaleia team, Lefteris launched the Mediterranean Cleanup. This program provides monetary incentives to fishermen for the plastic they bring back to shore. This has resulted in the removal of approximately 12 tonnes of plastic from the ocean per month. In addition, Enaleia has partnered with Healthy Seas, an organization that turns discarded ocean plastics into tangible products such as carpets and socks.
With an enthusiasm for social justice and environmentalism, Leah Thomas, an intersectional eco-activist strives to foster more sustainable relationships between people and the planet. She believes that the earth cannot be saved without including those who are most often unheard. This belief prompted her to launch the non-profit Intersectional Environmentalist, to educate and foster inclusivity and accessibility in the environmental movement. 
Alex Honnold has always felt a deep connection to the natural environment due to his career as a professional rock climber. Spending a lot of time in the mountains has allowed him to witness the effects of climate change on places and people. 
In 2012, Alex created The Honnold Foundation, an environmental non-profit. His foundation supports solar energy projects to increase climate resilience, reduce environmental harm, and sustainably improve the lives of humans. 
Alex encourages people to compare climate action to rock climbing. Rather than viewing it as an overwhelming task, actions can be broken down into smaller more identifiable goals. He encourages us to do more of the things we can do and work a little harder to accomplish those that we can't!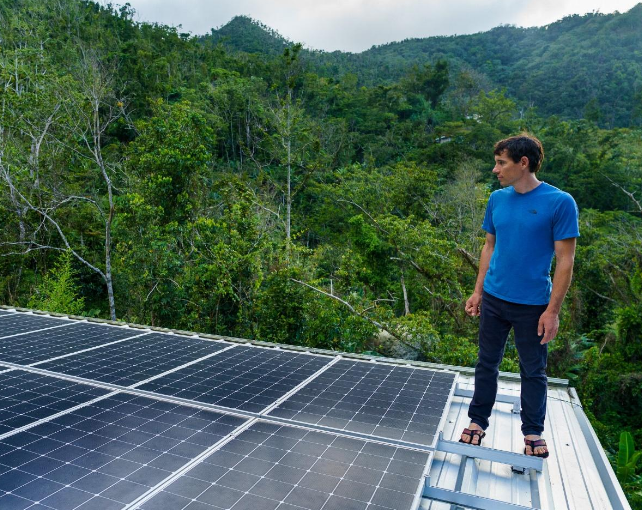 Dominique Drakeford refers to herself as a non-traditional environmental educator, with a degree in sustainable entrepreneurship and fashion. She works with companies and organizations to heal the relationship with the earth and create equitable change. 
Through her platform, Melanin and Sustainable Style, she educates about eco-friendly fashion, ways to live more sustainably daily, natural beauty, wellness, and land sovereignty. Her goal is to address climate change by advocating for inclusivity and by transforming the conversation around sustainable living through education and creativity.  
We hope you enjoyed reading about these environmental activists to inspire anyone who wants to make a difference!
Invite others on your green journey by talking about it! Easily share this blog to your platforms with the buttons below!
Random Acts of Green is committed to using our platform to help amplify the voices and the work being done by grassroots organizations to confront injustice. 
Intersectional Environmentalism, is an inclusive vision for environmentalism that advocates for both the protection of people and the planet. It identifies how injustices  that are happening to marginalized communities and the earth – are interconnected. It brings injustices done to the most vulnerable communities, and the earth, to the forefront, and does not minimize or silence inequality. 
Global impact must start at the local level so we have included organizations working both near our headquarters in Nogojiwanong aka Peterborough, Ontario, and across Turtle Island aka North America. Get connected with these organizations working at key intersections of race and the environment.
youth environmental activists

Participate in the global movement for the planet: Earth Hour and turn your lights off for 60 minutes. Try these activities!
Read the Full Story

Honor World Water Day 2023 with these actionable tips you can do at home or on-the-go to help our waterways.
Read the Full Story