Meet Survivor Filter: Makers of The Best Filtering Water Bottle
Water is essential to life, yet millions of people live without it.  Did you know… 
771 million people – that's 1 in 10 people – lack access to safe and clean drinking water.

122 million people depend on surface water, like a river, to meet their basic needs.
Many of us are privileged enough to have access to clean drinking water straight from the tap. 
Refilling a water bottle is a great way to avoid contributing to plastic pollution.
That's where a Survivor Filter Active All Terrain Bottle can help.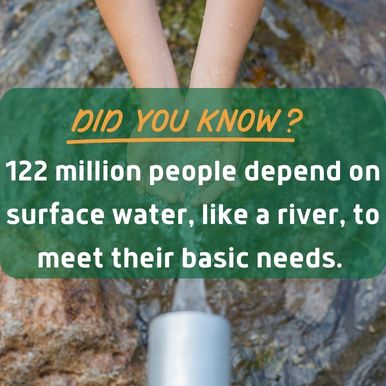 Using a Survivor Filter Active All Terrain Bottle, you can filter 1 liter of lake, river, stream or tap water in 30 seconds.

This removes heavy metals, chemicals, volatile organic compounds, bacteria, and parasites to clean water in any environment.
The filter lasts approximately 426 refills, 378 liters, or 3 months of daily use. Consider the mountain of single-use plastic waste prevented by choosing to reuse and refill.
Outdoor adventures often take you away from accessible sources of clean drinking water which makes having a portable water filtration system a convenient and practical solution.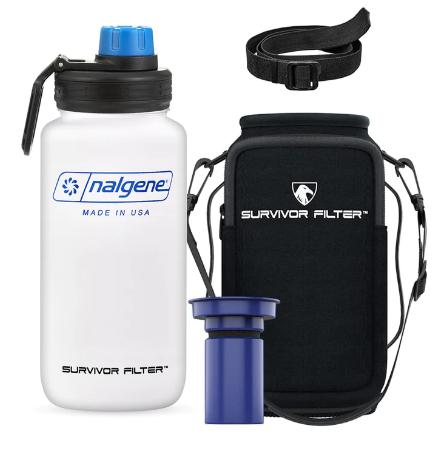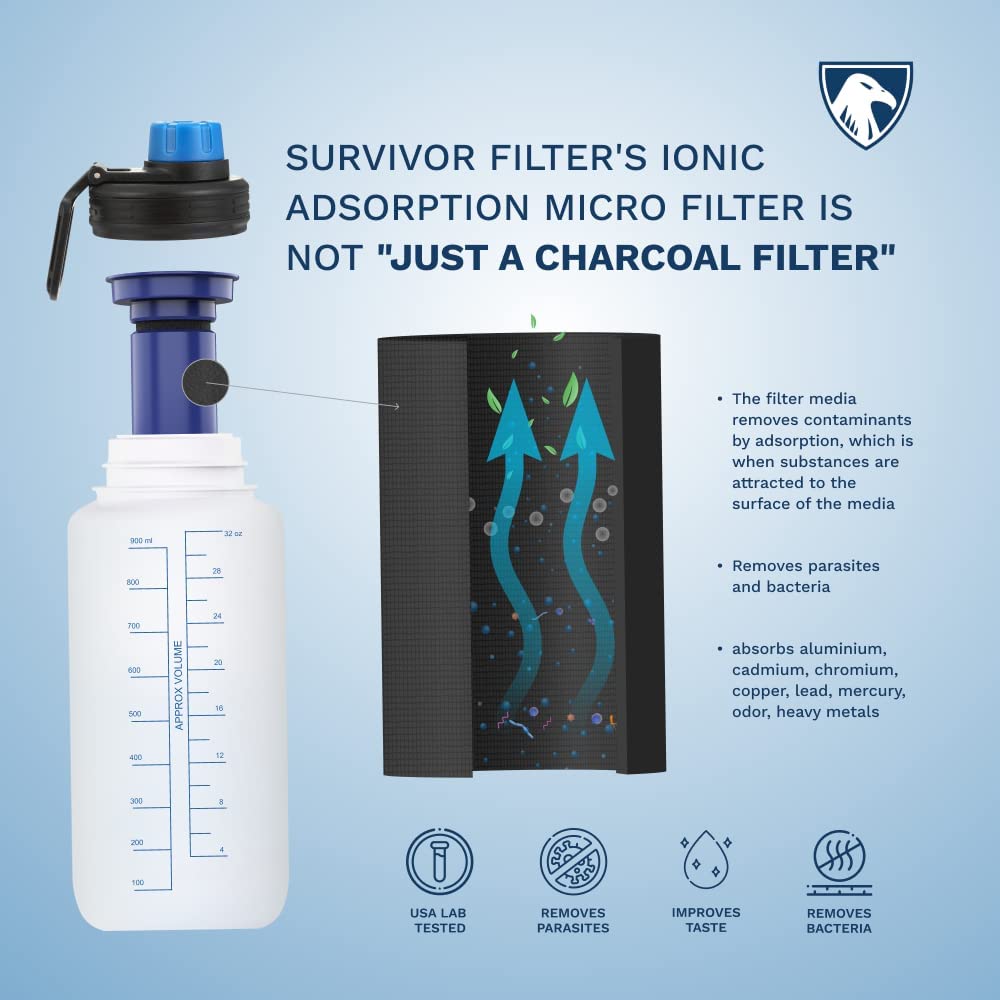 What Can The Active Filter Help Remove?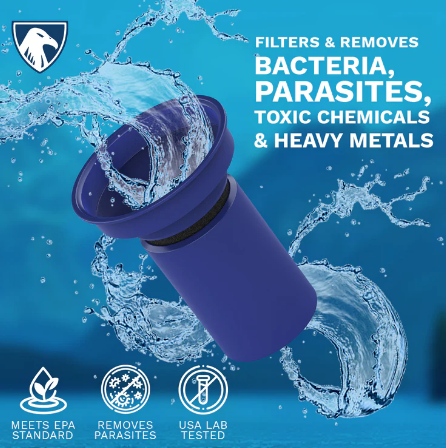 Check out their independently verified testing results & certification of the filtration here and at the links below.
This filter has been tested independently in the USA to show filtration removal of Toxic Chemicals, Bacteria, Parasites, Heavy Metals and:
Taste & Odor Reduction: Metal, Chemical, and Medicinal
Heavy Metals: Aluminum, Cadmium, Chromium, Copper, Lead, and Mercury
Volatile Organic Compounds (VOC's): Household cleaning compounds, industrial wastes, insecticides
Polychlorinated biphenyls (PCB's): Highly toxic industrial compounds
Synthetic Organic Compounds (SOC's): Herbicides, pesticides, and other chemicals that come from agriculture, urban stormwater runoff, or industrial activities
Asbestos: Concrete and cement compound found in municipal water, wastewater and stormwater systems
Detergents
DDT: Class 2 insecticide
Trihalomethanes (THM's): by-product of chlorine disinfection
Microplastics
Microbiological Organisms
Inorganics: Trace metals, turbidity
Radiological Contaminants
Parasites: Giardia and Cryptosporidium
How Water Filters Help The Environment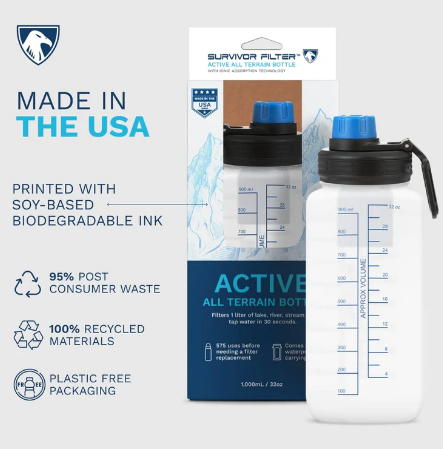 Support a company that shares your values for responsible resourcing. Their eco-friendly minimal packaging is:
Made from 95% post-consumer waste

100% Recycled Materials

Packaging is printed with soy-based biodegradable ink.

Made in the USA.

BPA/BPS Free Bottle & Lid
Look No Further For The Best Water Bottle With Filter For Travel Near or Far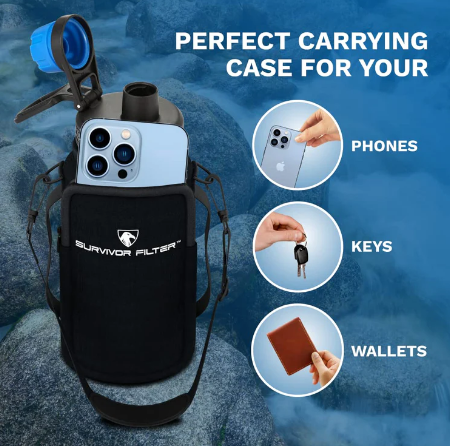 We put this bottle to the test through a variety of activities both close to home and faraway adventures!
Their lightweight carrying case comes with a giant front pocket to help keep your pants pockets clear to help store on-the-go essentials like your wallet, phone, keys or identification. The adjustable strap makes it suitable for outdoor enthusiasts of any age.
Take this filtering water bottle on your next hike in a local greenspace, a road trip with pitstops with questionable water sources or on faraway travel adventure.
Survivor Filter is a company with a simple goal.
"We believe every person should have access to clean, drinkable water in any environment. We are passionate about bringing people access to clean water with our high-quality water filtration systems. "
More than just selling water filters, their goal is to educate and provide support for those looking for the right tools to enhance their outdoor activities, and adventures and protect themselves and their families from water emergencies.
Many people around the world don't have access to clean and safe drinking water and water filtration is one of the best solutions to water wastage and environmental pollution.
Get Equipped With Survivor Filter

water bottle with filter for travel

Get ready for green learning with our unique eco-friendly school supplies checklist for back to school season.
Read the Full Story

Stay on track with your Green Goals with our list of 13 paw-some eco-friendly pet products to try this August.
Read the Full Story