Are Lilacs Edible? Yes! Try these lilac recipes while they are in bloom!
Fun fact:  Lilacs are a member of the olive family!
The recognizable aroma of lilacs can be captured and infused into a variety of tasty delights. Their flowers are edible and have been used for years to make wine, jelly, candies, and more.  Read on to discover 7 different lilac recipes you can try this spring.  
Lilac Simple Syrup Recipe
Simple syrup is a liquefied form of sugar that can be used to sweeten cocktails, iced tea, iced coffee, lemonade, and other cold drinks. The liquid form makes it easier to blend into cold beverages than regular sugar. Add this lilac simple syrup to your lilac recipes repertoire. 
Ingredients:
1 cup water,
1 cup sugar,
Gather 1 (heaping) cup lilac flowers (no green bits)
*A blueberry for added colour
Directions: 
Firstly, prepare the lilac florets by removing the flowers from the stems. Try to ensure that all the green parts are removed for they can impart a bitter taste.
Secondly, in a medium saucepan, bring water and sugar to a boil. 
Once boiling, add in the lilac florets and a blueberry for added colour, give it a stir, and cover. Reduce the heat and simmer for 10 minutes.
Thirdly, remove it from heat and let it cool. Cover with a lid and let the mixture steep to allow the lilac flavor to infuse for about 3 to 6 hours. Taste it over time until it reaches the flavor your desire.
Next, strain out the flowers when you are ready, allowing them to fully drip out. 
Finally, store it in a sealed container in the fridge once it has cooled down. It has a shelf life of about 1 week.  
Voila! You have a lilac elixir to add spring sweetness to any cold beverage!
Try it with Teapigs cold brew tea, a Lilac Lemon Drop Martini  with Vodkow from Dairy Distillery or add it to water and simply enjoy!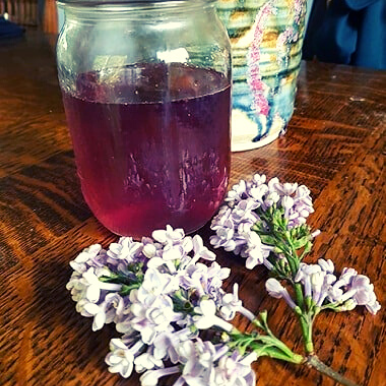 A delightful lilac lemonade can be made with premade lemonade or you can make your own.  
Firstly, to make your own you will need to juice about 6 lemons and then add simple syrup for sweetness.
Secondly, all you have to do is submerge a few rinsed flower heads in the lemonade for at least a few hours, preferably overnight.
Finally, strain and serve.
🙏 Thanks to Rob Handel for sharing this inspiration!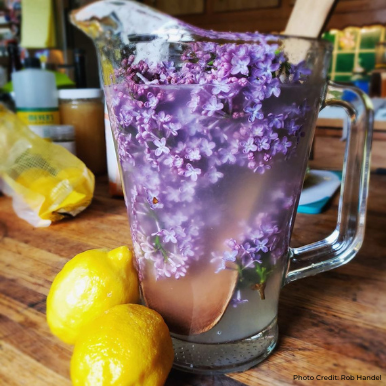 Vegan Lilac Lemon Cake Recipe
If you are looking for a spring baking challenge, look no further. Try this Vegan Lilac Lemon Cake Recipe made by Nisha Vora from Rainbow Plantlife.
Included within are instructions on making lilac sugar. 
Get the recipe here.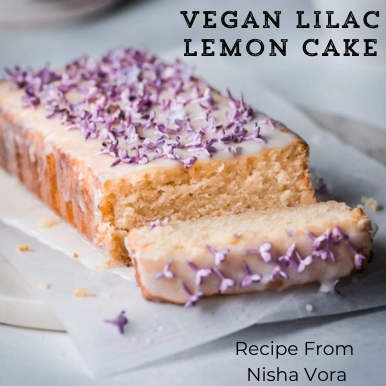 We encourage you to find a simple way to enjoy the first tastes of spring!

Get ready for green learning with our unique eco-friendly school supplies checklist for back to school season.
Read the Full Story

Stay on track with your Green Goals with our list of 13 paw-some eco-friendly pet products to try this August.
Read the Full Story