Meet FoodCycler: The Food Waste Solution You've Been Looking For!
Did you know?
Food waste is responsible for up to 10% of global greenhouse gas emissions.
When food waste enters the landfill, it does not decompose 'back into nature' because the environment in a landfill lacks oxygen due to the compiling layers of waste. Instead, this decomposition generates methane gas which is 25 times more harmful than CO2 emissions. 
Food waste occurs at every part of our food system, from farm to fork to landfill.  Approximately 47% of food waste comes from households, but people are often unsure about how they can help solve the problem. 
That's where a FoodCycler can help.
See the image below for additional reasons to limit food waste from entering our landfills.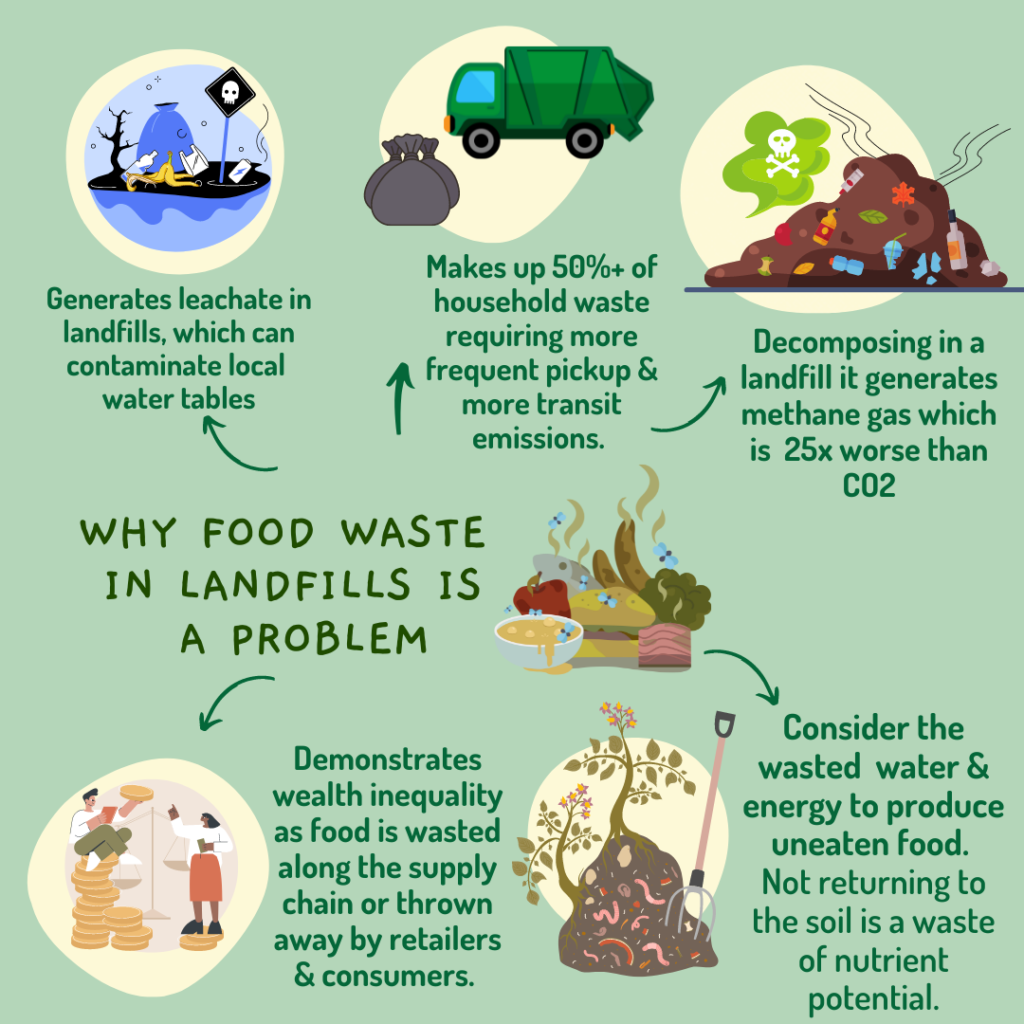 At Home Food Waste Solution: The FoodCycler
While composting is one of easiest ways for individuals to reduce their carbon emissions, few people do it. Why?
→ Lack of accessibility, inconvenience and nasty smells are all factors in preventing people from composting.
Food Cycle Science recognized these barriers and came up with a perfect solution- an indoor food waste recycler.
Food waste recyclers break down food waste quickly, using aeration and heat, much like a regular compost pile. However, the end-product is completely dry and safe to use. 
By reducing up to 90% of your food waste volume with The FoodCycler™, you are lowering your household's garbage output by up to 50%.
FoodCycler Benefits:
Convenient
Energy-efficient
Quiet
Odourless
Easy to use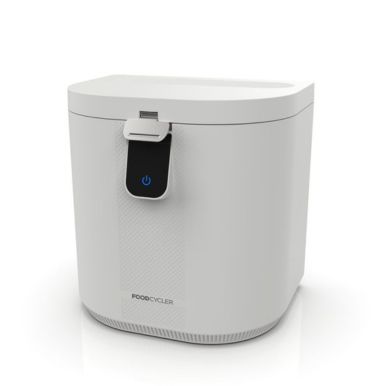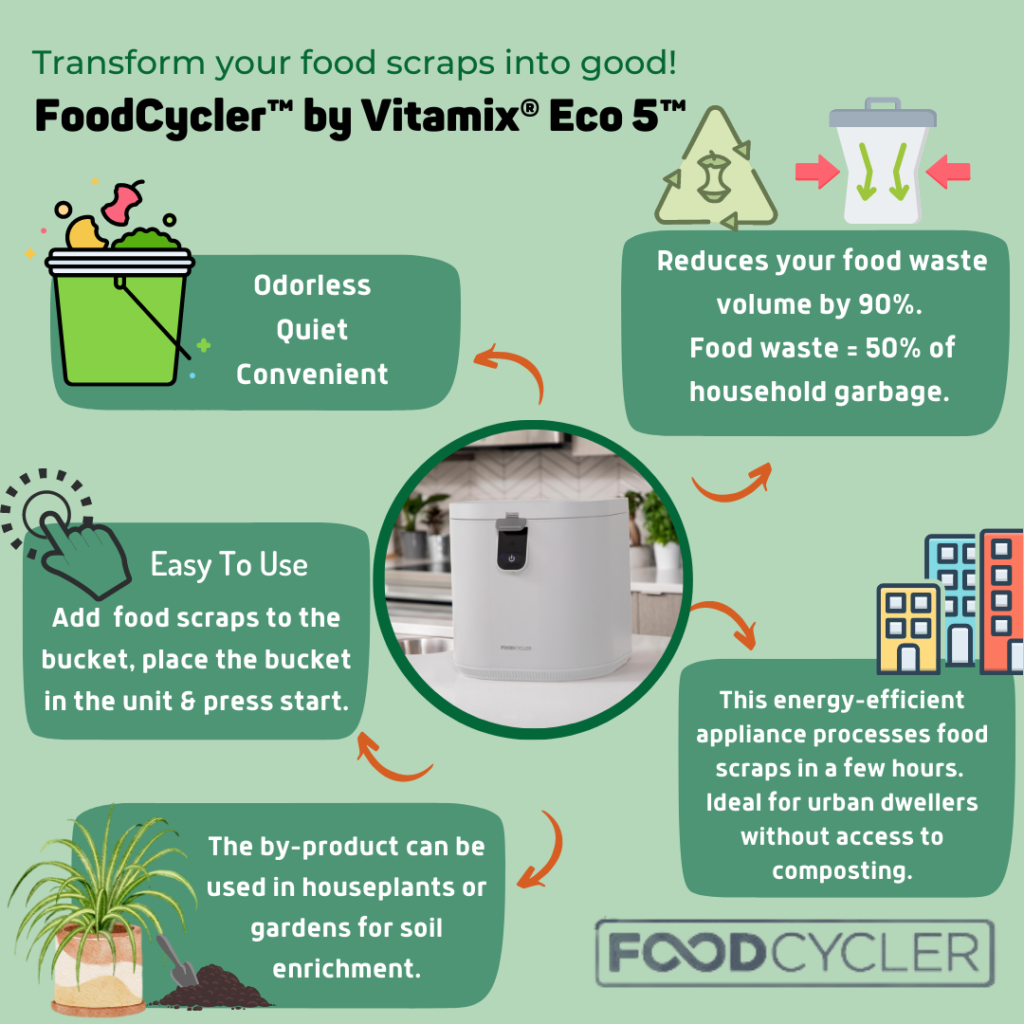 A Solution For Common Barriers To Composting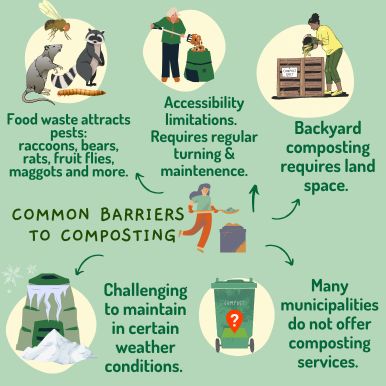 High-density urbanization is on the rise for efficient land use. Billions of people live in apartment complexes, condos, or suburban areas. These dwellings likely don't offer space for traditional backyard composting nor provide reliable streams for organic waste collection.
Everyone can take action to help eliminate their food waste, but not everyone has the time or space to compost. 
An Indoor Food Waste Solution? Yes, it's possible!
An electric food waste recycler may be your answer to a greener, cleaner kitchen. The food waste recycler has a similar technique to composting, but instead of relying on bacteria (or microorganisms) to help breakdown food waste, these appliances use aeration, heat and pulverization to reduce food waste volume in less time than traditional composters, with less odor and emissions at the touch of a button.
Food recyclers break down food waste quickly, using aeration and heat, much like a regular compost pile. However, the end-product is completely dry and safe to use. 
The FoodCycler™ is a leader in food waste diversion, producing less CO₂ than landfills and backyard composting when considering the carbon intensity of Ontario's power grid. 
How Does A FoodCycler Work?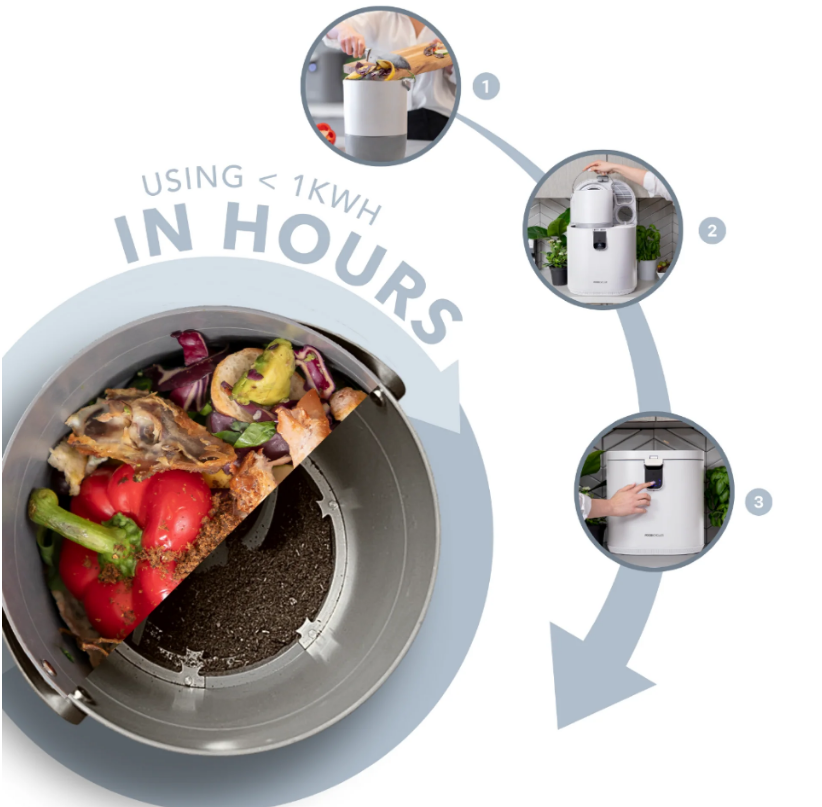 The FoodCycler is very easy to use. Simply add the food scraps to the bucket. Place the bucket in the unit and press start. 
The Vortech™ grinding system helps to pulverize meat, bones, pits, shells, and other food scraps.
Here are some examples of what you can put in it:
Most fruit and vegetable scraps
Meat, shellfish, and poultry scraps
Cheese
Beans, seeds, and legumes
Chicken and fish bones/shells
Coffee grounds, filters, and tea bags
Eggs and eggshells
Within a few hours, this energy-efficient appliance processes your food scraps all while being odorless, quiet and convenient. 
The FoodCycler™ has built-in sensor technology that monitors the dryness and humidity of the food waste. Once complete, the unit will stop the cycle automatically.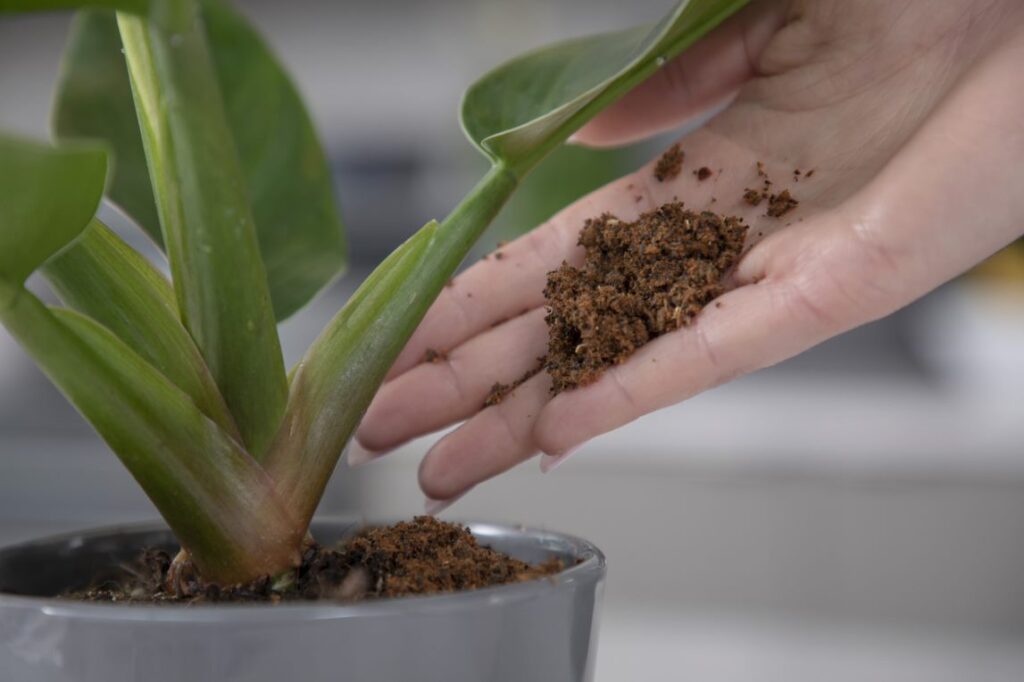 As a bonus, the by-product can be used in houseplants or gardens for soil enrichment. 
Right at home you can help close the loop by transforming your waste into a resource!
This homemade fertilizer can add beneficial nutrients to the soil of your houseplants or garden.
It's odorless and safe to handle indoors.
Due to the the powerful nitrogen ratio in your homemade fertilizer, they recommend a minimum foodilizer-to-soil ratio of 1:10. 
How Does FoodCycler Compare with Competitors?
The  FoodCycler™ by Vitamix® Eco 5™  carries with it a trusted name brand. Vitamix is an established leader for high-powered blenders and food processers so you know this product knows how to break down food.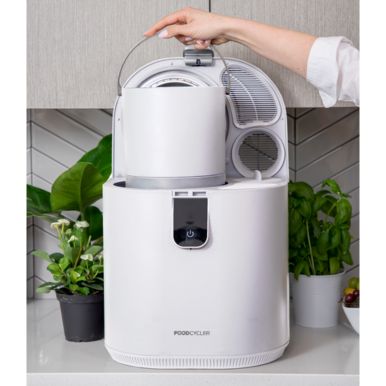 Capacity:  Eco 5™ has the LARGEST countertop bucket capacity available on the market (5L) without increasing the unit size (making it perfect for 3+ households)
Power:  The Eco 5™ features their new innovative Vortech™ Grinding System that can tackle even the TOUGHEST food wastes in just hours
Efficacy:   The Eco 5™ reduces food waste by up to 90%, leaving only a fine, dry soil amendment (that can be used in your garden!)
Since 2011, Food Cycle Science has been providing efficient, easy-to-use food waste solutions for homeowners, businesses and communities.
Their vision is to change the way the world thinks about food waste by empowering the global community to sustainably recirculate their food waste.
Try FoodCycler for yourself:

electric kitchen composter
indoor composting machine

Get ready for green learning with our unique eco-friendly school supplies checklist for back to school season.
Read the Full Story

Stay on track with your Green Goals with our list of 13 paw-some eco-friendly pet products to try this August.
Read the Full Story