26 Plastic Free Products To Try For Plastic Free July
As part of this pledge, we've put together a list of  26 Plastic Free Products you can try to reduce your single-use plastic consumption. It's important to note that some swaps will be more relevant to your lifestyle than others. 
With plastic production set to double in 2030 (United Nations, 2021), it's important that we make changes everyday, in every way. When we make small changes in our everyday lives, it can add up to make a big collective impact. 
Want to put a sustainable spin on your laundry cycle? Our business member, Simply Natural Canada is a Canadian brand offering sustainable products to help consumers transition to an eco-friendlier lifestyle. They offer Soap Berries, all natural, biodegradable little berries that grow on trees! They're perfectly zero-waste, have plastic-free packaging, and are compostable. They're a great alternative to laundry detergent and as a bonus they are odourless and hypoallergenic. 
SNC cares deeply about the environment, which is why most of the products they carry come in sustainable packaging. They offer plastic-free shipping Canada-wide, and local pickups where applicable. SNC prides themselves on their eco-friendly shipping methods, and reuses shipping materials donated from local retailers. Thank you Simply Natural Canada for helping us on our plastic-free journey!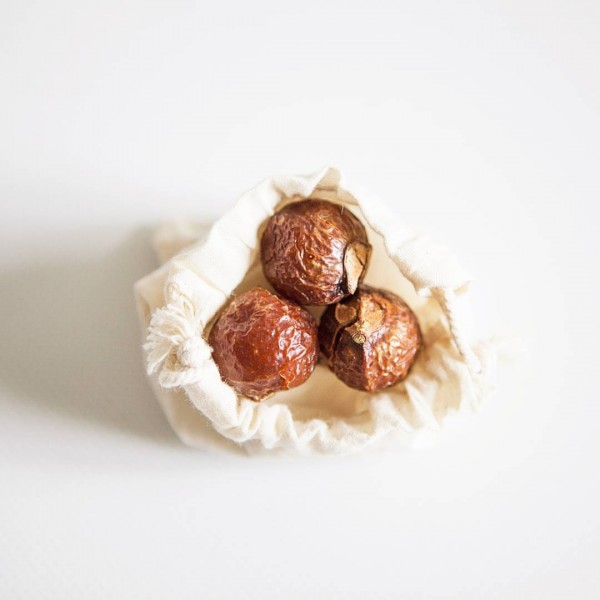 TWIG offers sustainable products to help you achieve your low-waste life goals. They believe one small change can add up to make a big collective impact, and they want to help you get started on your sustainable journey today! They offer a wide variety of sustainable products, including Beeswax Wraps. Abeego's Beeswax Wraps are the perfect replacement to keep your food fresh and firm. They're plastic free, compostable, reusable and antibacterial. They couldn't be easier to use, just simply warm them up in your hand to mold them to the food or dishware you need covered.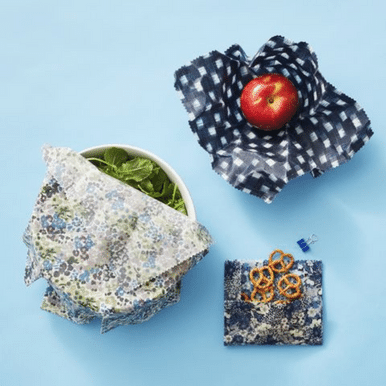 3) Solid Conditioner Bars
The bathroom is one of the most wasteful places in the home. Tonnes of plastic bottles end up in the trash, where they take about 100 years to start decomposing. At Nature's Aid they offer a solution- conditioner bars, with zero plastic packaging. The conditioner bar is extremely easy to use, just wet your hair and the bar, and then run the bar along your hair. It lathers easily, and saves the amount of conditioner needed overall. One bar is good for 150 washes! It's made with all-natural ingredients, so it's good for you and the planet.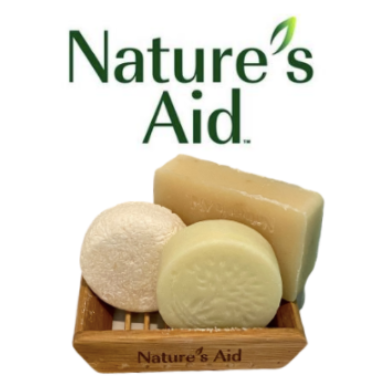 4) Plastic Free First Aid
Roughly 1 in 4 people react to common adhesive bandages. After doing some research, Founder of Nutricare, James Dutton found that there were no sustainable alternatives on the market. He decided to take matters into his own hands and create a product that wouldn't irritate his son's sensitive skin. PATCH Strips are an all-natural, plastic-free alternative to regular wound bandages. Made with organic bamboo, aloe vera, activated charcoal, and coconut oil, they promote natural healing while soothing your wound at the same time. They even come in eco-friendly packaging with the tube and the outer cover of the bandages being made out of compostable paper products. PATCH Strips are biodegradable and compostable and specifically made for sensitive skin. PATCH Strips helps you take care of the planet and yourself.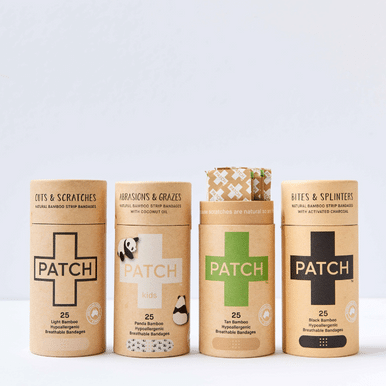 At The Refill Shoppe they know that single-use culture is destroying our environment. The business is designed around helping people make plastic-free swaps, by offering unique and customizable bulk bath, body, home and beauty products.
Countless mouthwash bottles end up in landfills every year, and they can take decades or longer to break down. The Refill Shoppe offers a perfect solution- mouthwash tabs. The mouthwash tabs function exactly as regular mouthwash, but without the plastic. Simply drop a tablet in a shot glass of water, and wait for it to dissolve. They're made with tartaric acid, naturally derived from grapes which naturally balances your mouth's pH, keeps your breath fresh and decreases sensitivity. The mouthwash tablets are vegan and non-toxic. They're also refillable! Stinky breath is no match for these mouthwash tablets!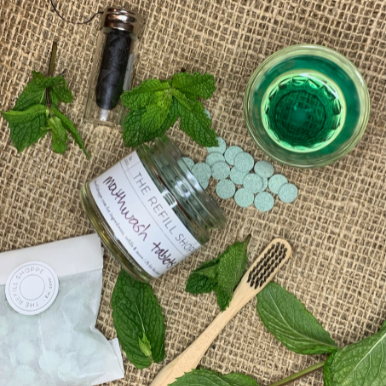 Did you know that roughly 2 million disposable razors end up in the landfill every year in the United States? 
Rockwell Razors is proud to be a part of the plastic pollution solution by offering a plastic-free razor. Currently, they're on track to divert 100,000+ tonnes of plastic waste (in the form of disposable razors) from landfill this year! Rockwell Razors offers a waste-free shave without compromising comfort or safety. They guarantee you'll never look back after making the switch, in fact they offer a 60-day money back guarantee if you're not satisfied with their product. Make the switch today, your skin and your wallet will thank you.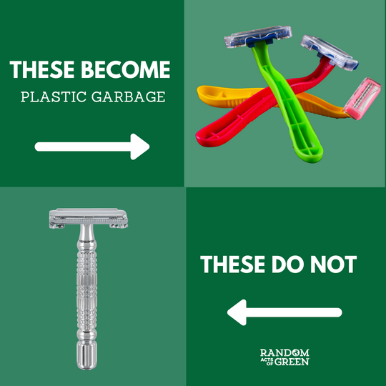 At Funkins they believe in teaching environmental values to kids from a young age. They also understand that kids can be picky. To emphasize on both of these things Funkins created bamboo dish sets for kids, perfect for instilling environmental values while also appeasing picky eaters. These dish sets are a great alternative to plastic dish sets because they're made with natural bamboo fiber, cornstarch and melamine. They're also Phalate, BPA, Lead and Toxin free. Kids and parents alike love these dish sets.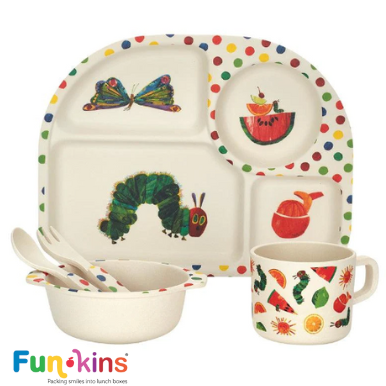 Globally, approximately 500 billion plastic bags are used annually (Plastic Oceans, 2021). Porter Blue Apparel is fighting the pollution problem in the fashion industry, by creating products that are eco-friendly and made to last. They use sustainable raw materials, recycled materials, and have energy and water-saving practices. They believe that style shouldn't compromise sustainability. The scrapwork tote bag from Porter Blue Apparel is made with scraps off the cutting room floor. It's a 100% upcycled product, and each bag is unique. 
Use it for shopping or transporting goods, and feel good about reducing your plastic consumption.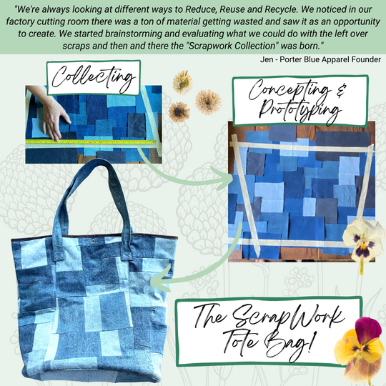 9) Reusable & Refillable Aluminum Shampoo Bottles
Looking to make your shower routine more sustainable? Plaine Products offers reusable and refillable aluminum shampoo bottles. They cut down on plastic waste by using aluminum bottles instead of plastic, since only 5-10% of plastic is recycled. Aluminum however is recycled easily, without any loss of quality of product. They also offer refills on their hair and body products. The refillery process couldn't be easier. Simply order your products and replace the lid with a pump. Then when your product is low, order a refill and it'll be sent right away. Once the bottle is completely empty, rinse it out and switch your pump to the new refill bottle. Package the old bottle up and send it back with a return label. Thank you Plaine Products for all the work you do in keeping this planet green and clean!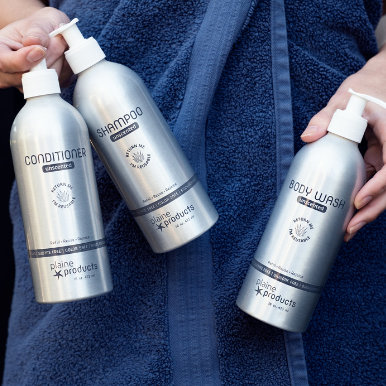 10) Cheeky Bits Cloth Wipe Solution
Cheeks Ahoy was started from Leah Black's own desire for a sustainable alternative to disposable baby wipes. They now offer a wide range of alternatives to common household disposables. Cheeks Ahoy's mission is to shift mindsets away from excessive and wasteful consumption, and towards a more positive outlook with the knowledge that sustainable consumption habits can be easy and fun to implement.
Their Cheeky Bits Cloth Wipe Solution is the perfect example of that. The solution cubes replace disposable wipes, just add water to them and pair it with a reusable cloth, and you've got the perfect cleaning solution. It's made with unscented castile soap, organic coconut oil, water and tea tree oil, so it's great for sensitive skin. This Cheeky Bits Cloth Wipe Solution helps you take another step towards your zero-waste lifestyle.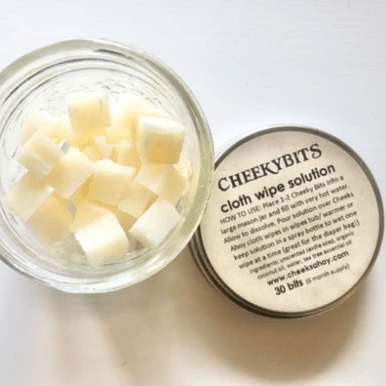 The Green Beaver Company wants to make a sustainable lifestyle accessible for everyone. They offer a wide variety of safe and effective personal care products, without compromising their environmental values. They believe that products that are good for the planet are also good for you. Green Beaver offers plastic-free dental floss, made with plant-based fibers and vegetable wax. It's 100% biodegradable and shipped using eco-friendly materials. With this plastic-free floss, there's lots to smile about!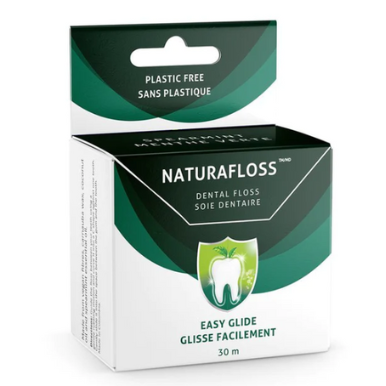 12) Plastic Free Packaging
13) Reusable Water Bottle
14) Reusable Takeout Containers LunchBots
Packaging and container waste makes up 29.7% of total waste in the US.  Traditional takeout containers are made with styrofoam and plastic, both of which are not easily recyclable. Instead, try packaging your food up in a reusable takeout container. Lunchbots was started by a mom with two young boys. She was concerned about the impact that plastics have on the environment and our health. Lunchbots premium stainless steel containers are designed to make it easy for you to pack a lunch to go. They're plastic free, dishwasher safe, and come with a lifetime warranty. They're even customizable, offering 5 different lid colours so your Lunchbots Cinco looks uniquely yours. Keeping your food separated with it's 5 compartments helps children and adults keep food neat without the need for multiple containers. Lunchbots committed to making it easy for you to eat healthy and reduce your plastic footprint at the same time.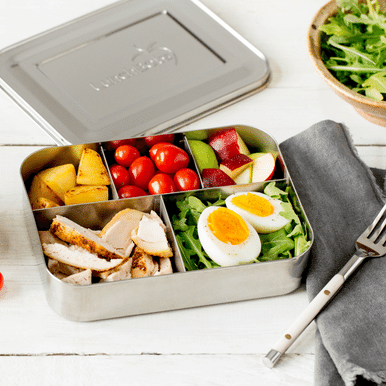 Approximately 500 billion plastic bags are used worldwide annually. A plastic bag takes about 20 years to decompose in the environment. By bringing a reusable bag when buying items, you greatly cut down on your plastic footprint. Our business member Eartheasy offers reusable bags that are machine washable and made of strong, lightweight, food-safe material. Thank you Eartheasy for your commitment to this planet.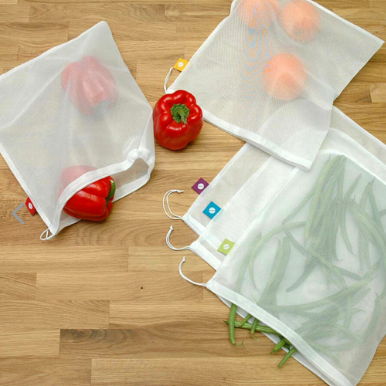 16) Plastic Free Water Balloons
Summer is here and that means it's time to find fun and sustainable ways to cool off. Did you ever play with water balloons as a kid? They're a childhood staple, except they create a lot of plastic waste. Water balloons are traditionally made with single-use plastics, contributing to the plastic pollution problem. Luckily there's a unique and creative solution! Simply Natural Canada offers water balloons which are made with eco-friendly yarn, and can be used again and again! Simply Natural Canada wants you to have a fun and sustainable summer.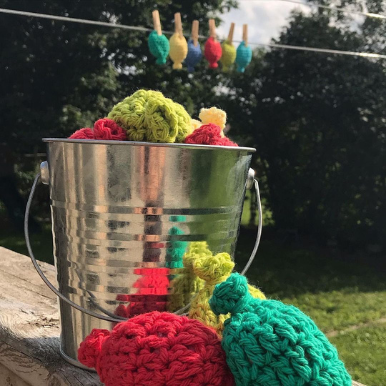 Plastic waste from disposable diapers can take up to 500 years to breakdown. Plastic diapers also contain toxic chemicals that harm the environment when disposed of. By switching to cloth diapers, you can save money and save the planet. Do the sustainable thing and switch to cloth diapers, to help protect the planet for generations to come.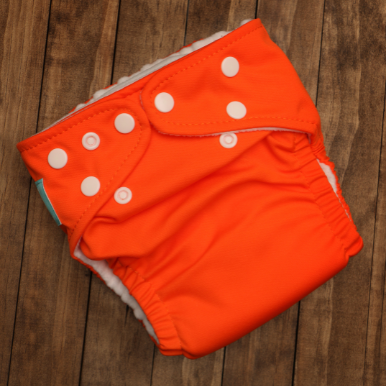 18) Plastic Free Writing Tool
Did you know? Americans toss 1.6 billion disposable pens annually.
At West Coast Seeds they offer a peel-off wax marker also known as a China Marker.
Glass jars are an icon in the zero waste movement often used at refill stations. This is a tool you can use to label your refillable containers, mark your garden plants, and much more. They work on porous and non-porous materials, the marking is fade-resistant yet also washes off glass and metal easily with hot soapy water.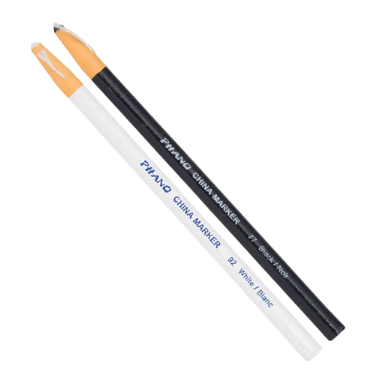 Did you know that there are more than 12 billion pads and tampons used and disposed of annually? These end up leaching chemicals and plastics into the ecosystem. To combat this problem, why not switch to a reusable menstrual cup, such as the DivaCup? By using it you can help divert 250-300 lbs of tampons, pads and applicators over your lifetime. Help save the environment and your wallet, one period at a time.
NOTICE: Although we acknowledge this product IS made from plastic, we want to highlight that the product helps significantly reduce single-use plastic items like pads and tampons. This is a gray area that we hope readers understand that when it comes to going plastic-free, there are also some products that are made from plastic that help consumers reduce their reliance on single-use disposable products. In addition, this product can be recycled through Terracycle at end of life. We felt it appropriate to include, but are open to discussion.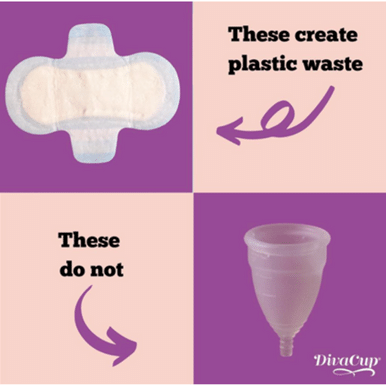 Chip bags and candy wrappers are one of the Top 10 items most commonly found on the beach.
We understand that life can get busy, and that most people strive for convenience. However, convenient typically means plastic. Almost all the food that we buy is in plastic packaging, ending up being disposed of in our landfills or ecosystems. 
Nature Knows offers alternative options for you: healthy eating on-the-go with 100% plastic-free and compostable packaging. Their single-serve snacks, meal kits and family size formats are all breathable and go right in your compost or green bin! No more plastic clamshells or trays that take hundreds of years to decompose. Nature Knows is committed to helping you eat well and reduce your plastic footprint with each fresh bite.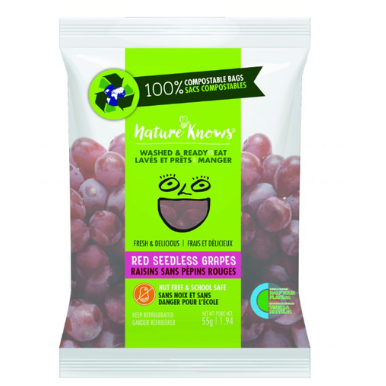 21) Plastic Free Hair Ties
No doubt you've seen hair ties on the ground in random places from parking lots to hiking trails. Standard hair ties are made out of polyester and synthetic rubber, taking thousands of years to break down in the environment. 
Did you know there was a plastic-free option? Terra Ties are 100% biodegradable, made from natural rubber and organic cotton. They're also softer, thicker and more durable than standard hair ties. Don't be tied down by traditional hair ties, make this plastic free product switch today!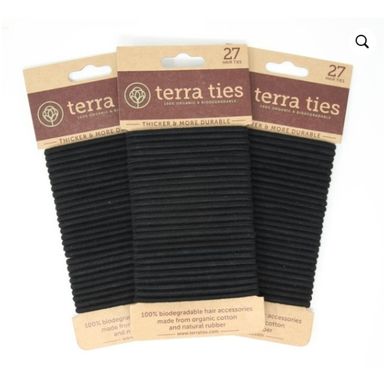 22) Reusable Straws & Cutlery
It is estimated that close to 57 million plastic straws are used every day in Canada, ending up in landfills and in the environment. 
Plastic cutlery is everywhere, and most of it is only used once. 
Billions of forks, knives and spoons are thrown away every year. Globally, plastic cutlery is a $2.6 billion business. Like other plastic items, such as bags and bottles, cutlery can take thousands of years to break down naturally, giving the plastic ample time to accumulate in landfills and in the environment. The quick fix for this problem is to BYOC (Bring Your Own Cutlery).
Healthy Planet offers lots of plastic free product options for reusable straws and cutlery. Bringing your own cutlery and straws helps the environment, reduces waste, and best of all, you know where it's been.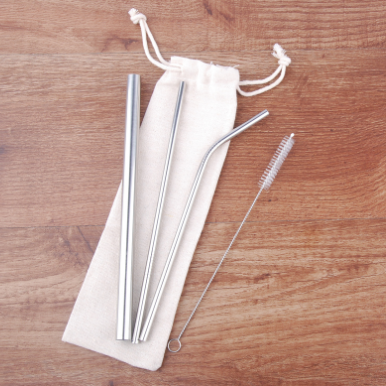 Collectively, Canadians consume about 10 billion cups of tea per year. Yummy! However, are you aware that most teabags contain plastic that is not recyclable or biodegradable, even the paper teabags? One cup from a single plastic tea bag can contain up to billions of microplastic and nanoplastic particles- gross, right?
 teapigs, founded in 2006 by Nick and Louise, set out to find an alternative to the plastic teabags. teapigs spent years finding the best teas, full of flavour, and put them in their own plastic-free "temple". Not everyone has time to make loose leaf tea the 'proper' way. And so, the tea temple was born- a roomy biodegradable mesh bag, which offers all the space whole leaves need to infuse properly. Everything, from the teabags down to the packaging, is plastic-free. Now you can sit down, relax and brew yourself a cup of tea without having to worry about drinking plastic.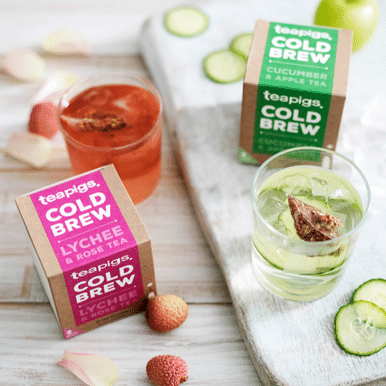 24) Plastic-Free Popsicle Mold
Summer is here and that means it's time for cold sweet treats. Have you ever made homemade popsicles before? If you have, likely the mold was made out of plastic.
Why not consider a more sustainable material? There are stainless steel options that are more durable than plastic and just as easy to use. Stainless steel popsicle molds are easy to clean and will last you a life time.
If you're looking to further cut down on your plastic consumption, try using reusable bamboo sticks for the popsicles instead.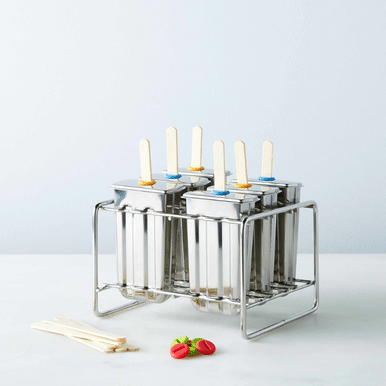 25) Plastic Free Lip Balm
Lip balm more often than not comes in a plastic tub. Plastics are so heavily used in the cosmetics industry, and lip products is one of the biggest offenders. Luckily there are tons of sustainable alternatives on the market. From compostable to reusable lip balm containers, you can easily make the swap today. So the next time you lose your lip balm (those things are so hard to keep track of!), make this plastic free product switch. The planet and your lips will thank you.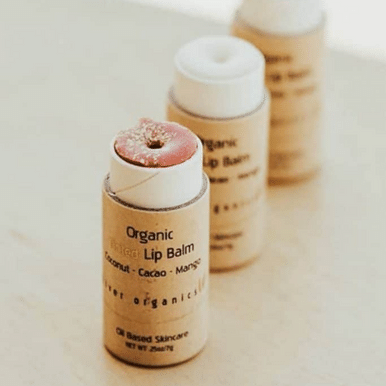 Say goodbye to that stinky sponge!
Surprise surprise, sponges are made up of plastic, and are neither recyclable or biodegradable. 
Switching to a wooden dish brush helps cut down on the plastic waste created by washing dishes. Be careful to ensure that the bristles of the brush aren't made of plastic either. Looks for eco-friendly materials such as Tampico Fiber (made natural agave palm tree) to help make your dish washing routine as sustainable as possible.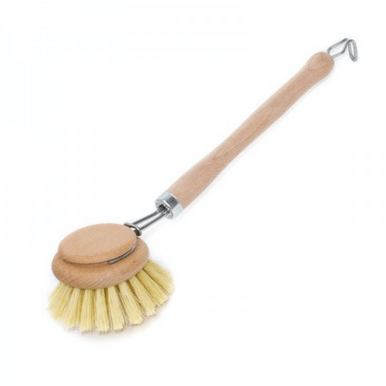 We hope you enjoyed reading these plastic free swaps! Would your community enjoy this read? Easily share this blog to your platforms with the buttons below!


Sustainable LGBTQ owned Businesses to support! Learn about the connection between this community & their inclusion in the environmental movement.
Read the Full Story