13 Paw-some Eco-Friendly Pet Products
Lively Probiotic Pet Multi-Surface Stain & Odor Remover
While we love our pets to the moon and back, sometimes they can really make a stink during their time on Earth. Before you start cleaning up, consider this:
⚠️ Many common household cleaners contain extremely toxic ingredients, including ammonia, bleach, phthalates,  formaldehyde, and other impossible-to-pronounce ingredients. These chemicals contaminate surfaces in your home and increase the air pollution level inside, which can be two to five times higher than the pollution outside, according to the EPA.  
Luckily, there are cleaning solutions out there that won't spread harmful chemicals throughout your home! 
Lively Probiotic Pet Multi-Surface Stain & Odor Remover can be used on dirt and common pet stains such as urine, feces and vomit. Good bacteria—or probiotics—are living microorganisms that help eliminate dirt, odors and bad bacteria at the microscopic level.
Features & Benefits:
Natural probiotic cleaning power continues working for up to 3 days.
Fragrance-free, biodegradable, and pH-neutral formula
It is safe for all moisture-tolerant and colorfast surfaces like sealed floors, carpets, furniture, pet bedding, and crates.
Safe around adults, kids and pets when used as directed.
Helps maintain a healthier indoor environment.
Made in the USA with a fully recyclable bottle and trigger spray.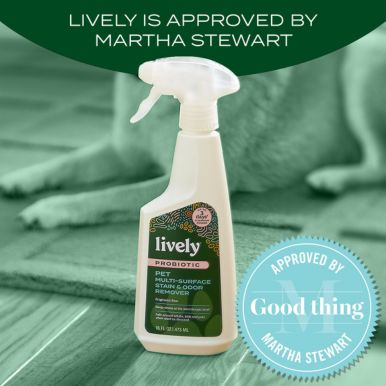 Lively probiotic household cleaners and pet care products are here for one reason: to put more good into the world. 
By introducing good bacteria into your home, Lively's natural cleaning power helps eliminate dirt, odors and bad bacteria to maintain a healthy, clean environment for the ones you love most.
Hot, muggy days are especially rough on your furry friends. This cooling pad for cats and dogs ensures your furry companion has a comfortable place to get some rest even when the temperature outside is spiking.  
The best-selling, award-winning Cool Pet Pad is a self-cooling mat that activates once your pet lays on it.  
The Cool Pet Pad conserves energy with their patented cooling gel technology that requires no water, refrigeration or electricity.
The Cool Pet Pad is pressure-activated and lasts up to 3 hours. After that, it recharges itself automatically with just 15-20 minutes of non-use.
It's easy to clean, stays cool for hours, and is durable enough to last for years with proper care.
The Cool Pet Pad is also an extraordinary solution for pain, swelling, discomfort and stress. The following conditions have been helped by the Cool Pet Pad: heat stroke, hip dysplasia, cushing's disease, allergies, senior canines, post-chemotherapy, skin conditions + post-surgery.
Father-son duo Larry and Brian Wright launched in 2010 with a vision to elevate the eco-friendly pet industry.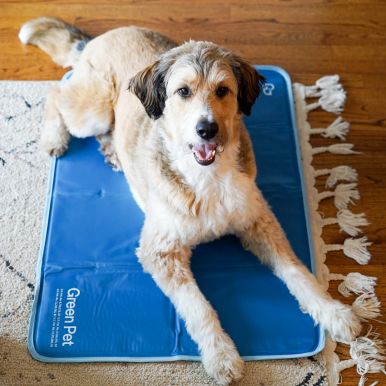 Since then, Green Pet has expanded to a full line of top-rated, unique, eco-friendly, affordable and safe products for pets. 
Their pet essentials are designed with sustainability in mind by using biodegradable materials such as bamboo and cornstarch or creating patented cooling technology that conserves energy.  
Simply Gentle Ear Cleaner
An estimated 20% of dogs have some form of an ear infection. 
Professionals say prevention is key, by taking the time to inspect and clean your dog's ears. However, a lot of pet care products contain synthetic colours, fragrances, and toxic ingredients that may affect your dog's and the planet's health. A lot of dogs are sensitive around the ears and feel a sting from cleansers that contain alcohol. 
Skip the RUFF chemicals and choose Eco Dog Care's Simply Gentle Ear Cleaner. It's made with plant-based ingredients specifically designed to clean and soothe your dogs ear, without using synthetic chemicals or alcohol. Supplement your dog's wellness routine with a product that respects your dog's well-being and the planet's.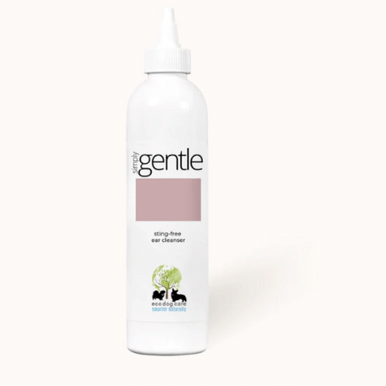 Did you know there is a Pet Sustainability Coalition (PSC)? It is the only independent, not-for-profit organization advancing sustainability in the global pet industry. It includes over 200 members representing producers, suppliers, manufacturers, brands, distributors, and retailers. This next eco-friendly pet product maker is a member at the highest icon level.
ZIWI Peak Air-Dried Original Series Lamb Recipe
As a move towards 100% recyclable packaging, ZIWI has officially joined the PSC Packaging Pledge. This program helps companies meet voluntary, public, and time-bound commitments that will improve the sustainability of their packaging. The PSC Packaging Pledge is in direct alignment with the Ellen MacArthur Foundation's New Plastics Economy Global Commitment, thereby increasing participation from the pet industry to move toward recyclable, reusable, or compostable packaging by the year 2025.
Say hello to  ZIWI Peak Air-Dried Original Series Lamb Recipe for Dogs. 
This single-protein food is packed full of 96% lamb, organs, bones, and New Zealand green mussels – great for dogs with food sensitivities.
Use as a nutritious topper, a delicious treat, or a complete and balanced meal.
ZIWI is the global leader and innovator of air-dried nutrition combining the nutrition found in raw diets with the safe convenience of dry foods.
All ZIWI's dog and cat food recipes are created from 100% ethical and sustainable meat and seafood sourced in New Zealand, with no added antibiotics, hormones, or growth promotants.
ZIWI takes extra measures to produce their products in sustainable facilities.  Their newest New Zealand kitchen features recycled and reclaimed wood furnishing, water collection systems to water and regrow nearby vegetation, and replanted native foliage to encourage the repopulation of endangered birdlife, bees and insects.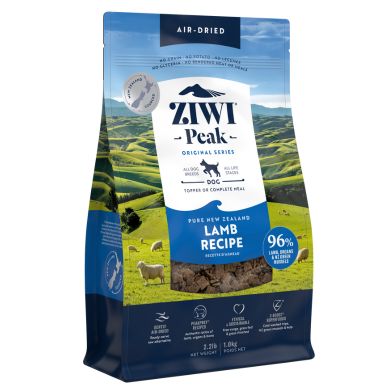 New Zealand is famous for its world-class lamb, ethically raised by multi-generational family farmers.  Their temperate climate and lush, nutrient-rich farmland allow the lamb to graze all year round. Built into their values, they hold the Five Freedom Principles at the forefront, meaning that their farming standards ensure livestock are free from hunger and thirst, discomfort, pain, injury or disease, and fear & distress, and free to express natural behavior. 
Approximately 634 million dog toys end up in landfill each year (Raker, 2021). This is particularly harmful because a lot of dogs toys are made out of plastic which leaches harmful chemicals into the earth. 
Simply Natural Canada offers an eco-friendly solution with their fair trade pure wool dog toys. 
They are;
Un-dyed and chemical free
Excellent at keeping teeth naturally clean
Long lasting
Digestible (if your dog happens to eat one)
These natural wool toys will keep your pet and the planet healthy and happy.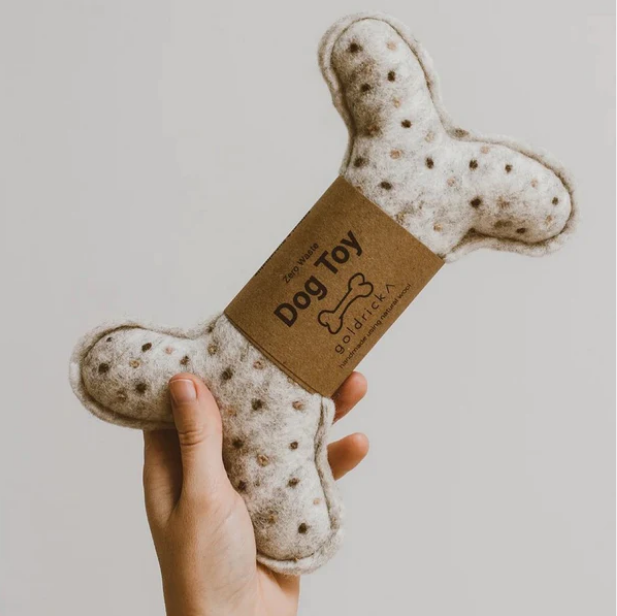 We all know it's important to stoop and scoop. (Check out our blog post here to learn why). But have you ever thought of what happens afterwards?
Nearly 10 million tons of dog waste and 500 million little single-use plastic dog waste bags end up in landfills annually in the U.S alone.
The Original Poop Bags is tackling this waste problem head-on, by offering 3 different kinds of poop bags;
Plant-based: Made from plants, starch and renewable sources. They are certified compostable and are okay for green bins in California and Canada.
USDA Certified Biobased: Made with 38% plant material = helps reduce environmental impact.
Recycled: The recycled poop bags use up to 30% recycled materials in production.


Best of all, with their Biobased poop bags, they offer numbered poop bags. They come with a countdown roll, meaning each poop bag is individually numbered, so you'll always know if you need to grab another roll before leaving the house.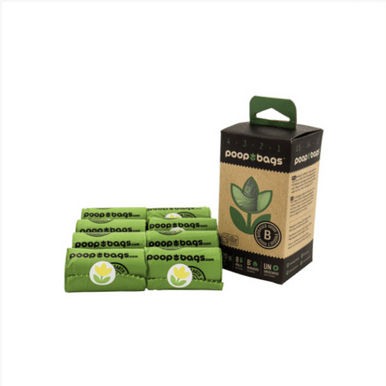 The Original Poop Bags® have met a heady list of environmental standards; they are the first dog waste bag manufacturer to earn the USDA Certified Biobased Label.
Help reduce your furry friend's contribution to the plastic and poop pollution problem.
Plant Powered Nutrition For Dogs
Did you know that food-related choices can be an area where you can have the largest environmental impact? The same choices can be true for your dog. By choosing plant-powered dog food, not only are you directly saving animals from consumption but you also avoid the water wastage and land devastation typically associated with factory farming. 
v-dog provides a unique solution with their Kind Kibble to keep your dog's environmental PAWPRINT minimal and cruelty-free!
Formulated by canine nutritionists and experienced veterinarians, their complete and balanced plant-based kibble includes powerful superfood ingredients, added taurine, plant-based DHA, and essential omega 3 and 6 fatty acids.  
This nutritionally complete dog food is free of animal products, fillers, corn, soy, and wheat, which makes this hypoallergenic formula great for dogs with sensitive stomachs and itchy skin. 
Combine this kibble with their Happy Harvest cans of soft and savory dog food. It's a nutritionally complete plant-based soft food that's perfect for adult dogs AND PUPPIES!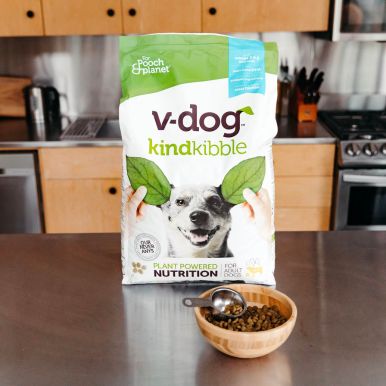 v-dog knows that making this switch for your dog can help save and protect all animals, not just pets, while also preserving our planet's precious (and limited) resources one dog bowl at a time.
They have partnered with rePurpose Global to become certified plastic-negative!
Eco-Friendly Pet Supplies: Shampoo Bars
Looking to make bath time more sustainable? 
At Nature's Aid they offer shampoo bars for pets, with zero plastic packaging! It's an eco-friendly option that also offers nourishing benefits for their skin and coat. 
The shampoo bar is extremely easy to use, just wet your pet and the bar, and then run the bar along their coat. It lathers easily, and saves the amount of shampoo needed overall.
The shampoo bars are vegan, cruelty-free and made with all-natural ingredients, so it's good for your pet and the planet.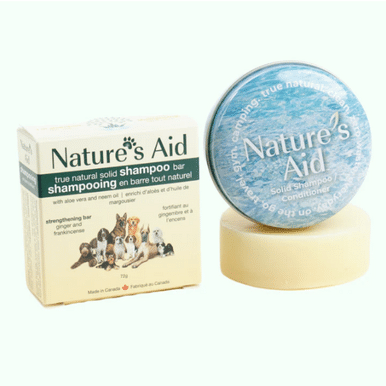 Plastic-Free Dog Brush - 2 Sided/Wire
Treat your furry friend like royalty – sustainably, with a natural and plastic-free dog hair brush.

This brush is double-sided: one side has Tampico fiber bristles and the other has wire pins. 
Available from our community member The Refill Stop !
Features & Benefits: 
Oiled beechwood
Tampico fibre/union fibre, metal pins
Size: 23.5 cm
For the care of your dog. 
Made in Germany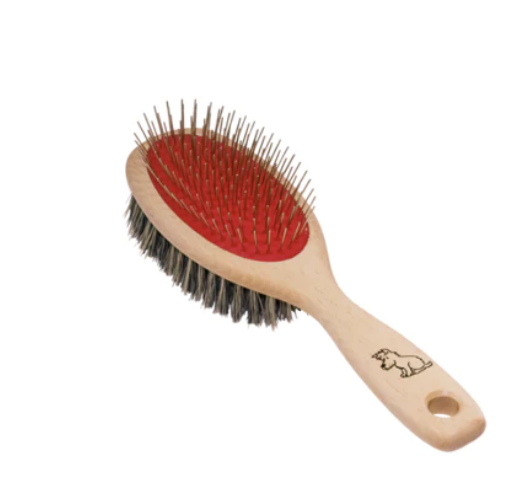 Go! Solutions Sensitivities Limited Ingredient Grain-Free Insect Recipe for Dogs
Go! Solutions Sensitivities Limited Ingredient Grain-Free Insect Recipe for Dogs is ideal for pets with sensitivities. 
It features black soldier fly larvae – an emerging novel protein source that is hypoallergenic, sustainable, and highly digestible – this recipe has been carefully crafted with important nutrients for dogs and as few ingredients as possible to offer a diet that is less likely to trigger food sensitivities.
This recipe provides a sustainable choice for environmentally-conscious pet parents as insect-based proteins have less impact on the environment as they yield a smaller carbon footprint. This sustainable single-source insect protein uses 80% less water and land than chicken in its production.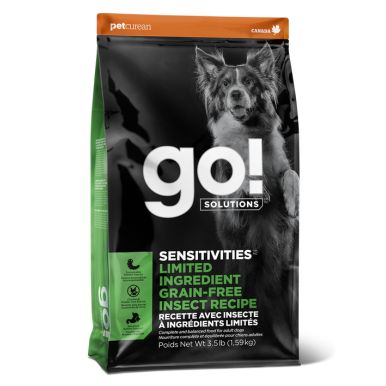 Go! Solutions is a brand within the premium pet food company Petcurean who are passionate about advancing sustainability in the pet food industry. The Company and its team members have made significant strides to impact real change. 
In 2022, Petcurean became the first in the premium pet food industry to achieve carbon-neutral status for Scope 1 and Scope 2 GHG emissions. Initiatives undertaken to reach this milestone include switching to hybrid vehicles for their leased fleet, reducing electricity usage, reducing heat and A/C usage, and purchasing verified carbon offsets for the emissions that can't be reduced. Petcurean's operations department also saved over 1,300 lbs of food last year from the landfill by redirecting their expired Quality Assurance samples to local compost.
You can learn more about this in their annual Sustainability Impact Report which allows Petcurean to not only be accountable but to also be transparent in its sustainability progress. 
Throwing out your pet's poo just seems wasteful. What if there was a way give your pet's poo a second life?
Using the power of worms, Eartheasy's Pet Poo Worm Composter turns pet waste into castings that allows you to fertilize your ornamental gardens. It's designed to collect kitchen scraps and pet waste, with roughly a 50:50 ratio. It works in colder climates by keeping your worms insulated. The composter can also handle 6-9 lbs of waste per week. This compost enriches your soil with nutrients and minerals, and gives your dogs poo a planet-friendly purpose. 
New to worm composting? Eartheasy gives you all the tips and tricks you need to help it be a success. Check it out here.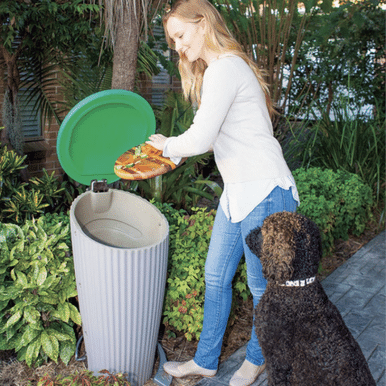 Winter is still quite a few months away thankfully, but it's never too early to start preparing! During those cold winter months, just like us, your pet can also suffer from the cold, dry air. That's why The Green Jar created the Paws and Sniffer Balm designed to help keep paws and snouts moisturized.
It's Canadian-made, contains 100% natural ingredients (so it's safe for your pet to consume), and it's packed in a reusable tin. This product is also available for subscription, so you can receive it on a regular basis.   
Every order placed at The Green Jar plants a tree through their partner Our Forest. These trees help create habitat for wildlife, absorb carbon from the atmosphere and help people facing extreme poverty.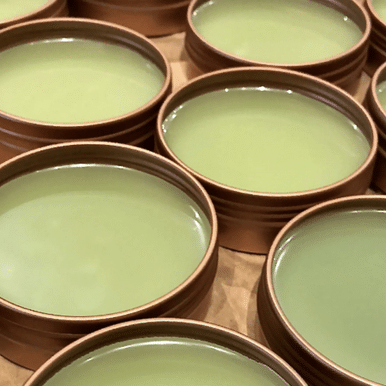 Bamboo Toothbrush For Dogs
A bamboo toothbrush for your big dog! This brush features a curved head specially designed to better reach all teeth in the animal's oral cavity. It has a compact head for effective and more pleasant brushing.
The handle of the toothbrush is 100% compostable and biodegradable and the bristles are made of high-quality nylon. 
Made from FSC-certified bamboo to ensure best practices in managing responsible forests. 
Bamboo cultivation is done without using pesticides or insecticides and bamboo forests absorb 35% more CO2 than a regular mixed forest.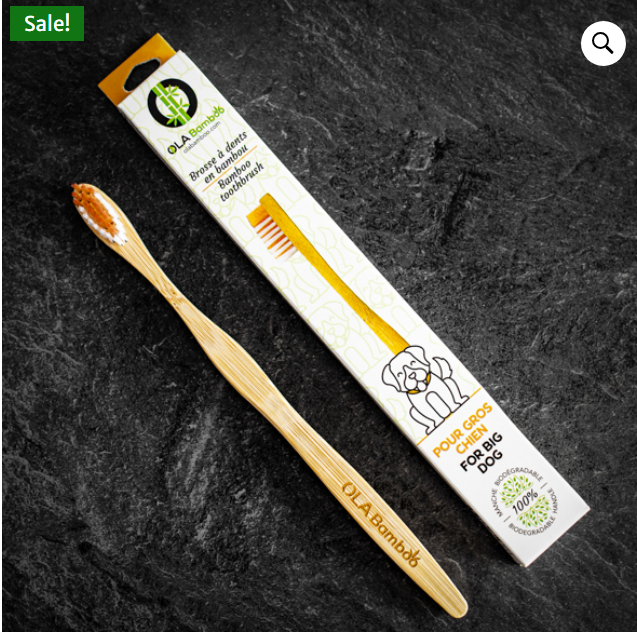 We all love our furry friends, but what we don't love is their environmental impact on the planet. Here at Random Acts of Green we're all pet parents, and are continually looking for eco-friendly pet products to help reduce their environmental pawprint. 
We hope you enjoyed reading about these 13 best eco-friendly pet products! Would your community enjoy this read? Easily share this blog to your platforms with the buttons below!
eco friendly dog products

Get ready for green learning with our unique eco-friendly school supplies checklist for back to school season.
Read the Full Story

Stay on track with your Green Goals with our list of 13 paw-some eco-friendly pet products to try this August.
Read the Full Story