Join Planet Bootcamp this Earth Month!
This Earth Month, we're challenging you to approach your green goals the same way you'd approach your health and fitness goals!
Complete with pep talks, good sportsmanship, and training plans – we're ready to support you, motivate you, train you – and help you reach your full, sustainable potential with our Earth Month Challenge – no matter what level you're at.
But like any coach, we're going to push you harder than you think you can go.
Because we all need to put in the work. And do the hard, uncomfortable things. You've all heard the saying: 'No pain, No gain'.
Get ready to get coached into taking climate action!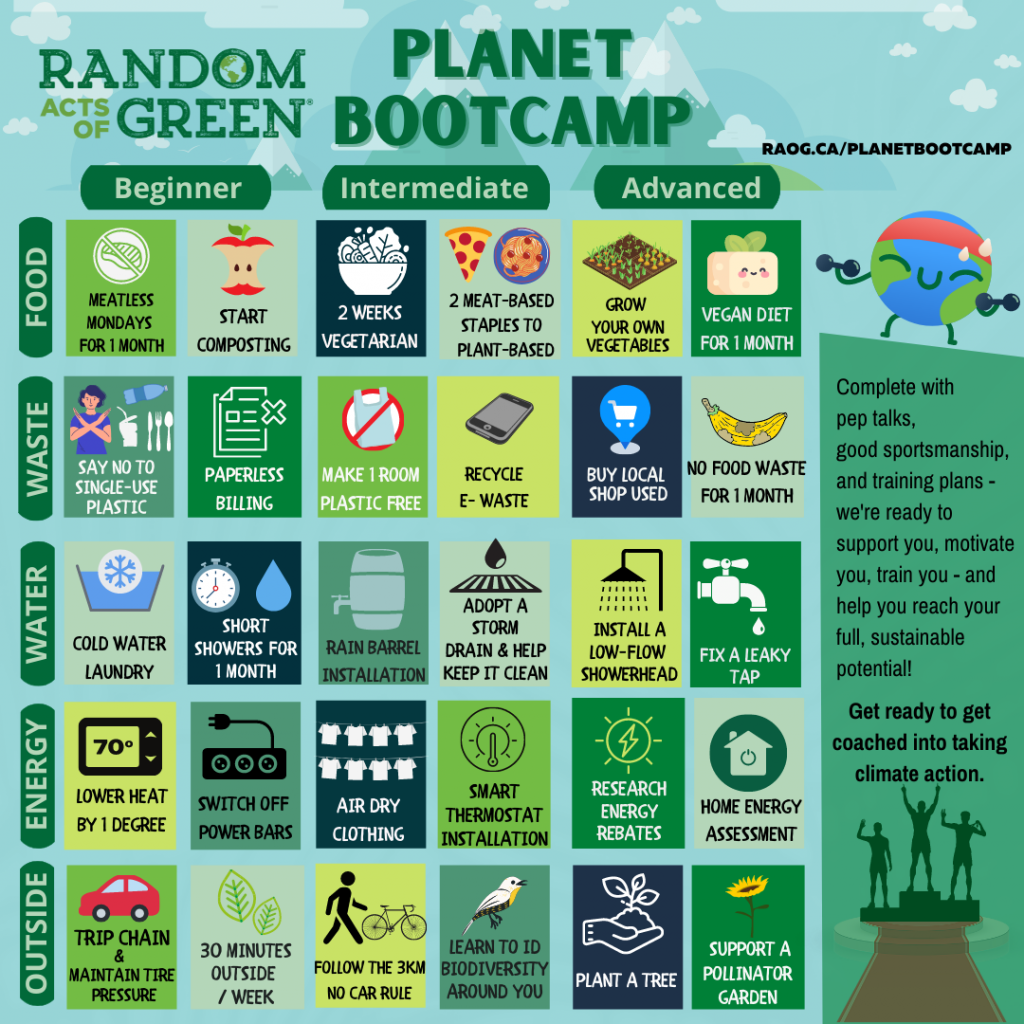 How to Participate in Planet Bootcamp:
✅ Complete as many Green Acts as you can! We challenge you to push yourself beyond what's easy.
📸 Share your progress by tagging @randomactsofgreen
😍 Challenge others to participate with you.
Share your progress on socials and log your Green Acts on our free mobile app.
The gains can be BIG or SMALL – we'll embrace it all.
If you are hesitating on this earth challenge 2022, ask yourself this:
Are we doing what's easy?
Are we staying within our comfort zone?
Are we giving up at the first sign of hardship?
Are we expecting change to happen immediately?
Are we putting in minimal efforts to take climate action?
Then it's time to face the hard truth: we're part of the problem.
But we can also be part of the solution.
We need to put in the work.
We need to quit giving up.
We need to work together, as a community.
Whether you're continuing, starting, or re-starting your sustainability journey – we're ready to help coach you into climate action for Earth Day 2022.
And like any coach, we're here to help push you harder than you think you can go.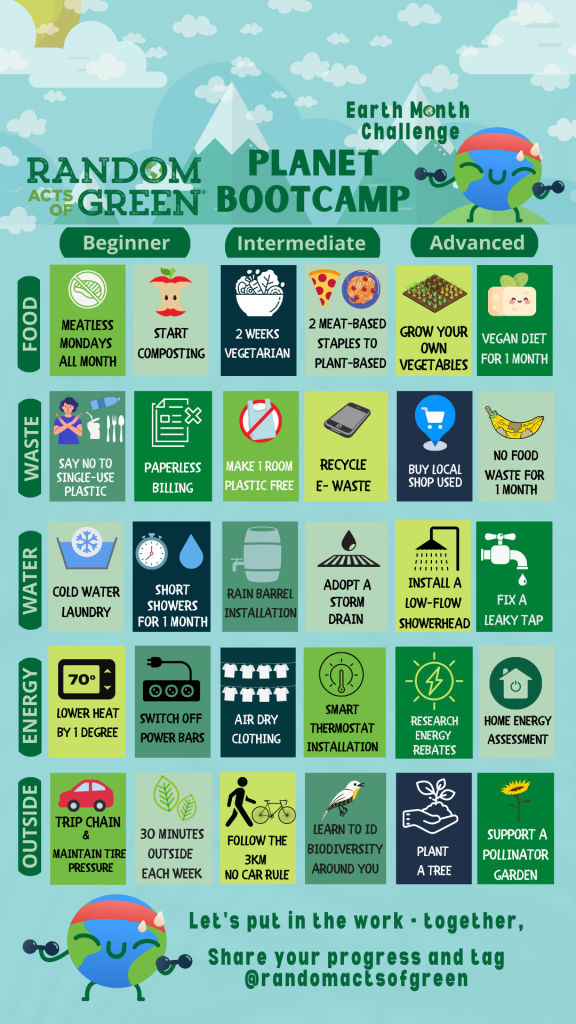 📲 This is a Green Act you can log on our mobile App!
There are over 40+ different Green Acts you can log to help track your impact.
Download it for free to get inspiration on actions you can take to help our planet.
Earn Green Points and redeem for rewards from eco-friendly businesses and services from our member community.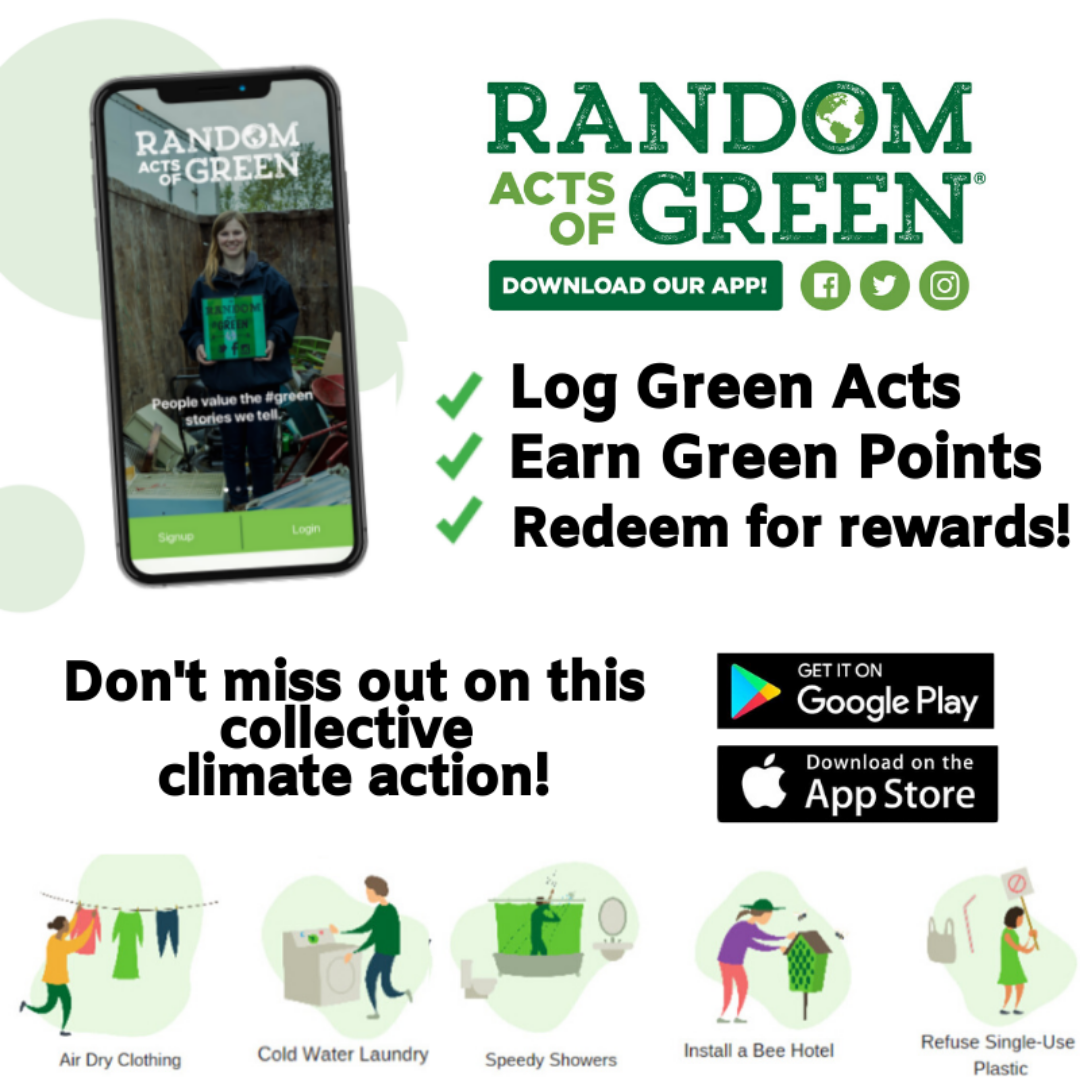 Are you looking for a 30-day challenge? Do you organize monthly green challenges for the office?
Employee Engagement Strategies
Have a look at our information deck that showcases how we can engage your community, team, workplace, or school in sustainability.