𝐓𝐚𝐥𝐤 𝐂𝐥𝐢𝐦𝐚𝐭𝐞 𝐭𝐨 𝐌𝐞 is a fun, free, unscary, online, team-based climate education experience for women in Canada.
Did you know?
Women are more worried yet less certain about the facts of climate change.
This uncertainty comes at a cost.
Women want to make the choices that will protect their future and the future of their loved ones but aren't being given the climate information to do so.
This needs to change!
The course includes:

 Training sessions;

 Outreach materials; and

 Digital tools.
 The objective is to educate a strong and diverse force of climate leaders who will be armed with the climate awareness and behaviour change tools necessary to speak confidently and inspire change in their homes and communities!

 𝐉𝐨𝐢𝐧 𝐭𝐡𝐞 𝐑𝐚𝐧𝐝𝐨𝐦 𝐀𝐜𝐭𝐬 𝐨𝐟 𝐆𝐫𝐞𝐞𝐧 𝐓𝐞𝐚𝐦 𝐚𝐧𝐝 𝐩𝐚𝐫𝐭𝐢𝐜𝐢𝐩𝐚𝐭𝐞 𝐢𝐧 𝐓𝐚𝐥𝐤 𝐂𝐥𝐢𝐦𝐚𝐭𝐞 𝐓𝐨 𝐌𝐞!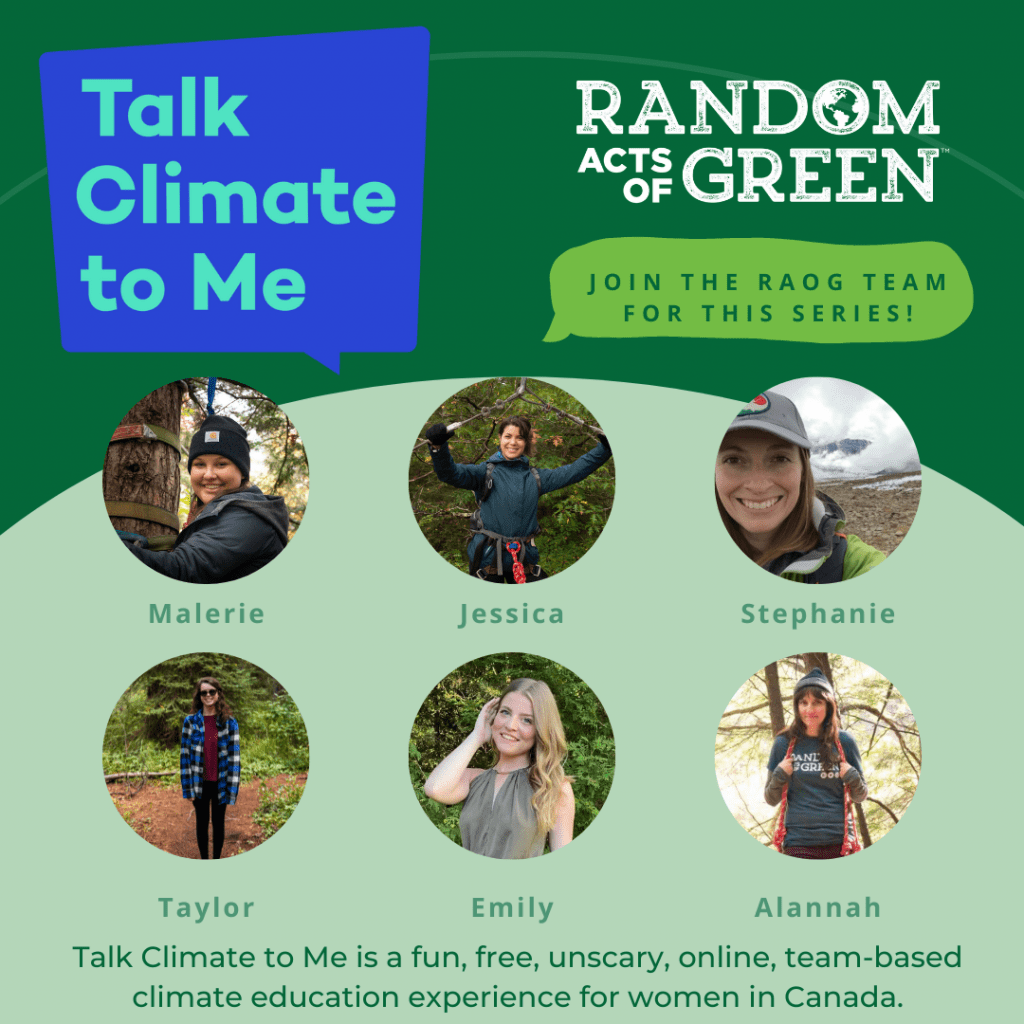 No matter where you are on your green journey, taking the TCTM course can help you strike up a new heart-to-heart for the Earth.
🌎 Maybe that's casually dropping it into a conversation, imagining a new way forward, or digging into the hard truths we're facing.
👉 This course provides many talking points to help get the ball rolling and can help you find your voice in ways that make sense for you.
Talk Climate To Me can help you talk the talk and inspire you to walk the walk for the planet.
💕 After all, if you don't talk about the things you're passionate about, you miss out on the opportunity to connect with others on shared values.

Learn How To Have Effective Climate Conversations – According To Experts




Ever wondered how to have effective climate conversations? Talking about environmental problems is tough – but here are useful tips.
Read More »