If Mother Earth could react to us with an emoji, which one would she choose?
–       Mad
–       Sad
–       Happy
–       Cool
–       Or Loved?
The official Random Acts of Green's Mother Earth's Emoji Challenge has 1 objective:
Make Mother Earth feel loved – together.
We know there are MANY reasons why she may feel sad 😢or even😡 with us.
Let's work together on this earth month challenge to turn that frown upside down by taking action today!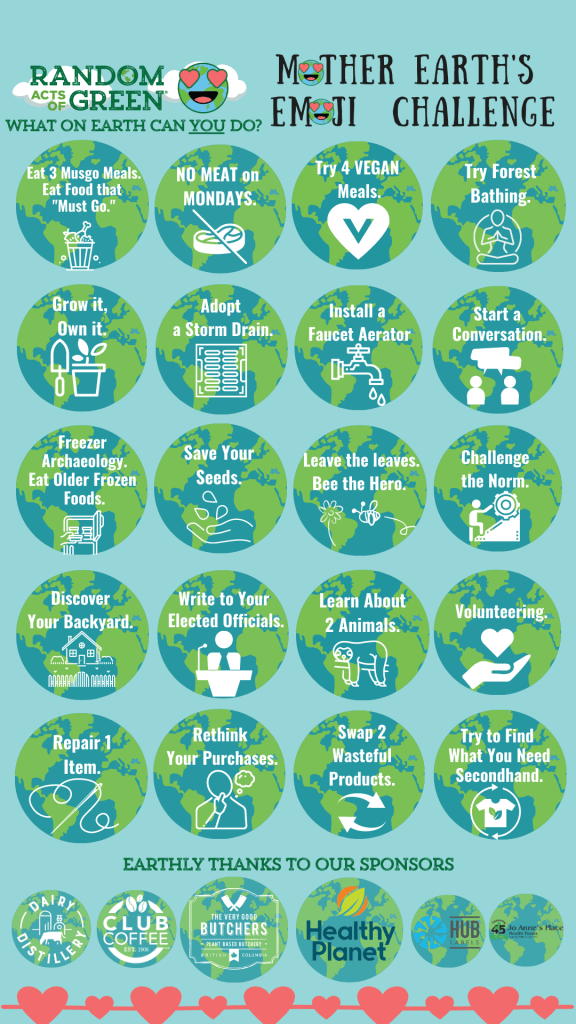 We challenge you to equip yourself with this out-of-the-box toolbox full of creative acts you can do for the planet. This is much more than a 30 day sustainability challenge!
Will you participate to help make Mother Earth feel loved this April?
Let's help her choose the "FEELING LOVED" emoji…together.😘
Here's how you can participate in
Mother Earth's Emoji Challenge:
✅  Complete as many Green Acts as you can!
📸  Share your progress by tagging @randomactsofgreen 
😍  Make Mother Earth feel the love by challenging others to participate with you.  
Take part in something BIG or SMALL – we'll embrace it all.
Follow along on our social media as we unpack this Mother Earth's Emoji Challenge together!
Pledge to participate to stay in the know and join others around the globe as we embrace Mother Earth in loving action!
Are you ready for earth challenge 2021?
Earthly Thanks to our Mother Earth's Emoji Challenge 2021 Sponsors!