The Random Acts of Green Holiday Gift Guide 2022
To many, the Holidays are the most, wonderful time of the year. At the same time, there is a growing awareness of the environmental impact of the waste that is produced around it. 
We recognize the challenge of being torn between wanting to uphold traditions of sharing goodwill with others while also being mindful of the planet. 
This month, we're running our annual JollyGreen Holiday Eco-Challenge– a seasonal challenge that is part of a global effort to reduce our waste during the holidays. 
As part of this pledge, we've put together a list of  20 Eco-Friendly Holiday Gifts for you to consider this season to keep it green.  Read on to browse through our Green Holiday Gift Guide for 2022. 
Eco-Friendly Gift Ideas: Try Consumables!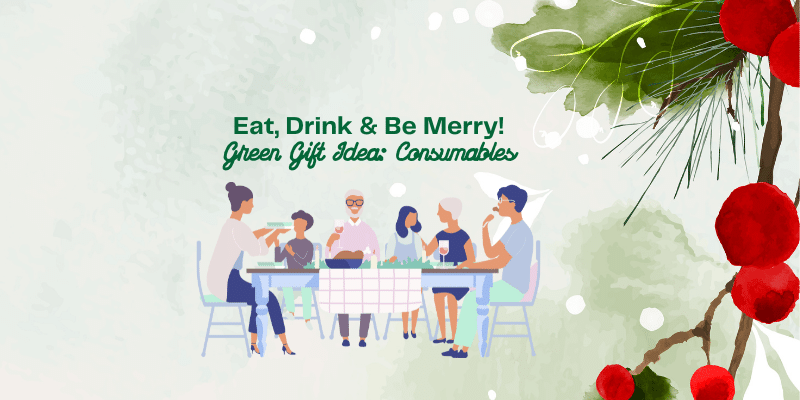 Clif Family Winery has created their Solar Grown™ Honey collection, which is harvested from hives on pollinator-friendly solar farms. These farms increase biodiversity and pollinator friendly habitat while improving the efficiency of solar panels by creating cooler microclimates. Included in this collection is their Solar Grown™ Raw Honey, Hot Honey and three flavored Honey Spreads, plus a wooden honey spreader and 3 recipes from Executive Chef John McConnell. A buzz-worthy gift indeed!
Clif Family Winery & Farm is dedicated to managing their business in a way that mitigates the impacts of climate change and builds resiliency for future impacts. Their Environmental Goals and Commitments are aligned around 4 key areas:
1) Organic Food & Farming
2) Sustainable Production
3) Zero Waste
4) Conserving & Restoring Natural Resources
All of their Estate Vineyards (about 95 acres) are CCOF certified organic and Napa Green Certified. They also won the 2022 Regional Best of Wine Tourism Award for Best Sustainable Wine Tourism Practices by Great Wine Capitals. 
The Clif Family is focused on creating high quality, low impact wine and food.  Their mission is to create a healthy and sustainable world they'd like to pass on to their children.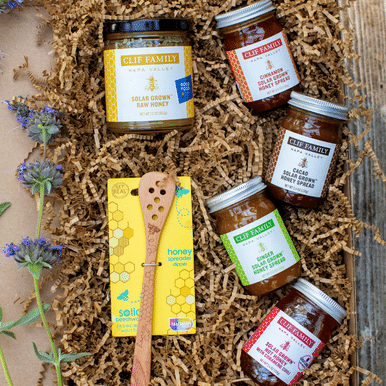 Kombucha Town brews energizing and refreshing drinks that bubble with life. Their Cascadian Hops Kombucha tastes like adventures in the mountains and on the water. Combining a love of kombucha and a love of beer, it's made with;
Cascade and citra hops,
Coriander; and
Orange peel
All of which are traceable ingredients displayed on the website!  Brewed with a variety of fair-trade certified, Non-GMO, and USDA Organic teas, sugar, and ingredients, their non-alcoholic kombucha blends are good for you and the planet.
They were the first kombucha brewery to package their products in 16oz aluminum cans. As of 2019, Kombucha Town has prevented a million glass and plastic bottles from being needlessly wasted. Kombucha Town also plants trees for every case sold, to do their part to restore the environment.
From the beginning, they've measured their success against the triple bottom line- people, planet and profit. The Kombucha Town team has a deep connection with nature and it shows in the way they do business. They're committed to the health of the planet and to the power of community, relationships, and purpose. Their mission is to provide the fuel for healthier, happier lifestyles, and if you'd like to learn more and support their mission you can click here.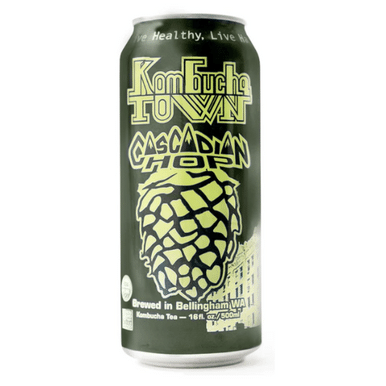 Green Discount Code:
Enter GreenHops2022 at checkout to get one case of Cascade Hops Kombucha and one variety pack for 50% off.

Before we get the holiday par-tea started did you know that most teabags on the market contain plastic that is not recyclable or biodegradable, even the paper teabags?
One cup from a single plastic tea bag can contain up to billions of microplastic and nanoplastic particles– gross, right?
 teapigs, uses Plant Based Tea Temples and Sustainable Packaging:
🌽 Made from corn starch
Labels made with Forest Stewardship Council (FSC) paper
Inks on cartons are vegetable based
🌳 Clear inner bags made from Natureflex (renewable wood pulp) that is fully compostable.
🌳The tea is  Rainforest Alliance certified and sourced through Ethical Tea Partnership.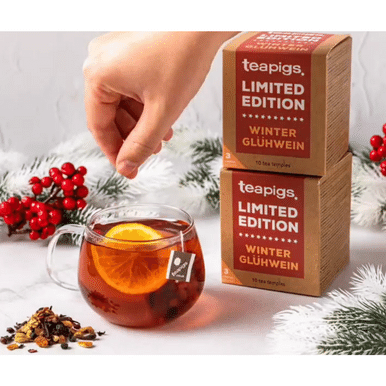 Club Coffee's revolutionary AromaPak™ sustainable coffee solutions combine sustainably certified coffee sourcing with unique manufacturing technologies to deliver fresh, great tasting coffee in today's most innovative recyclable and compostable** packaging. Available in:
PῧrPod100® compostable** single serve pods
Compostable** espresso capsules
Recyclable, paper-based packaging for ground and whole bean coffees
Club Coffee's Coffee pods are:
100% fully certified compostable** pods by Biodegradable Products Institute
Broken down in commercial composting in as little as 5 weeks
Developed with plant-based materials – you aren't drinking out of plastic
Proven by 3rd party academic research (York University) to be better than recyclable K-cups from environmental, economic, and technical perspectives
Designed conveniently: no need to take apart your pod before you put it in a green bin. It's designed to break down together.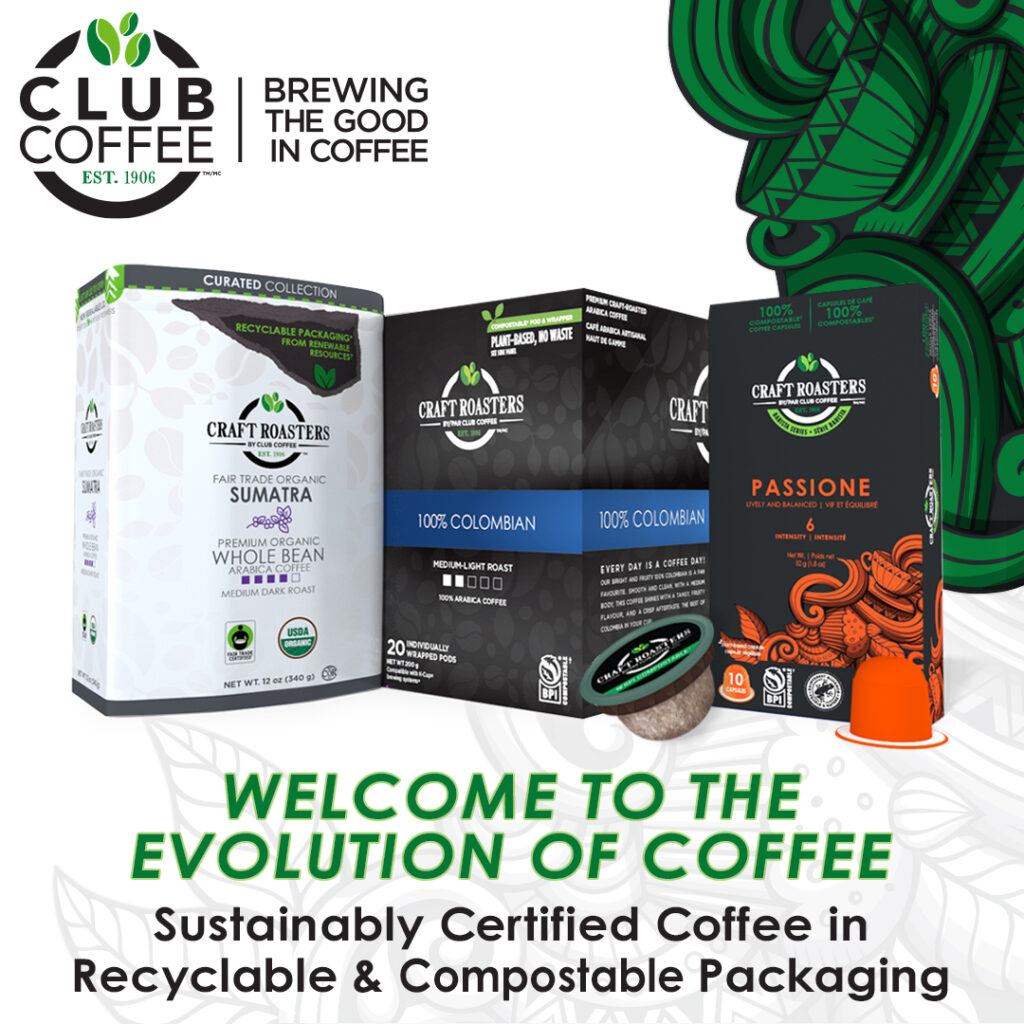 5) Casear Cocktail Box from Dairy Distillery
Caesar the holiday with a bloody brilliant eco-friendly cocktail mix from Dairy Distillery.
Dairy Distillery converts used milk permeate waste into an unbelievably smooth VODKOW spirit – talk about waste to resource!
Reduces waste
Has a small carbon footprint
Uses less energy and water for production
Vodkow is made from milk permeate (a by-product of milk production), instead of grains or potatoes like traditional vodka.
It has half of the carbon footprint of other vodkas due to it's sustainable ingredients, efficient production and lighter packaging.
All of these advantages made it possible for Dairy Distillery to purchase offsets to make every bottle of Vodkow carbon neutral.
Keep up the a-moo-zing work Dairy Distillery!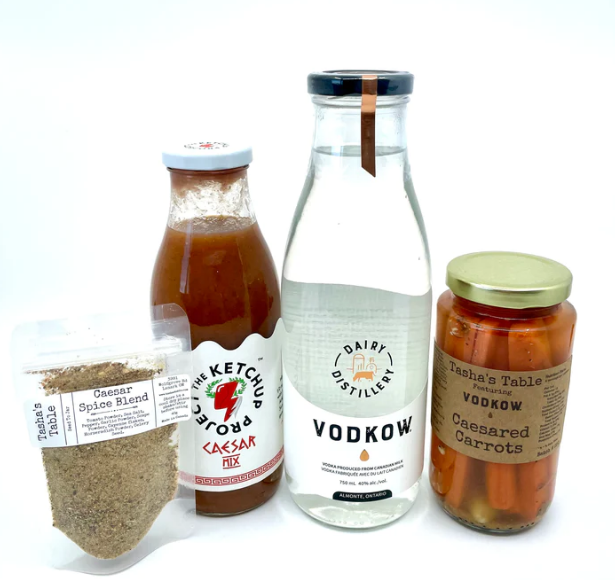 6) Insect Based Dog Treats
Oh Christmas TREAT, Oh Christmas TREAT  ♬- please don't forget the dog.  They deserve to be on the nice list for making our lives furry and bright! 

Nothing weird, just bugs. This treat is a great conversation starter!
HOPE Pet Food provides unique nutrition to keep your pet's environmental PAWPRINT minimal.
Their Berry Buglicious Treats are made with insect protein and are nutritious, sustainable, and hypoallergenic.
By using insect protein instead of meat, they cut down on their greenhouse gas emissions by 70% and use 99% less land and water!
Your furry friend is guaranteed to drool over them, and if not they'll give a full refund, no questions asked.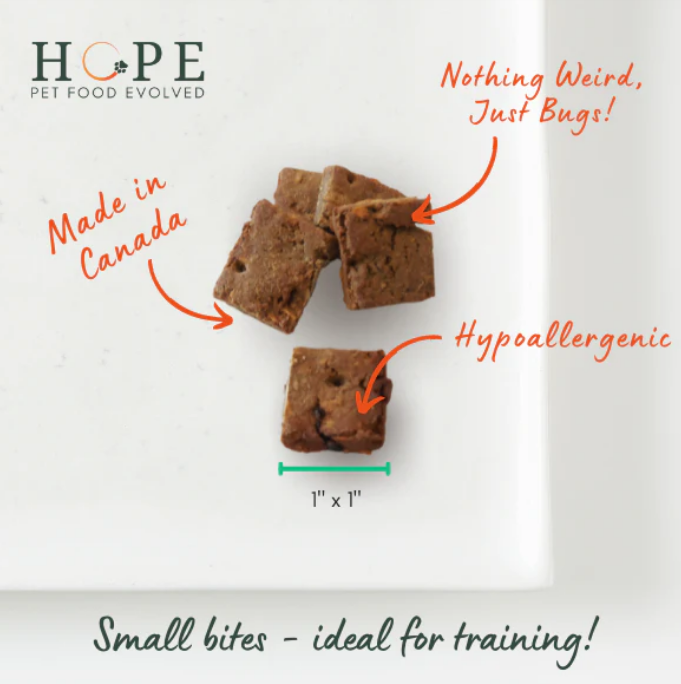 Choose HOPE Pet Food for your pet's holiday treat, and feed your pet for the future.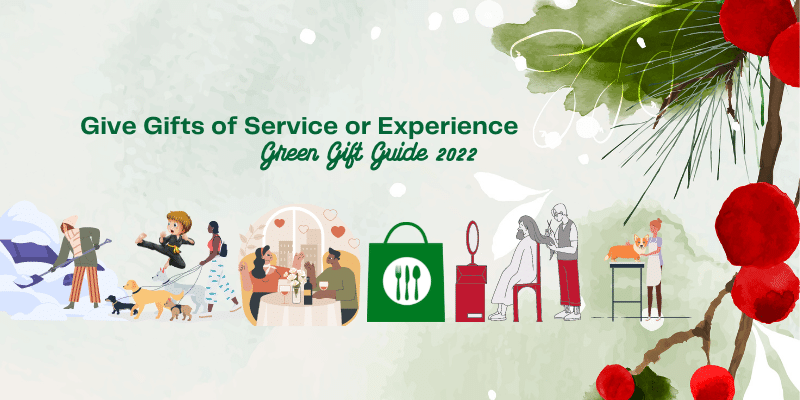 7) Eco-Friendly Gift Ideas: Think Outside The Gift Box
Holiday gifting does not always have to be tangible 'things' You can bestow your recipient with an experience they can enjoy later. This is an ideal gift to limit 'stuff' to be transported if they live far away as well. Plus you can support a local service provider, strengthening the local economy. All of these reasons make it important to consider them for eco-friendly gift ideas. 
Here are some examples: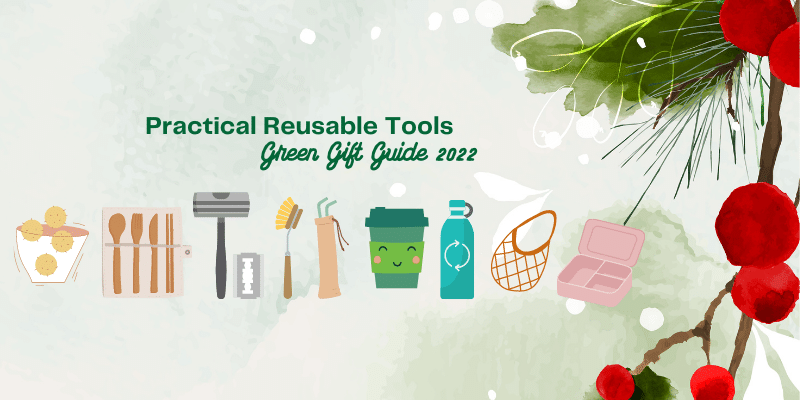 Did you know that dryer sheets release harmful chemicals for the environment and your health when thrown into the dryer?
Moss Creek Wool Works is on a mission to encourage eco-friendly drying and eliminate toxic dryer sheets. Their 100% wool dryer balls are hand made in Canada using wool sustainably sourced from the USA, Canada and the UK.
 Moss Creek's Barn Boxes are the perfect stocking stuffer for the eco-friendly gift giver.
Features & Benefits:
Reduces drying time and saves electricity
Softens clothes naturally while reducing static and wrinkles
Replaces dryer sheets and fabric softeners – safe for sensitive skin and babies
Extends clothing lifespan
Will last for 1000+ loads
All of their wool is sourced from Wool Cooperatives where the fleece is milled locally, reducing their carbon footprints. Their wool is cruelty-free, no wool is sourced from farms that practice mulesing. The sheep are never exposed to chemical dyes, and are raised for their wool, not for their meat.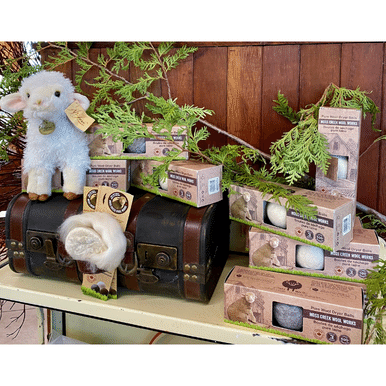 Moss Creek Wool Works was born from a desire to live a sustainable life and a passion for natural alternatives.  A true community-based company, their original production team was a group of stay-at-home parents, crafting during school hours. They make each dryer ball by hand one at a time. Moss Creek's wool dryer balls also make great dog and cat pet toys!
Right now, you can get $5 off 3 Barn Boxes!
Use promo code: RAOG$5OFF at checkout (offer ends Dec 31, 2022).
Did you know that roughly 2 million disposable razors end up in the landfill every year in the United States? 
Rockwell Razors is proud to be a part of the plastic pollution solution by offering a plastic-free razor. Currently, they're on track to divert 100,000+ tonnes of plastic waste (in the form of disposable razors) from landfill this year! 
Rockwell Razors offers a waste-free shave without compromising comfort or safety. Their stainless steel, Rockwell 6S razor is backed by a lifetime warranty. Buy it once, and use it for life as your grandparents did. 
They guarantee you'll never look back after making the switch, in fact, they offer a 60-day money-back guarantee if you're not satisfied with their product.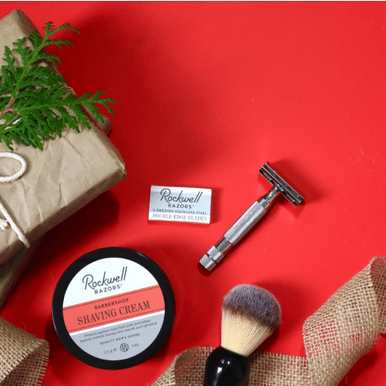 Your loved one will never forget their reusable bag again after getting a unique one like The Scrapwork Tote Bag.  

Porter Blue Apparel is fighting the pollution problem in the fashion industry, by creating products that are eco-friendly and made to last. They use sustainable raw materials, recycled materials, and operate with energy and water-saving practices. They believe that style shouldn't compromise sustainability. 
The Scrapwork Tote Bag is made with scraps off the cutting room floor. It's a 100% upcycled product, and each bag is unique. 
Use it for shopping or transporting goods, and feel good about reducing your plastic consumption.  Trust us, this one is a conversation starter!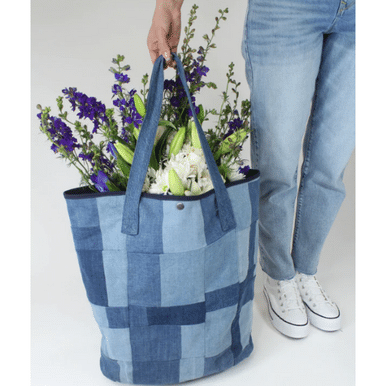 Oh Christmas bee, oh Christmas bee ♬ this gift will help keep food fresh! ♬
Did you know beeswax wraps are breathable so food stays fresher, for longer? 
Simply Natural Canada offers Oh Beehive Beeswax Food Wraps which are made in Canada,  with 100% Cotton, Ontario Beeswax, Jojoba Oil and Natural Pine Resin.
Help your recipient make a sustainable swap with this unique kitchen tool. They're super easy to use, the warmth of your palms helps to hold edges down. 
Simply Natural Canada is here to help provide healthier, non-toxic and eco-friendly products to Canadian consumers seeking quality and value, while doing what we can to protect the earth.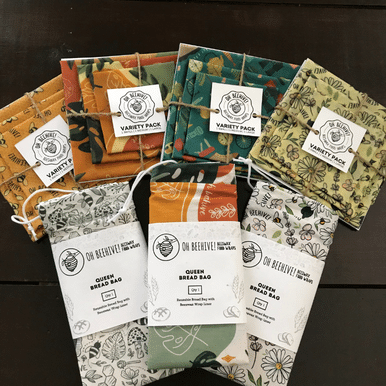 12) Reusable Water Bottle
Did you know that humans roughly use 1.2 million plastic bottles per minute in total?
The problem with plastic water bottles is that they are not easily recycled which wreaks havoc on the environment. 
Plus having one on hand is a great way to make sure you are reaching your recommended daily intake.
You're giving a tool to support healthy habits!  Do you know anyone that doesn't drink water? Exactly. This gift is for anyone.
Healthy Planet offers lots of reusable bottle options.  Bottles for humans of any size including some with built-in straws. You are sure to find the right bottle for your recipient that matches their personal style and thirst-quenching habits.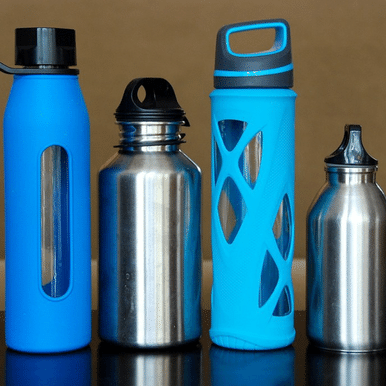 What's the issue with the tissue?
According to the Natural Resources Defense Council, nearly 15% of deforestation is caused by tree-cutting for paper products, including toilet paper & facial tissues.
And most of those used paper napkins go straight into our landfills.  Globally, discarded paper towels result in 254 million tons of trash every year.
Made by Funkins®, the original kid's cloth napkin company, these double-ply cloth napkins are sized smaller (12″x12″) for little hands and faces, and they are durably made from soft cotton fabrics that wash beautifully and can be reused over-and-over again.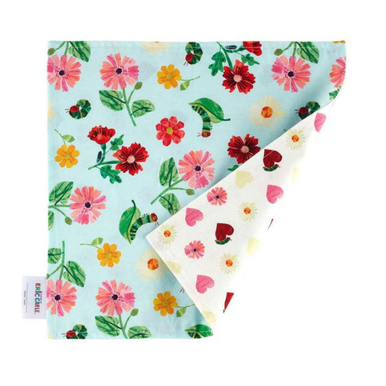 Ideal for waste-free school lunches, and for meals at home and on-the-go.  
All I want for Christmas is a self-cleaning kitchen. That might be a hard one to deliver but these are sure to help out. 
Swedish cloths are a sustainable and plastic-free alternative to paper towels and can replace up to 40+ rolls. 
The Sponge Cloth absorbs up to 15x its own weight in liquid [3/4 of a cup], is quick-drying AND is naturally anti-bacterial [no dishcloth smell]. 
These eco-friendly cloths will clean all kitchen and bath surfaces easily, without streaks. They can last up to 6-12+ months depending on use and are compostable at the end of its life. 
TWIG (Time Waste Is Gone), is an online shop that sells products to compliment your low waste life!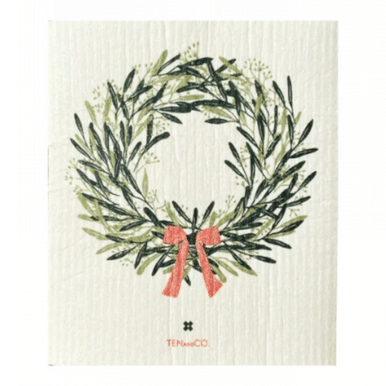 GREEN TIP: You could use this as an eco-friendly holiday wrap for a bottled gift. Wrap some twine or repurposed ribbon around the cloth and the bottle for an added bonus for your recipient.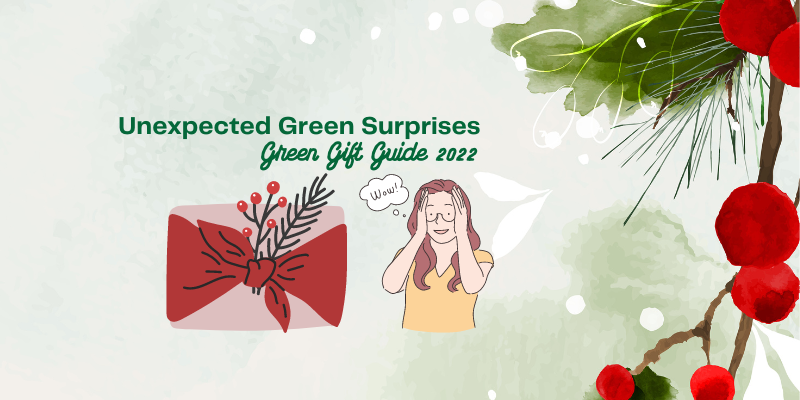 15) Survivor Filter Active All Terrain Bottle
Here's a great green gift idea for an active, outdoor nature lover.
Using a Survivor Filter Active All Terrain Bottle, you can filter 1 liter of lake, river, stream or tap water in 30 seconds. 
This removes heavy metals, chemicals, volatile organic compounds, bacteria, and parasites to clean water in any environment. 
Plus, refilling a water bottle is a great way to avoid contributing to plastic pollution.
You can help your loved one fulfill that dream of drinking fresh water straight from the natural source with this water filtration tool.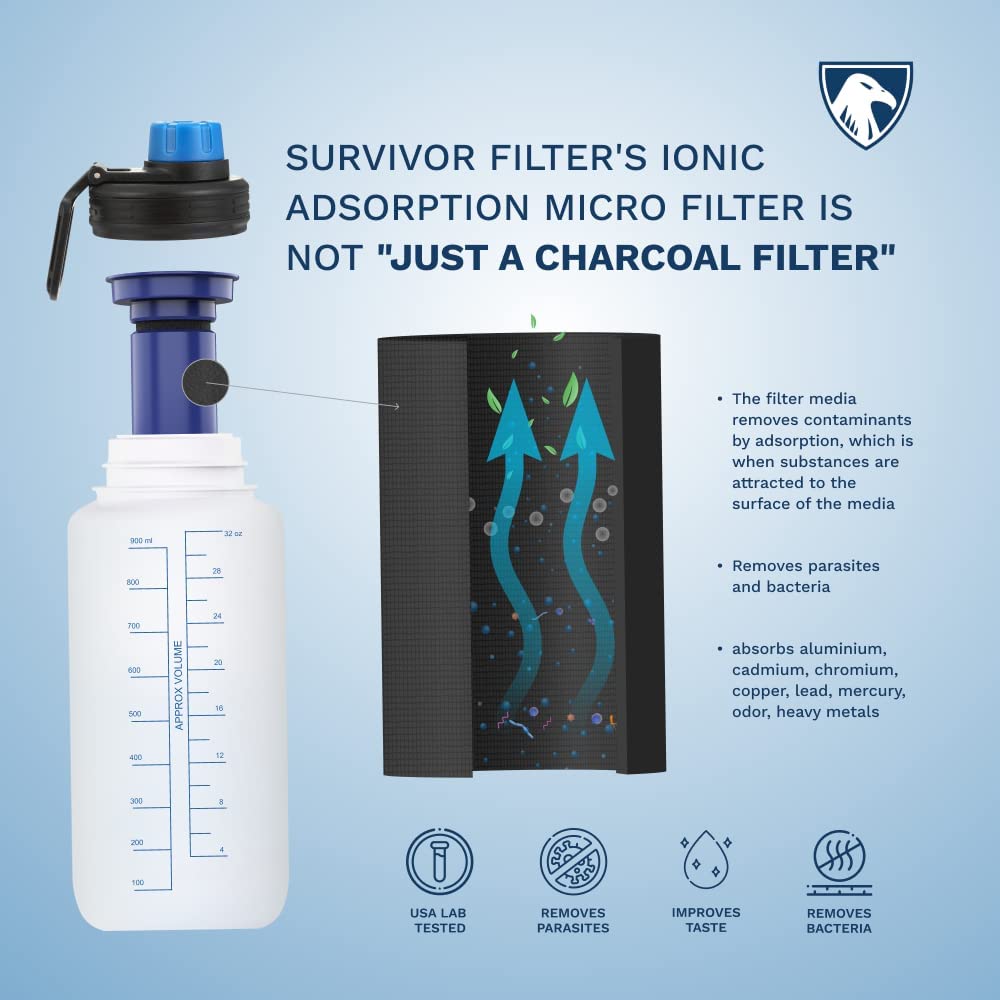 16) Tiki Torch Mason Jar Oil Lamp
A green gift idea for those who like it all is calm and bright – or for those who like to get lit with mood lighting. 
These galvanized metal oil lantern lids for Mason jars can help level up their outdoor decor. 
Imagine evenings on the patio with good friends, good food, and these beauties providing the perfect mood lighting. For outdoor use only.
Almost any oil will work – lamp oil, citronella oil, tiki torch oil, but we recommend olive oil, seed oils, canola oil, coconut oil, soy oil, peanut oil and any other used (and strained) vegetable oil you might have in your kitchen.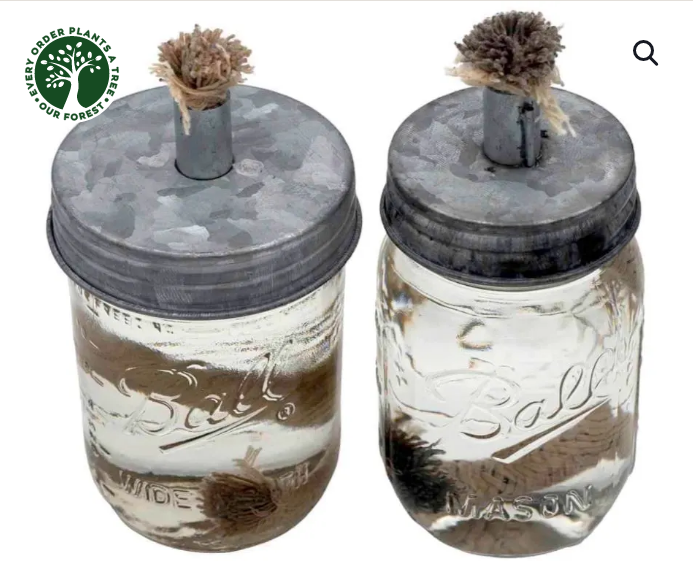 17) Seeds For Next Season
Are you seeking a gift for someone with a green thumb?  With practice and support, anyone can have one. 
West Coast Seeds carries a wide range of organic seeds including:
 Pollinator-friendly flower and plant seeds,
  Sustainable seeds for herb, fruit & vegetable gardens.
West Coast Seeds encourages sustainable gardening practice through experience, products, knowledge, and support.
West Coast Seeds are not treated with:
fungicides,
pesticides,
or insecticides – all of which can be harmful to soil ecosystems and the greater environment.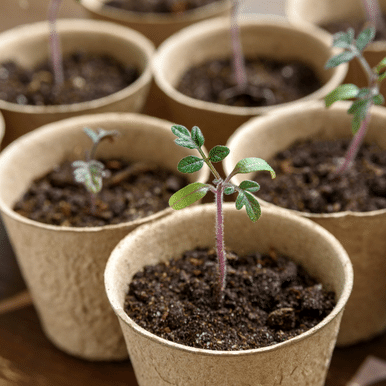 Show someone you're rooting for them by helping them grow a green thumb!
We think you "wool" fall in love with Topsy Farms, we sure have!
We don't want to "Knit" pick but we think its time to say goodbye to synthetic fibres this Holiday
Topsy Farms believe that sustainable agriculture is a moral imperative, and that happy sheep make better wool.
Topsy Farms is a multigenerational family farm that produces high-quality, sustainable wool products, and offers authentic experiences that promote a connection to the land.
Check out their products, their farm, and their workshops in Amherst Island, Ontario, and feel a better connection to our beautiful land!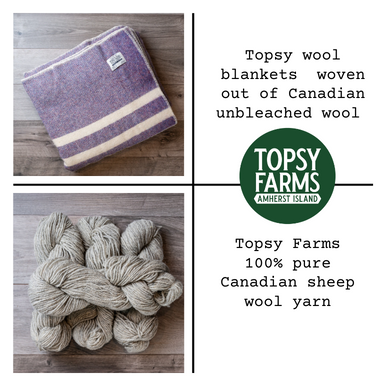 19) Little Sun Solar Lamp
Little Sun is a solar LED light that puts the power of the sun in the palm of your hand – creating safe, convenient, sustainable light you can take with you wherever you go.
It features the worlds most efficient solar cell, this light packs a lot of punch – it will last a long time, is extremely durable, and boasts an attractive design. 
Buying a lamp makes a global impact too:  every Little Sun sold helps ensure affordable solar light for the people who need it the most, the 1.6 billion people in the world without electricity.
This tool is perfect for camping, at the beach, festivals, BBQs, or hiking.  You can use it to light your garden or balcony, or use it inside for mood lighting at home
Eartheasy specialize in sustainable living! Having lived "off the grid" for over 40 years, the Earth Easy team have first-hand experience with energy-efficiency, organic gardening, food preservation, composting, water conservation and many facets of sustainable living.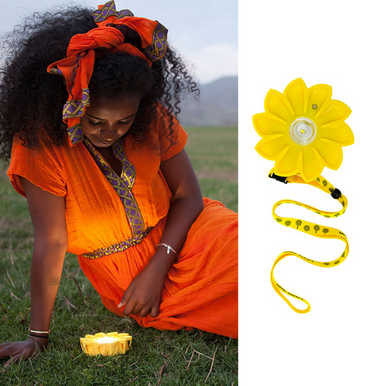 Features:
High-quality portable solar lamp featuring a dimmer
5 hours of charging in the sun produces more than 50 hours of light at the dimmest setting or 4 hours at the brightest setting
Battery lifespan of 5 years when used daily
20) Random Acts of Green Upcycled T-Shirt
A thrill of hope, the weary world rejoices ♬
Last, but certainly not least, consider a Random Acts of Green Upcycled T-Shirt!
This is a symbol of hope, not unlike Superman's 'S' – but for the planet!
With this eco-friendly shirt, you're joining in on our mission to protect planet earth one Green Act at a time. 
Our 50/50 fabric made from recycled polyester (plastic bottles) & organic cotton has been tested for warp, weft, and washing to establish the fabric's stability and longevity.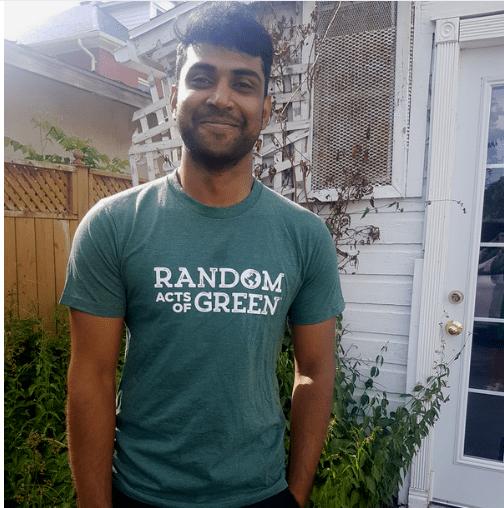 We hope you enjoyed reading our Green Holiday Gift Guide for 2022! It is full of eco-friendly gift ideas for anyone on your list. Would your community enjoy this read? Easily share this blog to your platforms with the buttons below!
save the planet christmas gifts

Say hello to 6 Circular Economy Companies in Canada this October as we Celebrate innovators during Waste Reduction Week​.
Read the Full Story

Get ready for green learning with our unique eco-friendly school supplies checklist for back to school season.
Read the Full Story