11 Eco-Friendly Camping Gear Tips For Your Next Adventure
Camping is a great example of a staycation, choosing to explore your local area rather than fly across the world. Sustainable camping involves reducing the environmental impact of outdoor activities by adopting practices that preserve and protect natural resources. Here are some tips for eco-friendly camping:
Choose a campsite that is designated for camping, as camping in undesignated areas can cause damage to fragile ecosystems and harm wildlife.

Use biodegradable and eco-friendly products such as soap, shampoo, and sunscreen to minimize the impact on the environment.

Use reusable containers and utensils instead of disposable ones to reduce waste.

Make a conscious effort to conserve water and energy while you are off the grid and away from municipal resources.

Keep your campsite clean and leave no trace by packing out all trash and properly disposing of it.

Respect wildlife and avoid disturbing animals or their habitats.
By following these tips, you can reduce your environmental impact while enjoying the beauty of nature during your camping trip.
Planning ahead is essential to minimize your waste through preparedness. That's why we've put together this list of " 11 Eco-Friendly Camping Gear To Pack For Your Next Adventure" 
P.S. Find our handy Green Camping Checklist at the end of this blog!
Eco-Friendly Sleeping Pad
Sleep easy knowing you've equipped yourself with an insulated air pad that performs superbly at a price point that's worth the investment. A quality sleeping pad is important for both comfort and warmth. It should preserve your body heat, act as a barrier from the cold ground and cushion you against uneven ground. 
MEC VectAir Insulated Sleeping Pad – offers luxury and comfort for campers while reducing our impact on the environment.
Warm HyperLoft Eco bluesign® approved synthetic insulation in offset baffles – each one overlaps the next – prevent cold spots while you sleep. Welding the insulation to the ends and bottom of the pad stop it from shifting and raised, large outer chambers help keep you centered on the mat where it's nice and warm.
Features & Benefits:

Made of abrasion-resistant 75-denier polyester
Internal TPU laminate has welded airtight seams
Offset internal baffles eliminate cold spots
100g of HyperLoft Eco bluesign® approved synthetic insulation is lightweight and warm
Raised outer chambers prevent you rolling off
Bi-directional low-profile valve (one port for inflation, one for deflation)
Included pump sack makes inflation quick and easy, and it doubles as a lightweight, water-resistant stuff sack for your sleeping bag or extra layers
Hook-and-loop strap keeps the pad rolled for storage
Pump sack and repair kit included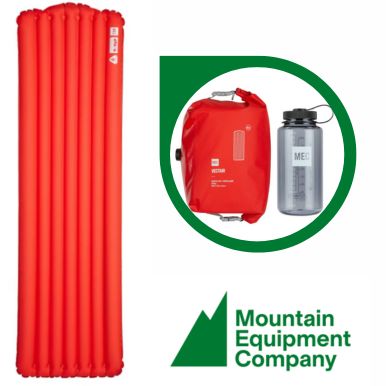 A Sustainable Brand You Can Trust: 
MEC supports a wide range of activities including camping, snowsports, watersports, cycling, climbing, hiking and travel and for decades, they have been a strong backer of sustainability and community initiatives. 
To date, MEC has invested $48 million (and counting) into non-profit organizations that support outdoor recreation and conservation.
"Sustainability is our path forward. But unlike a hiking trail, our sustainability path is never over – we set annual goals, push ahead, find new ways to reduce our environmental impact. We believe a quality product has the smallest possible footprint, and is made carefully and with respect for the people who produce it."
In 2023, they were proud to be named one of Canada's Greenest Employers.
👋 Hands up if you've ever been mesmerized by the flickering flame of a fire?
You're not alone. There is a reason they are included in religious, spiritual, and social ceremonies around the world. Consider bringing the tranquil and restorative light of a fire into your next outdoor adventure. 
The Radiate Portable Campfire allows you to bring this timeless activity into any environment with it's sleek and portable design.
By incorporating 100% recycled soy wax and paper pulp, they have created the perfect non-toxic campfire.
It's easier, more convenient and healthier for you, your pets, and the environment than traditional wood-burning campfires. 
With 3-5 hours of burn time, it can bring that comforting warm ambiance to any occasion.  After the tin has cooled, you can use it to help pack out any waste so you can truly leave no trace!
This tool is suitable for anyone involved in outdoor sports or adventures or those planning a staycation. Even people living in condos can use them on their balconies. 
If you are craving that camping experience but can't leave the city, no worries. You can actually use it for any outdoor gathering since it is a contained candle fire.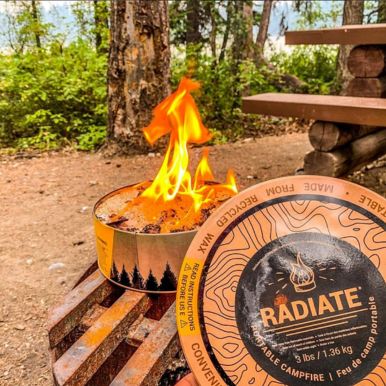 Benefits of Radiate Portable Campfires:
Non-toxic and eco-friendly
Made from recycled materials

V

ery safe and easy to use.

Portable and convenient

There's no smell and no smoke given off when burning.
It's not a woodfire, it's a candle fire, so there's no chance of ash blowing around or a secondary fire.
Survivor Filter Active All Terrain Bottle
Water is absolutely at the top of the list of camping essentials given it's necessary for life.  As the saying goes, you can last 30 days without food, but only 3 days without water. This means having an effective means of purifying and storing water while away from the city is essential. Not to mention, staying hydrated during physical outdoor activities makes the difference between making happy memories or missing out on that next canoe paddle if you don't prioritize your wellbeing. 
Filter water straight from the source!
This tool will help you limit the amount of water you need to pack in while also eliminating single-use plastic.
 Using a Survivor Filter Active All Terrain Bottle, you can filter 1 liter of lake, river, stream or tap water in 30 seconds. 
This removes heavy metals, chemicals, volatile organic compounds, bacteria, and parasites to clean water in any environment. Check out their independently verified testing results & certification of the filtration here. 
Outdoor adventures often take you away from accessible sources of clean drinking water which makes having a portable water filtration system a convenient and practical solution. 
 Plus, refilling a water bottle is a great way to avoid contributing to plastic pollution.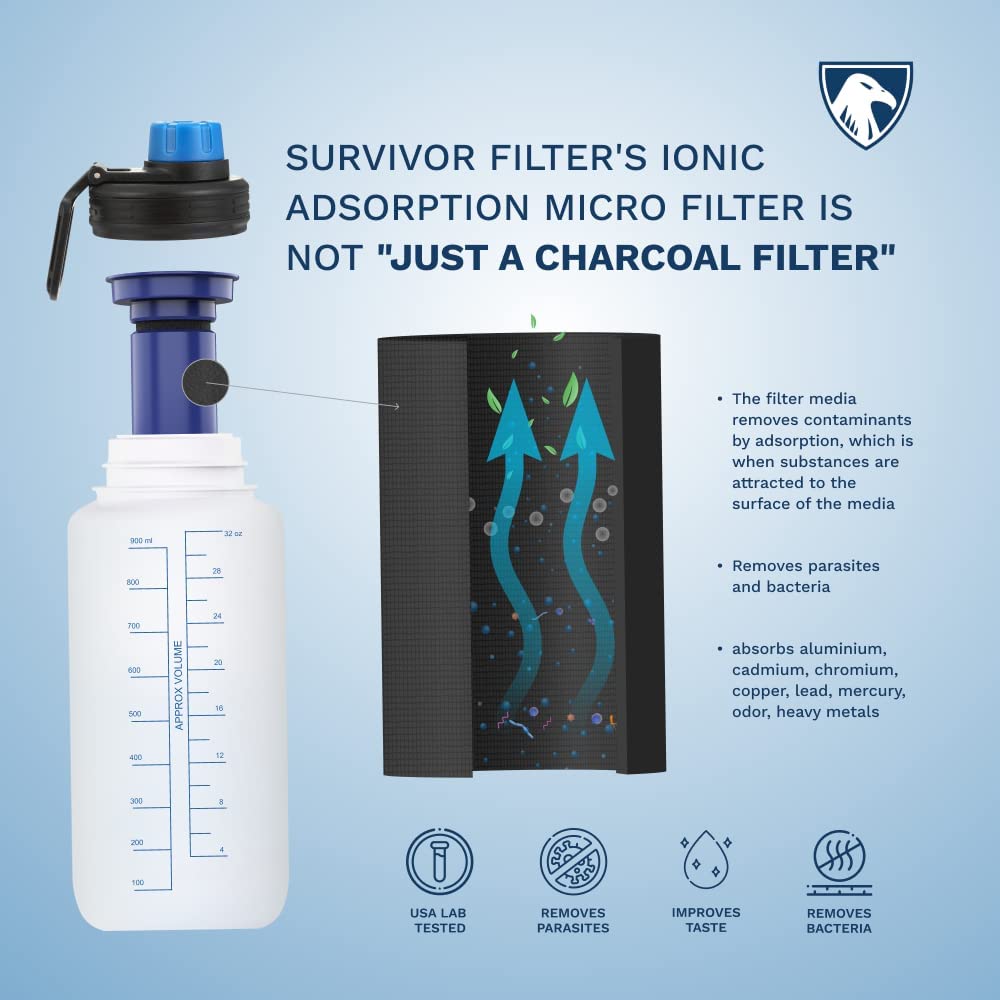 Eco-Friendly Mosquito Repellant
Looking for a natural way to protect yourself from pesky insects during bug season? 
Simply Natural Canada Natural Outdoor Spray with Neem Oil is healthy alternative to bug repellents made with harmful chemicals.
The key ingredients in their natural bug spray includes a blend of essential oils bugs don't like in a base of witch hazel and organic apple cider vinegar. This essential blend is also available in a pocket sized Outdoor Roll On in a base of grapeseed oil.
Simply Natural Canada also offers an After Bug Bite Roll On as a natural solution that can help soothes any itchiness while reducing inflammation in case you do get bit.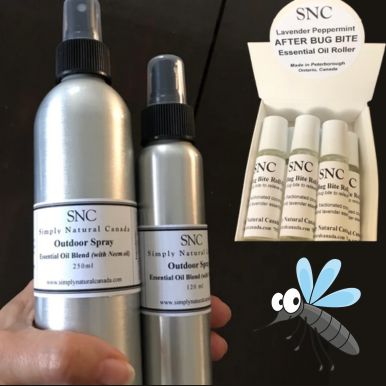 Eco-Friendly Sun Protection
We all know why wearing SPF year-round is super important. But why choose our 100% natural mineral sunscreen over chemical sunscreen?
The Green Beaver Company offers a 100% mineral sunscreen is made with 100% natural minerals that is non-greasy, non-whitening, and easy-to-apply.

This mineral sunscreen is NOT absorbed into the skin & body – it sits on top of the skin and effectively blocks UVA & UVB rays with SPF 40 protection.  

Benefits: 
100% natural, benzene-free, no harmful ingredients

NON-WHITENING: applies and spreads easily on the skin

Approved by Health Canada

Hypoallergenic and dermatologist tested

Proudly made in Canada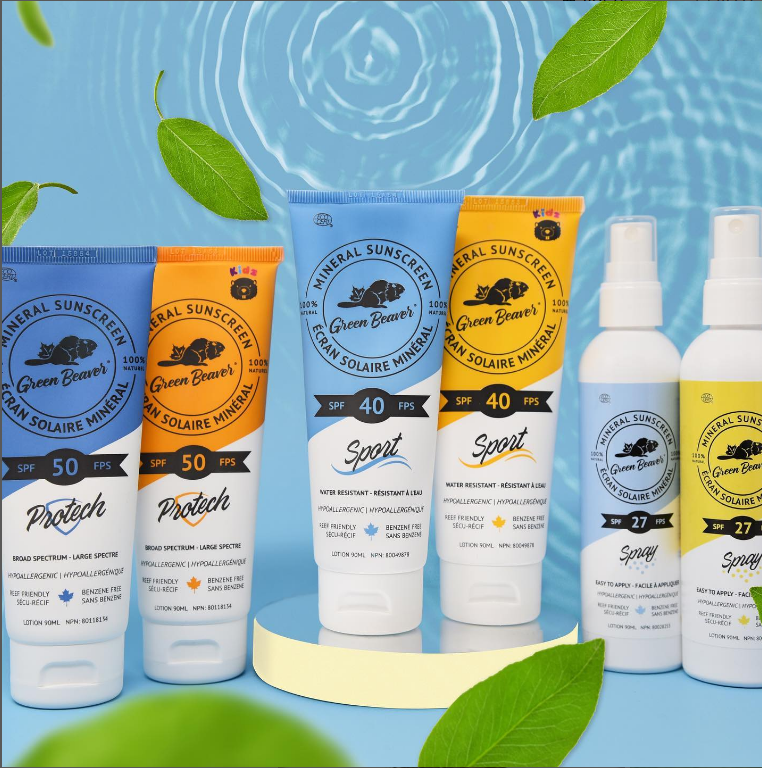 Beeswax wraps are an excellent choice for eco-conscious campers who want to reduce their environmental footprint while enjoying nature. They offer a reusable, biodegradable, and food-safe alternative to plastic wraps, promoting a more sustainable approach to food storage during your camping adventures.
When camping, space and weight are often limited. Beeswax wraps are lightweight and can be easily folded or rolled, taking up minimal space in your camping gear. They are a convenient and practical option for food storage without adding bulk to your backpack.
Beeswax wraps are breathable, which helps to keep your food fresh for longer. Unlike plastic wraps that can trap moisture and lead to food spoilage, beeswax wraps allow air to circulate, preserving the quality of your food.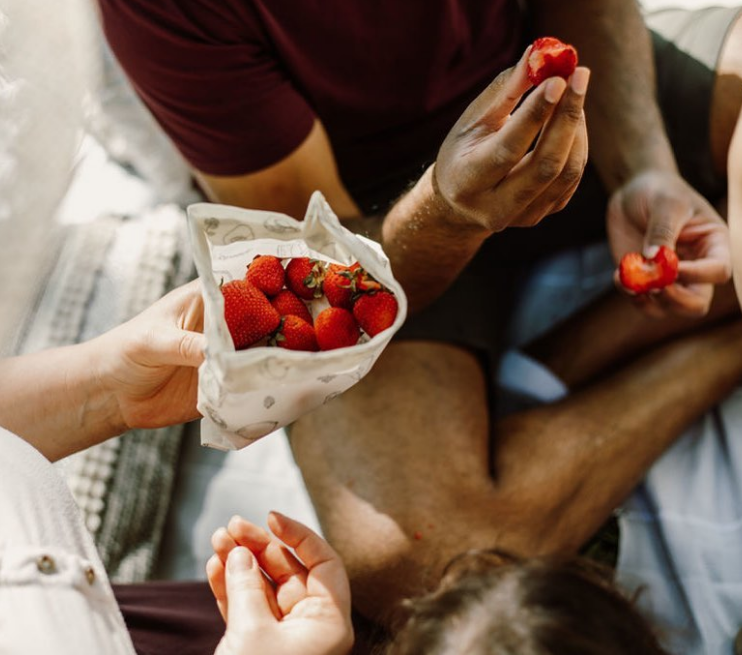 DID YOU KNOW?
Old beewax wraps are an excellent firestarter due to their coating. When your reusable beeswax wraps have come to their end of use, you could save them for a campfire starter. 
Boo-boos are bound to happen when you venture into adventure. Did you know you can make your First Aid kit greener? 

PATCH Strips are an all natural, zero waste alternative to regular wound bandages. They've taken care to make sure that they only use the best premium, sustainable ingredients and processes such as;
The outer cover of the bandages and backing paper are biodegradable.
Packaging materials are FSC-certified and able to be composted at home or commercially.
They're cruelty-free and vegan.
All materials are sustainably sourced.


PATCH Strips are made with organic bamboo, aloe vera, activated charcoal and coconut oil, and promote natural healing while soothing your wound at the same time.  PATCH Strips helps you take care of the planet and yourself.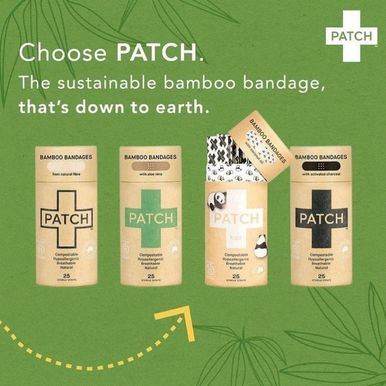 Little Sun is a solar LED light that puts the power of the sun in the palm of your hand – creating safe, convenient, sustainable light you can take with you wherever you go.
It features the worlds most efficient solar cell, this light packs a lot of punch – it will last a long time, is extremely durable, and boasts an attractive design. 
Buying a lamp makes a global impact too:  every Little Sun sold helps ensure affordable solar light for the people who need it the most, the 1.6 billion people in the world without electricity.
This tool is perfect for camping, at the beach, festivals, BBQs, or hiking.  You can use it to light your garden or balcony, or use it inside for mood lighting at home
 Eartheasy specialize in sustainable living! Having lived "off the grid" for over 40 years, the Earth Easy team have first-hand experience with energy-efficiency, organic gardening, food preservation, composting, water conservation and many facets of sustainable living.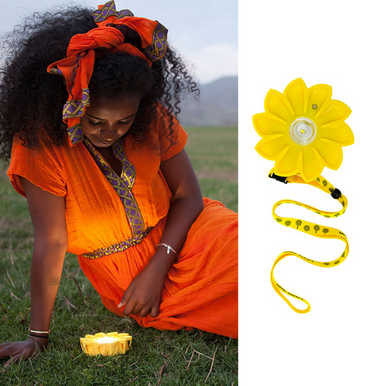 Features:
High-quality portable solar lamp featuring a dimmer
5 hours of charging in the sun produces more than 50 hours of light at the dimmest setting or 4 hours at the brightest setting
Battery lifespan of 5 years when used daily
Nature's Aid bars are biodegradable, vegan-friendly, cruelty-free and plastic free. All their formulas are safe for colour treated hair. There are no parabens, SLS, silicones or palm oils. Neither are there any artificial colours or fragrances.
They are a family company, founded on the idea of creating amazing skin & hair care products that are truly natural, healthy, and really work!
A good rule of thumb is to actually do your washing 200 meters away from the water using a bucket and dig a hole to pour your used water into. The soil acts as a filter to accelerate the biodegradation.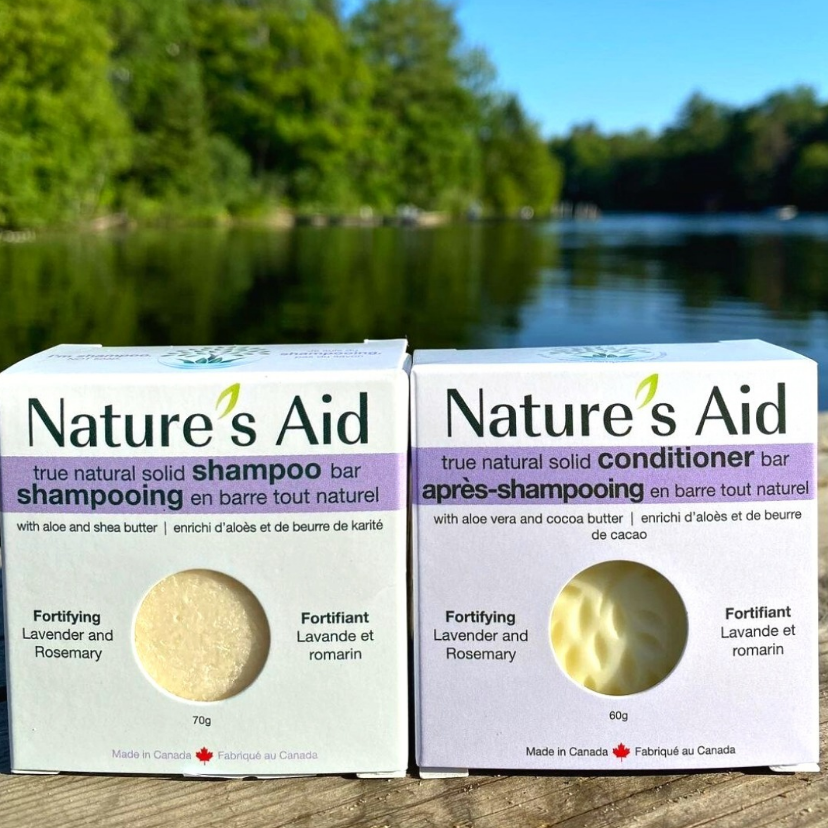 Bamboo cutlery is lightweight, making it convenient for camping trips. It is easy to carry in backpacks or picnic baskets without adding much weight. This makes it a practical choice for outdoor activities.
Bamboo is a highly renewable resource as it is one of the fastest-growing plants on the planet. It can grow up to 3 feet in just 24 hours and reaches maturity in about 3-5 years. This makes it a sustainable alternative to traditional cutlery made from plastic or metal, which require more resources and have a higher environmental impact.
Our community member TWIG offers a handy bamboo cutlery kit with a cotton pouch. Utensil size is 9″ x 2 5/8″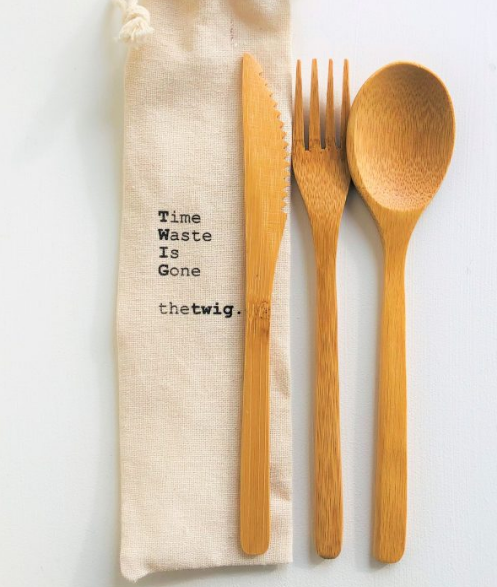 The average North American child can identify over 300 corporate logos, but only 10 native plants or animals – a telling indictment of our modern disconnection from nature. Soaring levels of obesity, high rates of ADHD, feelings of stress and social awkwardness and "Nature Deficit Disorder" are further unintended consequences of a childhood spent primarily indoors.
The Big Book of Nature Activities is a comprehensive guide for parents, grandparents, caregivers and teachers to help youth of all ages explore, appreciate and connect with the natural world. This rich, fully illustrated compendium features:
Nature-based skills and activities such as species identification, photography, journaling and the judicious use of digital technology
Ideas, games and activities grounded in what's happening in nature each season
Core concepts that promote environmental literacy, such as climate change and the mechanisms and wonder of evolution, explained using a child-friendly, engaging approach
Lists of key species and happenings to observe throughout the year across most of North America.
Perfect for families, educators, and youth leaders, The Big Book of Nature Activities is packed with crafts, stories, information and inspiration to make outdoor learning fun!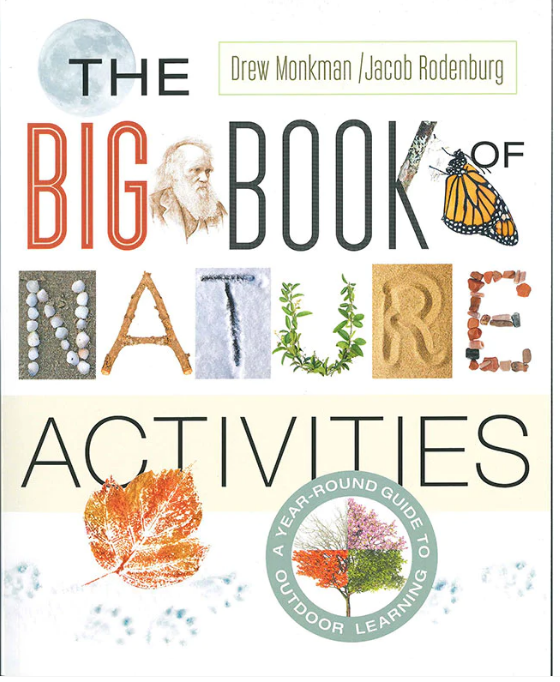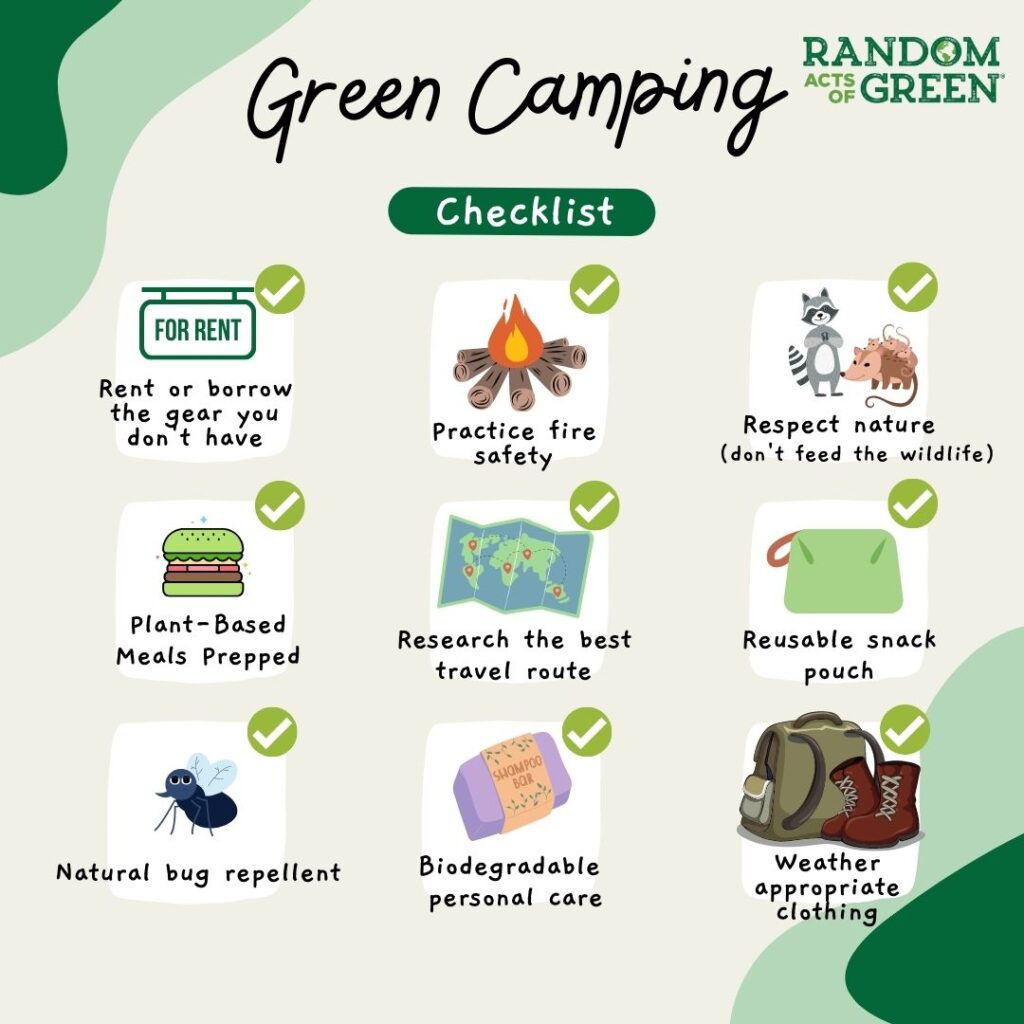 eco friendly outdoor gear
We hope you enjoyed reading about these eco-friendly camping gear tips from sustainable brands!
Invite others on your green journey by talking about it! Easily share this blog to your platforms with the buttons below!
sustainable camping brands
organic cleaning products

Say hello to 6 Circular Economy Companies in Canada this October as we Celebrate innovators during Waste Reduction Week​.
Read the Full Story

Get ready for green learning with our unique eco-friendly school supplies checklist for back to school season.
Read the Full Story