21 Best Eco-Friendly Mother's Day Gift Ideas For 2023
Do you do anything extra special to celebrate Mother's Day? You're not alone if you do. Check out these statistics about Mother's Day celebration spending habits.
 Approximately 122 million phone calls are made on Mother's Day in the United States (NY Times).
 Around 69% of Mother's Day gifts in the U.S. are flowers (Oberlo).
The average American spends about $205 on gifts and celebrations for Mother's Day (NRF).
More than 86% of Americans celebrate Mother's Day and almost all send a greeting card (The Balance)
Mother's Day is the third largest retail holiday in the United States, following Christmas and Valentine's Day.  
At Random Acts of Green, we encourage 
Here we've put together a list of 10 Best Eco-Friendly Mother's Day Gift Ideas to bring joy to mum and Mother Earth! 
Ethical & Sustainable Chocolate
Chocolate can make for a really sweet treat for mom.  However, the cocoa farming industry can have a hidden dark side of environmental and social harm, which you can learn more about here. That's why it's much sweeter if you consciously choose fair-trade chocolate for mom. 
Zazubean's  chocolate is: 
Organic 

Fair Trade Certified 

Vegan 

Gluten-free 

Soy-free 

Kosher

and DELICIOUS! 
Zazubean creates uncompromisingly delicious, fairly traded, organic chocolate bars that are good for the planet, good for the growers and good for you!
Use your purchasing power to support businesses that treat all workers across the supply chain with dignity and fairness.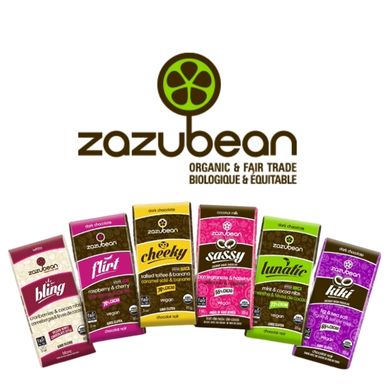 Trio of Aromatherapeutic Bath Soaking Salts
For the mom who needs to slow down and take a self-care moment! Help your mom level up her bath time and skin care with this thoughtful trio. 
Elva's All Natural's provides a luxurious, spa-quality trio of aromatherapeutic bath soaking salts. Each bottle yields up to 8 baths each.
Small batch, hand-blended Dead Sea Salt, Pink Himalayan Salt & Epsom Salts with dried botanicals and pure essential oils.
Soaking in a bath of sea salts for 20 minutes or more is remineralizing, restorative and known to have therapeutic general health and skin benefits.
This gift comes in plastic free packaging.  It is vegan,  cruelty-free and hand-made with love in Canada.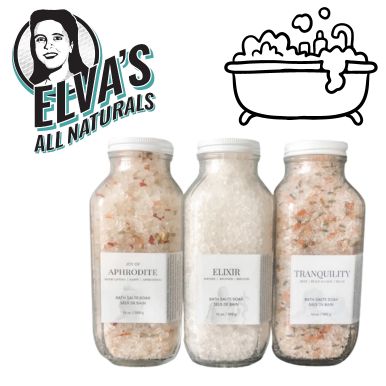 You'll be supporting a Canadian family business, based in Milton, Ontario. Join them in "the Toxic Chemical Rebellion" and say NO  to buying products manufactured with ingredients that are scientifically proven and known to cause harm.
If your mom is a lover of coffee and a single-serve pod user – help her keep it green with compostable coffee pods from Club Coffee. 
Club Coffee's revolutionary AromaPak™ sustainable coffee solutions combine sustainably certified coffee sourcing with unique manufacturing technologies to deliver fresh, great tasting coffee in today's most innovative recyclable and compostable** packaging. Available in:
PῧrPod100® compostable** single serve pods
Compostable** espresso capsules
Recyclable, paper-based packaging for ground and whole bean coffees
Club Coffee's Coffee pods are:
100% fully certified compostable** pods by Biodegradable Products Institute
Broken down in commercial composting in as little as 5 weeks
Developed with plant-based materials – you aren't drinking out of plastic
Proven by 3rd party academic research (York University) to be better than recyclable K-cups from environmental, economic, and technical perspectives
Designed conveniently: no need to take apart your pod before you put it in a green bin. It's designed to break down together.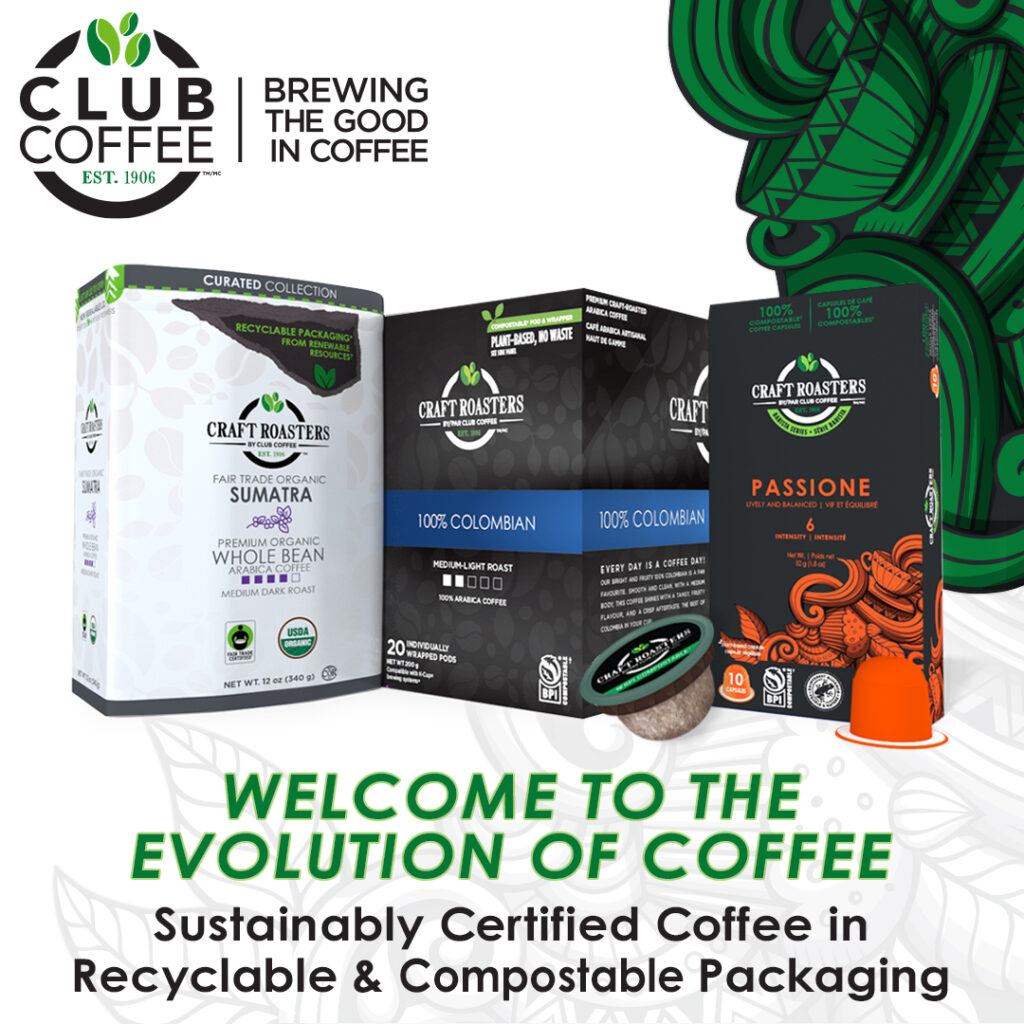 **Our coffee pods are certified compostable for processing in commercial facilities where accepted – check locally.

An Eco Gift Box Custom For Her
Simply Natural Canada 
has a  thoughtful variety of gift boxes, gift packs and gift baskets ideal for sustainable gifting. There are packages for the bathroom, the kitchen, green living and more.
They have been expertly curated by our community member Simply Natural Canada – a Canadian brand offering sustainable products to help consumers transition to an eco-friendlier lifestyle.
If you don't see a ready-made gift set you like, you can also select their custom eco gift box option and make your own sustainable gift by picking 3 or more items from their list of natural eco goods and they'll box them up for you.  Alternatively, they can also send it directly to your gift recipient along with a gift note.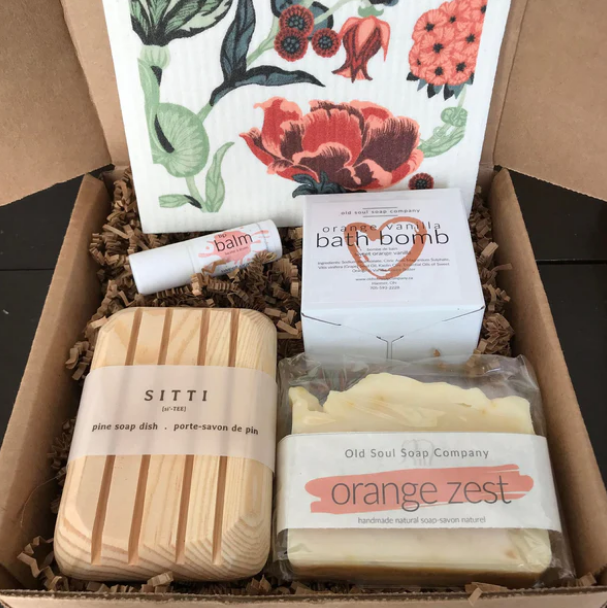 Turn a traditional greeting card into an invigorating experience with no waste left behind!
For real, this card completely dissolves in water, for a bath bomb experience, complete with fizz, scents and colour! 
Handmade with love in Canada from all-natural, non-toxic and eco-friendly ingredients. Even the dissolving paper and printer ink are food-grade. 
Choose between two varieties of relaxing lavender scent with purple water or uplifting eucalyptus scent with turquoise water. A message that says "You're the bomb…and so is this card" on the inside.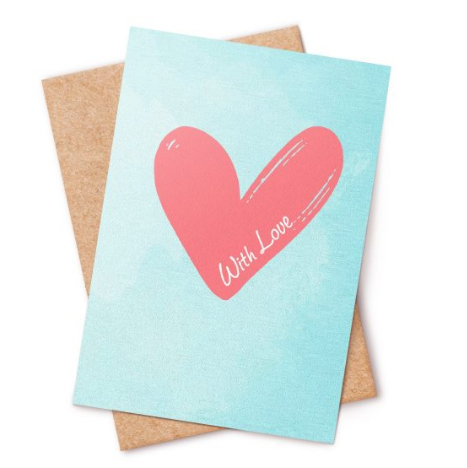 Hands up if you've ever been mesmerized by the flickering flame of a candle?
Many candles on the market are made from cheap paraffin wax, a petroleum by-product of crude oil. They emit particulate pollution when burned. 
Beeswax will burn clean and with no or very little soot. The wax is environmentally friendly, non-toxic and biodegradable. 
Plus, beeswax will burn at a very high temp so will burn longer 2-5 times longer than other types of wax.  
Your mom will love these rosebud beeswax candles from The Refill Stop.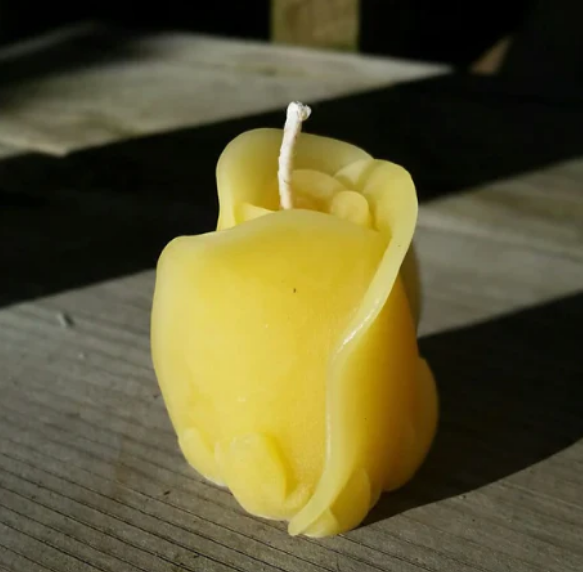 Eco-Friendly Mother's Day Craft
Fibre art – any art – is an important part of life for so many.
Creating beauty by macrame ~ crochet ~ weaving ~ needlework ~ the possibilities are endless ~
Crafternoons can make for a great activity together or an inspiring prompt to gift to your loved one. 
Check out this beautiful macrame heart wall hanging or coaster!
Interested in the pattern? Get it FREE here 
Erica at Aster & Vine looks for products that are:
Ethically Sourced,
Up-cycled or
Recycled excess waste from the fashion industry.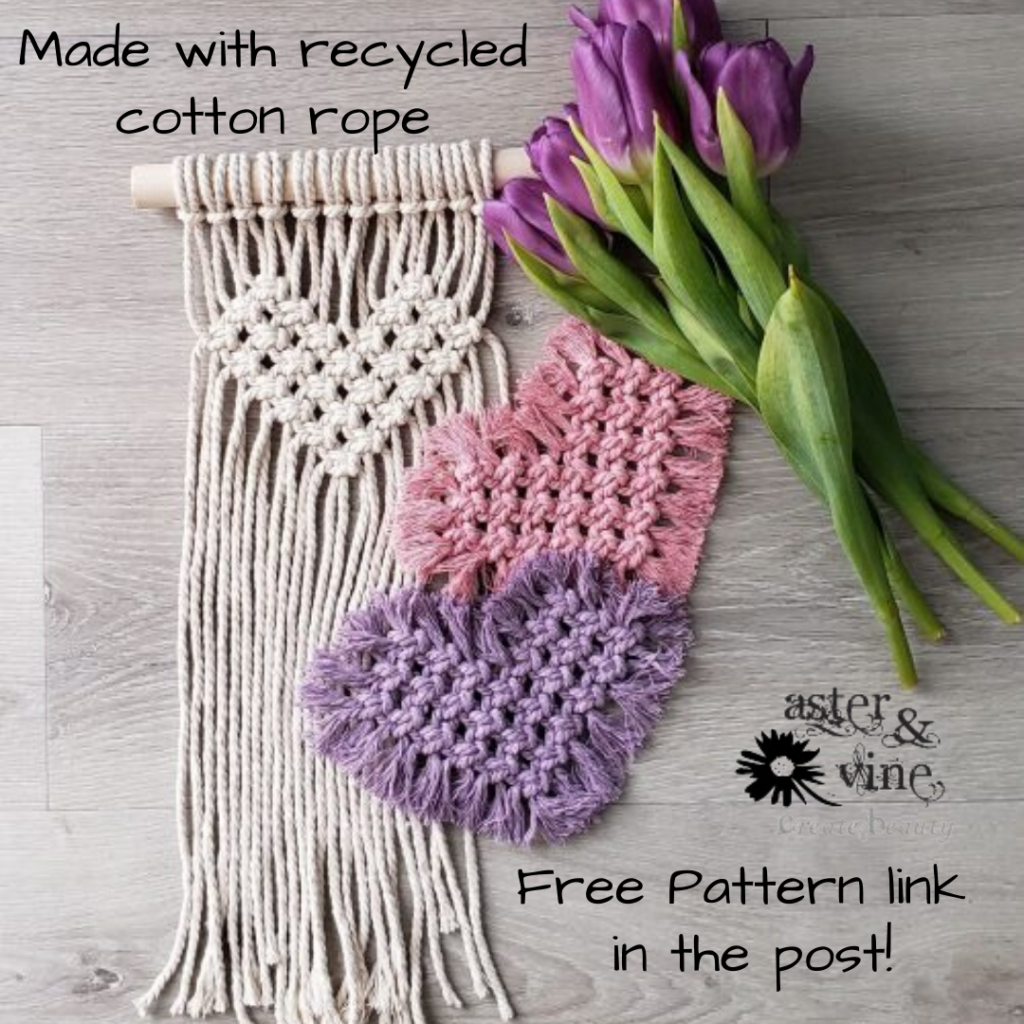 This gift suggestion is a favourite of the Green Team here at Random Acts of Green!
If your mom is interested in the arts or looking for a new passion, here's a suggestion!
The Beam Paint Travel Card kits were designed to be portable packs of creative expression! All plastic and metal-free.
Lightfast pigments, tree sap, gum arabic, and Manitoulin honey, blend together to create a handmade saturated colour. 
Harvested hematite pigment in the LaCloche mountain range near their home in M'Chigeeng First Nation on Manitoulin Island. Beam Paints draws on their early educations in Indigenous pigment and expands it to encompass all paint traditions.
You can it  from The Green Jar in Toronto, Ontario.  Founded by two sisters Mara and Tannis Bundi, who have always had a lifelong passion for sustainable living.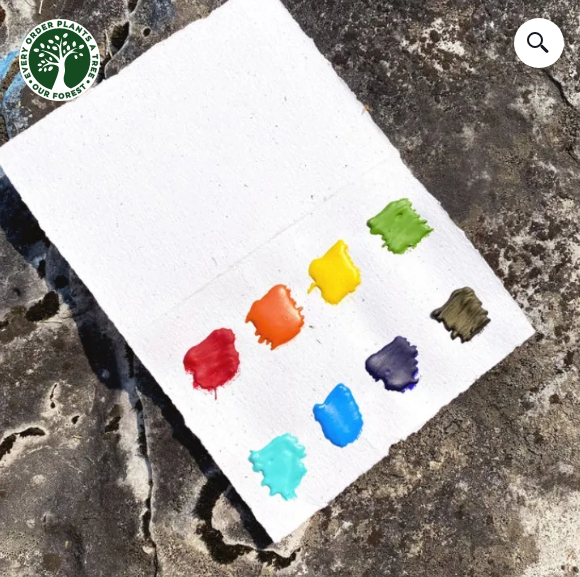 It's a win-win for both mom and Mother Earth! 🌍
Rockwell Razor's T2 was recognized as the Best Razor by the GQ Grooming Awards 2022. It's available in rose gold.
Born out of Rockwell's commitment to innovation, the Rockwell T2 features fluidly-adjustable shave settings to provide the smoothest possible shave for any skin type or stubble length.
The EPA has estimated that at least 2 billion disposable razors are thrown into the landfill every year.
Rockwell Razors is proud to be a part of the plastic pollution solution by offering a plastic-free razor. Currently, they're on track to divert 100,000+ tonnes of plastic waste (in the form of disposable razors) from landfill this year!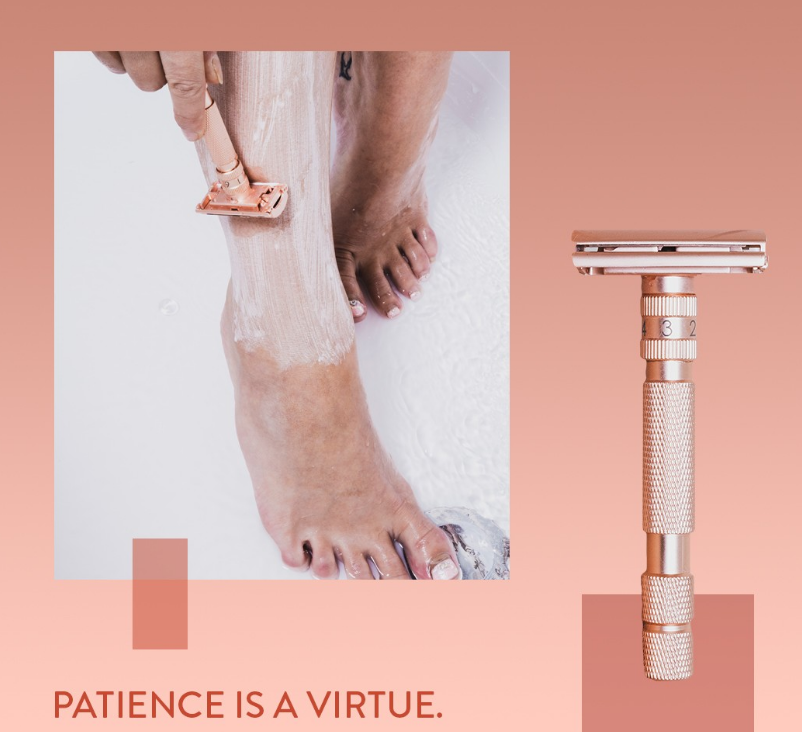 Shampoo and Conditioner Bars
Here's a suggestion that may be on your eco-conscious mom's must-try bucket-list.
Plastic-free shampoo bar and conditioner. 
Nature's Aid bars are biodegradable, vegan friendly, cruelty free and plastic free. All their formulas are safe for colour treated hair. There are no parabens, SLS, silicones or palm oils. Neither are there any artificial colours or fragrances.
They are a family company, founded on the idea of creating amazing skin & hair care products that are truly natural, healthy, and really work!
Healthy Planet is your one-stop shop for alternative health products. They bring the highest-quality supplements, vitamins, health foods, bath & beauty and eco friendly products at low possible prices.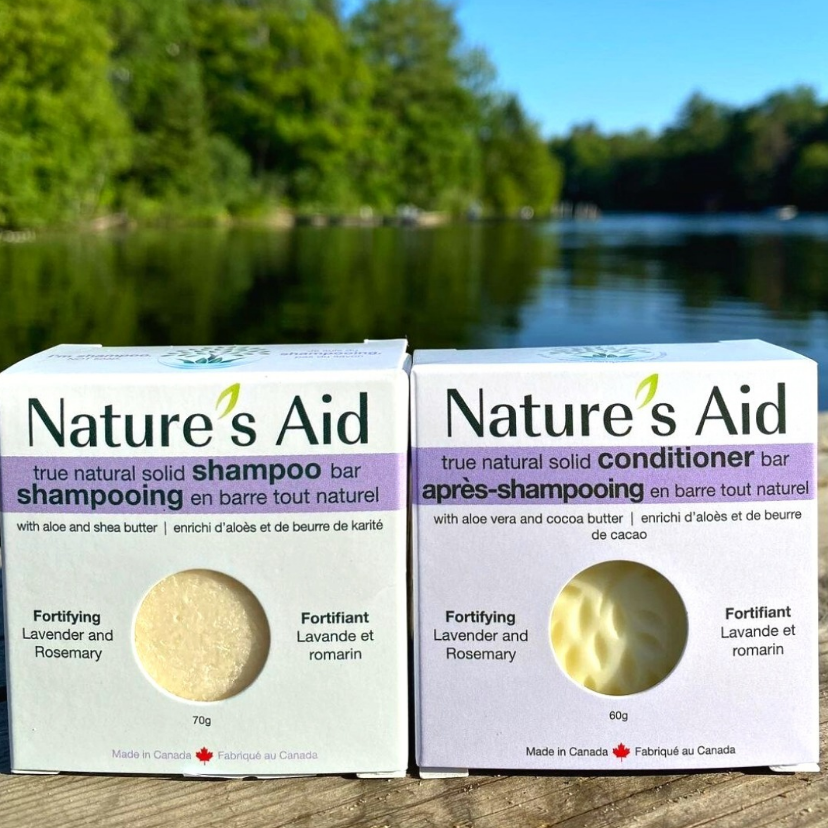 Before you sit down to a Mother's Day tea party,  did you know that most teabags on the market contain plastic that is not recyclable or biodegradable, even the paper teabags?
One cup from a single plastic tea bag can contain up to billions of microplastic and nanoplastic particles– gross, right?
 teapigs, uses Plant Based Tea Temples and Sustainable Packaging:
🌽 Made from corn starch
Labels made with Forest Stewardship Council (FSC) paper
Inks on cartons are vegetable based
🌳 Clear inner bags made from Natureflex (renewable wood pulp) that is fully compostable.
🌳The tea is  Rainforest Alliance certified and sourced through Ethical Tea Partnership.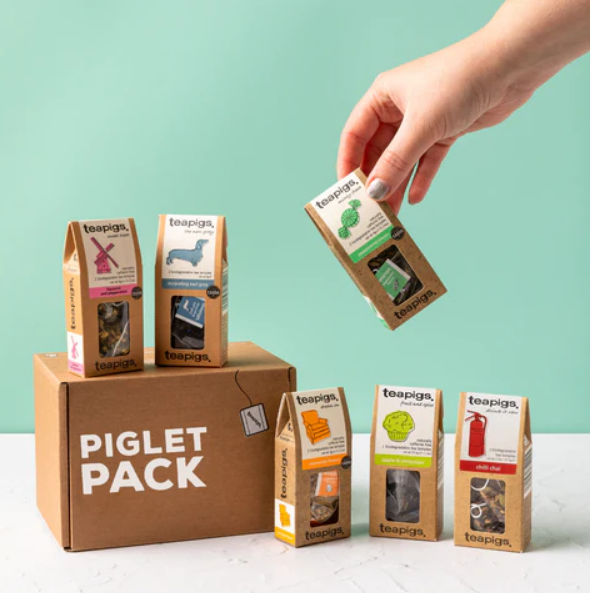 Try their Piglet Gift Pack, each gift pack contains 12 mini-packs (called piglets) in some of their best-selling flavours.
It's the perfect way to try a variety of different teas and makes a great gift for a tea-obsessed mom!
Grow Together With Just Vertical
With Just Vertical's AEVA and EVE gardens, grow fresh herbs & veggies all year.
Give back to Mom for many years of providing nourishment and support with a vertical garden.  This is a state-of-the-art indoor garden that blends furniture design with sustainable plant science. 
𝐆𝐫𝐨𝐰𝐢𝐧𝐠 𝐘𝐨𝐮𝐫 𝐎𝐰𝐧 𝐅𝐨𝐨𝐝 𝐈𝐧𝐝𝐨𝐨𝐫𝐬 𝐂𝐚𝐧 𝐇𝐞𝐥𝐩 𝐓𝐡𝐞 𝐏𝐥𝐚𝐧𝐞𝐭
– Here's How:
 Save 95% of water compared to traditional agriculture to grow your food

 Eliminate carbon emissions required to transport food. Every. Single. One.

 Eliminate food waste by picking straight from your unit.

 Eat nutrient-rich food every day.

 Grow without pesticides.

 Utilize limited urban space for growing food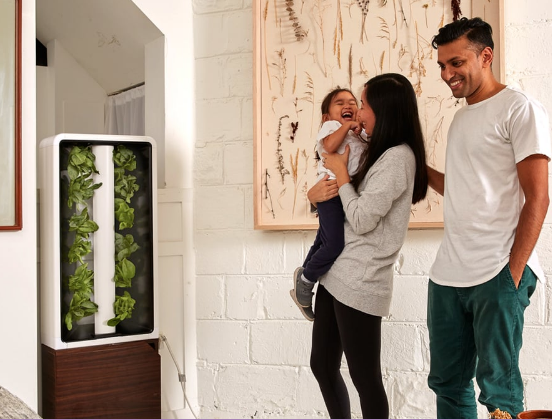 Take $150+ off the AEVA or $100+ off the EVE gardens for Mother's Day.
Use code LOVEGROWS150 – AEVA. Use code LOVEGROWS100 – EVE.
Think Outside The Box! Gift an experience or service!
Gifting does not always have to be tangible 'things' You can bestow your Mom with an experience they can enjoy later. This is an ideal gift to limit 'stuff' to be transported if they live far away as well. Plus you can support a local service provider, strengthening the local economy. All of these reasons make it important to consider them for the best eco-friendly Mother's Day gift idea. 
Here are some examples:
We hope you enjoyed reading about these best eco-friendly Mother's Day Gift Ideas!
Invite others on your green journey by talking about it! Easily share this blog to your platforms with the buttons below!


Sustainable LGBTQ owned Businesses to support! Learn about the connection between this community & their inclusion in the environmental movement.
Read the Full Story