8 Best Upcycling Garden Ideas for an Eco-friendly Outdoors
While we're all familiar with the usual bits-and-bobs you can use around the garden, we want to highlight the weird odds-and-ends you might have sitting about (you might even have them in your recycling bin!) that you may not have yet considered as great garden accessories.


While getting outdoors and into the garden might feel like a world away, it'll be here before you know it (I promise!). We wanted to share this blog post now so you can stockpile goodies from your garbage and recycling bins.
Give these oddities a new lease on life in your yard this year, and convert them into a gardening mainstay and save them from the landfill!
Turn Your Takeout Containers Into Indoor Seed Starters
Have you participated in takeout days to support restaurants during the pandemic?
Here is an idea to reuse those takeout containers! ♻️
"Today I decided to reuse a bunch of fast food containers to plant my microgreens for next month. 🌱
They are the perfect size and depth for small shoots and with a couple of holes in the lid, it keeps the humidity in, creating a greenhouse effect. 🌿
I used fast-draining soil due to the lack of drainage holes in the bottom.💦
Are there any cool ways that you can think of reusing & re-purposing take-out or fast food containers?" 💁
Thank you to our Green Spotted Volunteer, Camille Knight from Toronto for this awesome #RandomActofGreen! 🙏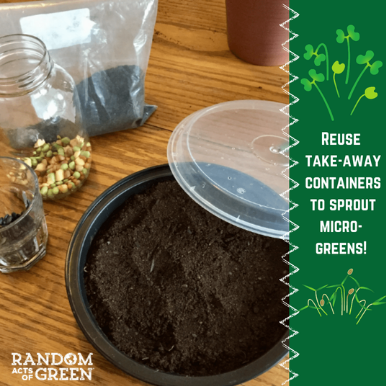 If you're changing out leaky eavestroughs: don't throw them away!
Drill some holes in the bottom for drainage and convert them into wall (or fence) mounted planters.
Imagine hanging these outside of your kitchen window, then filling them chock-full of fresh herbs!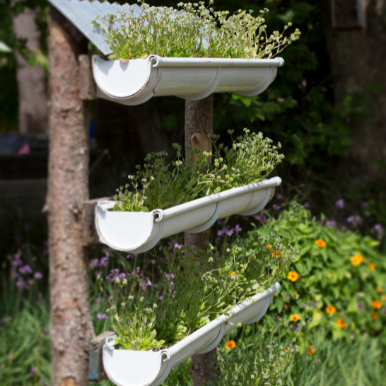 Reuse Packaging and Keep Your Seeds Safe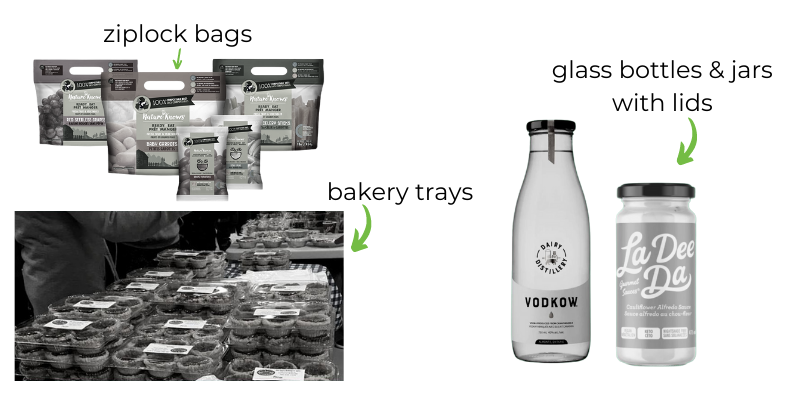 There's no need to buy fancy jars or containers for your seed storage.
Save up old bottles or sauce jars with sealable lids or baggies with ziplock tops to keep you winter haul safe.
Old takeout trays with dividers are great. You can keep your seeds separate = no surprises in the vegetable patch!
Is Your Rain Barrel Past Its Best?
Convert it to an outdoor planter!
Gently slice it in half like the team at Gardens All did here ➡️
If you don't want to build the frame to hold these up lengthways, cut the rain barrel in half the other way and make free-standing planters.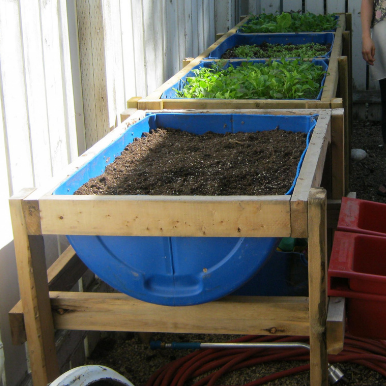 What Can You Do With Old Copper Pipe?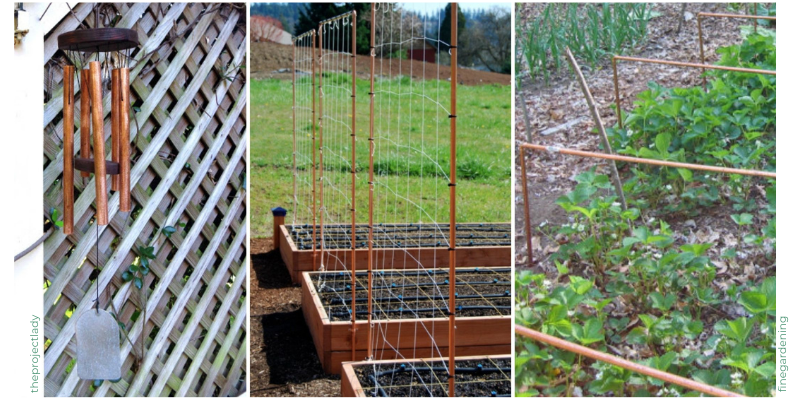 If you're modernizing and getting copper piping removed from your home by your local plumber, don't throw it away!
Copper is an easy to manipulate metal, it's also really eye-catching and can make for an attractive addition to your garden.
Here's a quick round-up of easy-to-actualize upcycling garden idea DIY's:
🐌. Cute windchimes.
🐌. A copper trellis < link to DIY here.
🐌. Fruit patch netting.
Ask Fido If You Can Use His Food Bags!
Some veggies are pretty resilient (we're lookin' at you, potatoes!).
Large planters are very expensive. Get creative and reuse fido's old dog food bags.
Roll the top down, weigh with a couple of bricks and drainage materials then fill 'er up.
A super easy spot to grow potatoes. This is a great hack if you're short on space – veggies on the balcony anyone?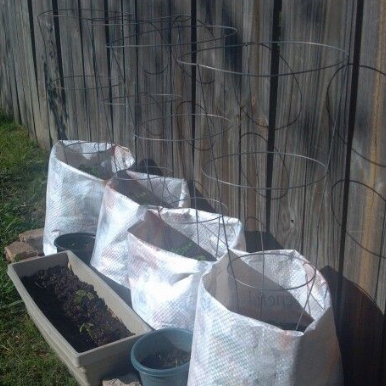 Convert Your Old Shampoo Bottles
Give your shampoo or body wash bottles a new lease on life AND make a best friend of tweetie pie.
This upcycling garden DIY idea is super easy. String a homemade birdfeeder up this weekend and see who visits your backyard!
Let us know in the comments below which birds you spot.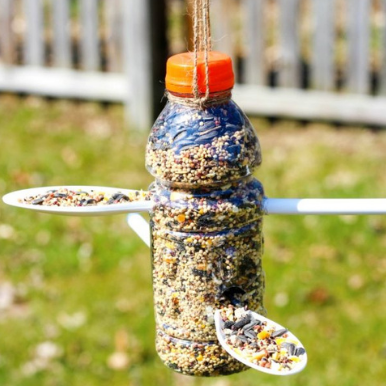 Use Your Old Tea Bags & Coffee Grounds
Are cats and wildlife digging up your veggies?

Coffee grounds are said to deter cats from your garden. Scatter old coffee grounds around areas of interest to the neighbourhood felines.

Pack old teabags with cayenne pepper, or moth balls and distribute them across your yard. Make sure your teabags are plastic-free so you don't inadvertently distribute microplastics into your planters and veggies.

Brands like  teapigs Canada utilize plant based tea temples and sustainable packaging. The clear inner bags made from Natureflex (renewable wood pulp) that is fully compostable – bonus!


Make Your Own Seed Starter Pods
While these cute containers are biodegradable and recyclable – we're always in favour of stretching something's life a little longer while omitting the need to buy new!
Use mini containers like these as great seed starters.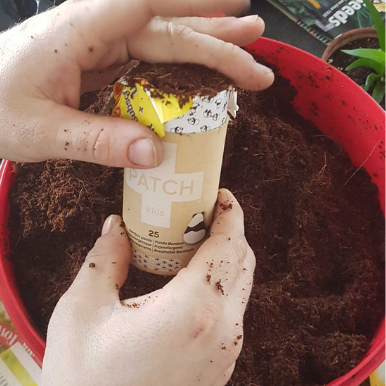 We loved sharing these upcycling garden ideas and tips with you. Let us know, what fun DIY's have you incorporated into your yard?

Sustainable LGBTQ owned Businesses to support! Learn about the connection between this community & their inclusion in the environmental movement.
Read the Full Story

Our eco-friendly camping gear checklist will get you ready for your next adventure. Leave no trace & enjoy the land with low impact.
Read the Full Story