5 Tips and Tricks for Veganuary!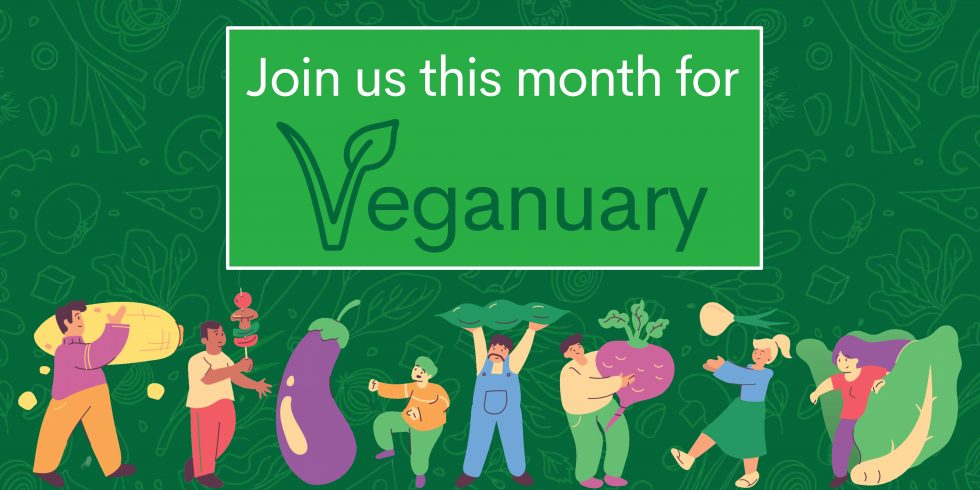 Veganuary is here, and this challenge encourages people worldwide to try a vegan diet for the month of January, and beyond. Veganuary is especially important because eating a vegan diet has been said to be the "single biggest way" to reduce your environmental impact on earth.
Why should you participate in Veganuary and cut out animal-based products?
Factory livestock farming is significantly responsible for deforestation, greenhouse gas emissions, pollution, and water shortages.
Livestock and their by-products are accountable for 51% of all greenhouse gas emissions, worldwide.
2,500 gallons of water are needed to produce 1 pound of beef.
Animal agriculture is responsible for up to 91% of the Amazon rainforest destruction.
By eating a plant-based diet you will be living a much more sustainable life. In fact, studies have found that cutting meat and dairy products from your diet could reduce your carbon footprint from food by up to 73%.
If you are heading towards a plant-based lifestyle, we congratulate you! It's a big step, and we're here to offer encouragement and support as much as we can.
 
Read our blog below for our top 5 vegan tips and tricks to help you celebrate Veganuary successfully this year.
#1. Ensure you are consuming enough vitamins & nutrients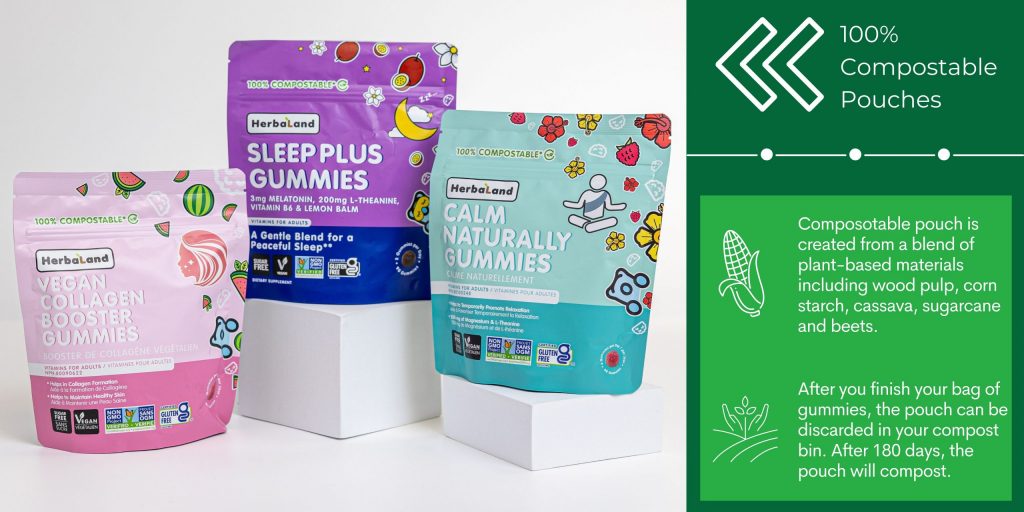 One of the biggest challenges with adopting a plant-based diet is ensuring you are consuming enough vitamins and nutrients to stay healthy. With the help of nutritional supplements, like Herbaland's nutritional gummies, staying in tip-top shape while maintaining a vegan diet is easy-PEAsy.
Herbaland's nutritional gummies are made with ethically-sourced ingredients and are 100% vegan. Whenever possible, they opt for fair-trade and organically farmed ingredients for their gummies.
Herbaland's sustainability goes beyond the ingredients for their vegan supplements:
Herbaland has switched their pouched items to 100% compostable packaging, which break down in 180 days. Their goal is to have completely sustainable packaging by 2023!
Herbaland has teamed up with zero-waste shops so you can bring your reusable containers to get your fill on gummies. Click here to find a store near you.
Starting in November 2021, they automatically offset 100% of carbon emissions from all orders by investing in a certified environmental project – the Amazon Rainforest Protection. This reduces 360,000 tons of carbon being reduced every year, and 105,000 hectares of land being protected.
While many companies use starch moulding for product manufacturing, Herbaland applies an innovative approach of directly depositing gummies into stainless steel molds. This helps reduce energy and waste from leftover starch, reduces water use and provides a smoother and cleaner gummy forming process.
Herbaland's objective is to lead the change in the natural health product industry to prioritize taking care of our home. So far, they are the first Canadian company to release 100% compostable supplement pouches- that's impressive!
Click the button below to learn more about Herbaland.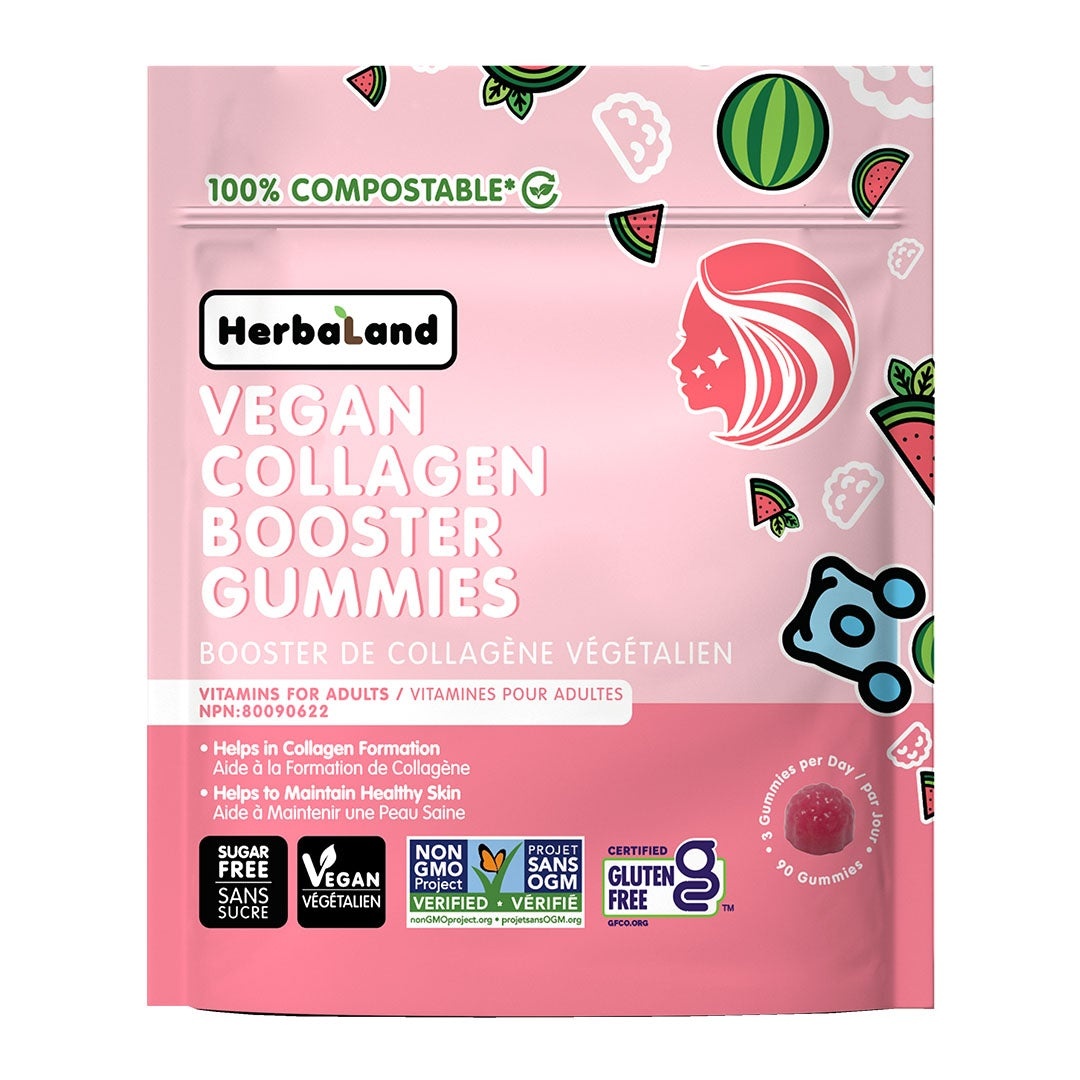 To help you celebrate Veganuary, Herbaland is offering a discount code for 20% off any of their products! Use code "Veganuary" to recieve your dicsount!
#2. You don't have to give up your favourite foods- Search for vegan alternatives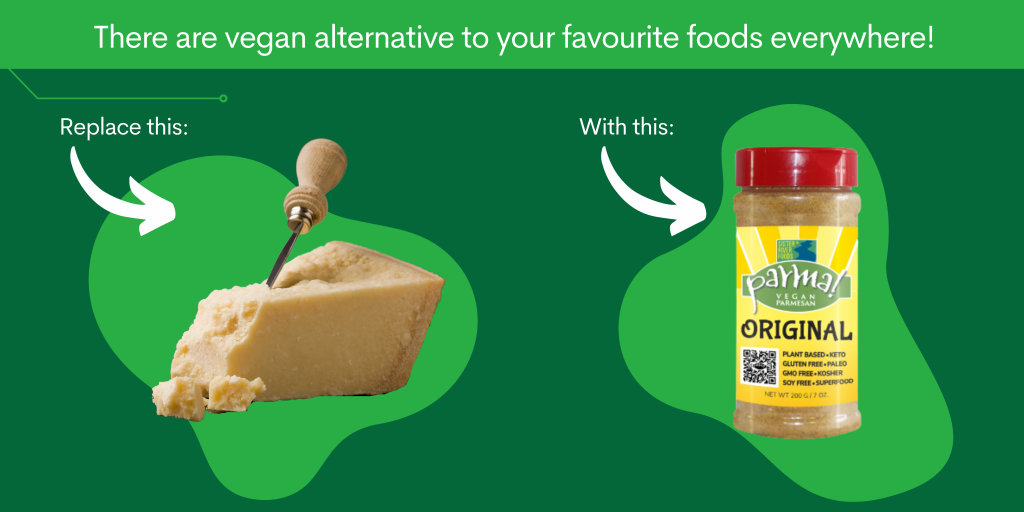 This is probably the moment when you mentally take stock of your grocery cupboards and wonder what you can actually eat. Don't stress – there are yummy vegan substitutes for pretty much all your favourite foods.
If you're anything like us, you'll know that giving up cheese is one of the hardest parts of adopting a vegan lifestyle. With companies, like Parma!, you don't have to say goodbye to the cheesy goodness!
Parma! is a dairy-free cheese brand that offers vegan cheese lovers a variety of condiments and additives to liven up your vegan creations.
Their vegan cheese comes in 4 unique, delicious flavours:
Original
Chipotle Cayenne
Garlicky Green
Better Than Bacon


All four raw nut and seed-based Parma! flavours contain whole ingredients are low in sodium, heart-healthy, packed with essential B vitamins and trace minerals, replete with beneficial amino acids and an excellent source of healthy oils.
By adding Parma! to your favourite vegan dishes, it not only makes the planet happy, it also ensures you are consuming the proper nutrients.
Fun Fact: Parma! is considered a superfood because of how many vital nutrients you get in each bite. So not only does it have a great tasting cheesy umami flavour, it is a nutrient dense boost for your favourite dishes!

Parmesan dairy cheese is much like other dairy cheeses in which it requires a significant amount of water, land and resources to produce. Parma! gives you that cheesy flavour without all the dairy baggage.
Parma! is made with purely raw, plant-based, nutrient-dense ingredients like organic sunflower seeds, Himalayan salt, nutritional yeast, raw walnuts and organic hemp seeds.
Check out Parma! with the button below.
#3. Vegan doesn't have to be boring- Experiment with new flavours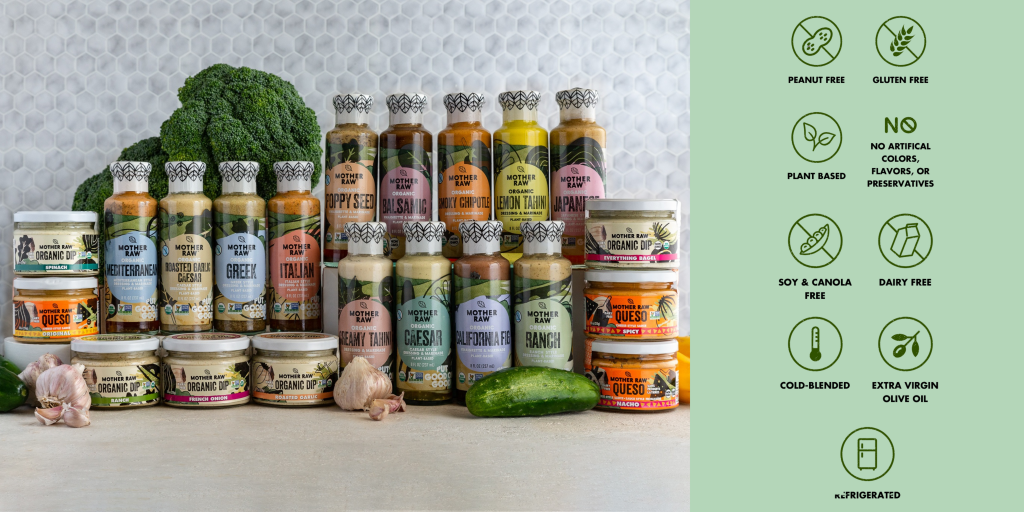 We've all heard it before: "veganism is boring." But it doesn't have to be!
With the right additions, you can spice up your plant-based creations!
Companies, like Mother Raw, encourage everyone to dig into the "Power of Plants". They want eating plants to be easy and fun, so their organic and vegan dressings, dips, and condiments are crafted to liven up any vegan dish.
Our favourite is Mother Raw's Tangy Plant-based Japanese Dressing & Marinade.
It's made with cold-pressed extra virgin olive oil, toasted sesame oil, ginger root, and unfiltered apple cider vinegar, this smooth and decadent dressing is organic and Non-GMO.
You can try this dressing by making this Vegan Pad Thai with Crispy Tofu recipe.
As a bonus, their products are also packaged in glass bottles – not plastic!
You can try out Mother Raw's product in your next dish – and be sure to let us know how it goes!
Mother Raw Product Highlight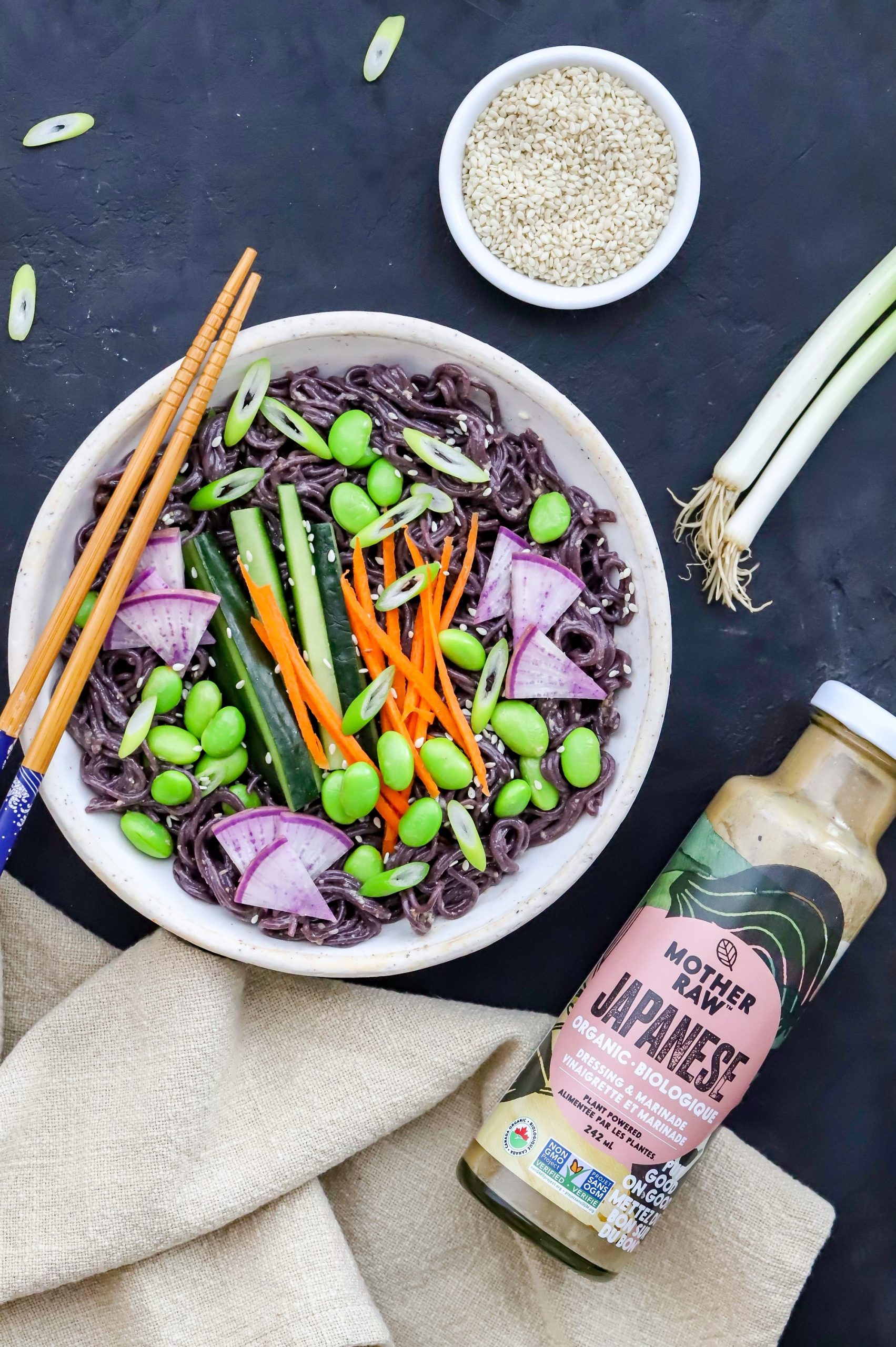 Bring out your umami side with Mother Raw's sweet and tangy plant-based Japanese dressing.
 Made with toasted sesame oil, ginger root, and unfiltered apple cider vinegar, this smooth and decadent dressing is organic and always will be.
#4. Get creative and have fun with your new vegan diet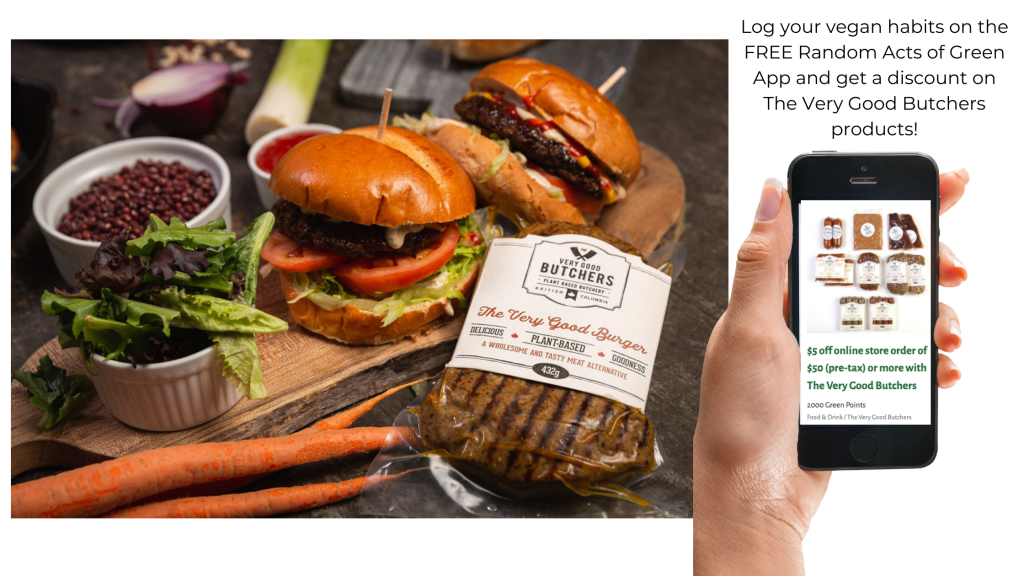 One of the best parts of adopting a new vegan diet is the opportunity to get creative in the kitchen!
That's why The Very Good Butchers encourages vegan-eaters to have fun while cooking with their plant-based meat alternatives.
At The Very Good Butchers, they believe in butchering beans, not animals.
They have vegan options for every meat-craving you might have:
The Very Good Steak
Bacon
Ribz
Burgers
Sausages
The list goes on…


They're on a mission to show that making good choices doesn't mean sacrificing flavour. They want to make plant-based eating as approachable, nutritious and delicious as possible by creating food that's Very Good for people, animals and the planet.
Helping to make eating vegan more accessible for everyone, The Very Good Butchers ship products to Canada, the USA and the UK!
The packaging that keeps your product cold is The Green Cell Foam. It is used to insulate the boxes is the most environmentally sustainable and functional packaging material available.
How is this packaging environmentally-friendly?
Made from US-grown corn
Green Cell Foam is certified compostable in backyard and industrial facilities
It can even be dissolved in a sink for safe and easy disposal


Check out The Very Good Butchers with the button below.
#5. Don't skip out on the protein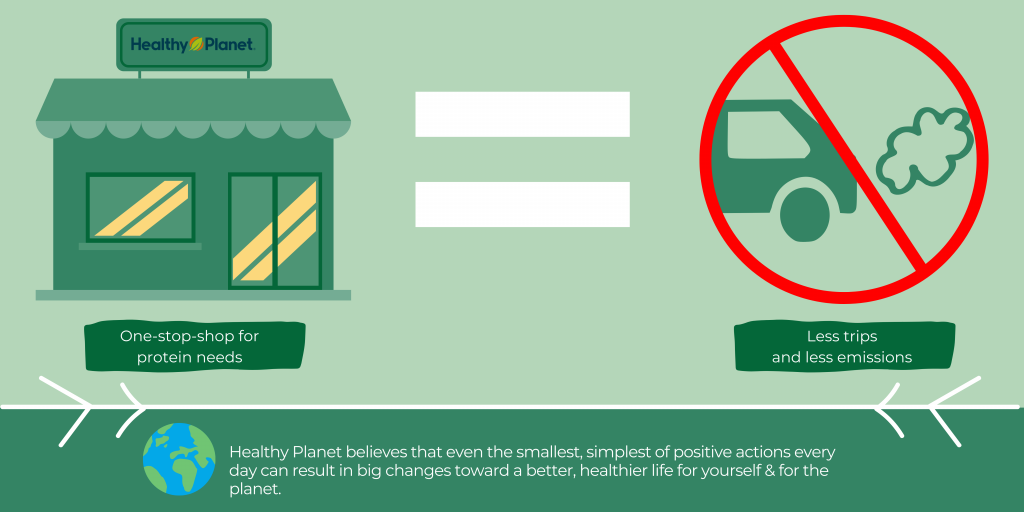 Getting enough protein can be hard for people who do not eat meat or animal products.
Protein is a crucial part of anyone's diet as it helps contribute to the growth and development of your cells- thus, it is important to ensure that you are consuming protein while maintaining a vegan diet.
Many experts agree that a well-planned meatless diet can provide all the nutrients you need, including protein.
One-stop-shops, like Healthy Planet, make consuming enough protein accessible and easy!
Healthy Planet carries vegan protein powders, snacks and supplements that will aid you during your vegan journey.
At Healthy Planet, their goal is to make the world Healthier and Greener one day at a time.
From the vitamins, supplements, produce, groceries & health foods they sell, to the socially responsible manufacturers & distributors they work with, they put everything they do through the Healthy Planet filter.
Healthy Planet believes that even the smallest, simplest of positive actions every day can result in big changes toward a better, healthier life for yourself & for the planet.
Check out Healthy Planet with the button below.
⇒ Did you know that not all wines are vegan?
It is often some traditional fining agents that can make a wine unsuitable for vegans.
Egg whites or casein (a protein found in milk) can be used to remove tiny particles of sediment in a wine that cannot be removed by filtration.
Brooks Wine is a super sustainable winery that is certified B Corporation, member of 1% For the Planet and Demeter Biodynamic certified- not only this, but their wines are vegan!
You can ring in this Veganuary with a refreshing glass of Brooks Wine… without the eco-guilt!

From the Random Acts of Green team, we wish you a happy and successful Veganuary!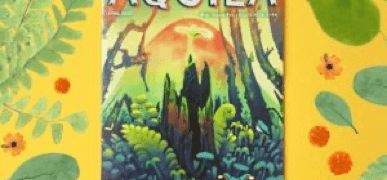 Are you ready? The official Random Acts of Green's Mother Earth's Emoji Challenge has 1 objective: make Mother Earth feel loved, together
Read the Full Story