[INTRO]
Dietary Restrictions:
GF = gluten free; DF = dairy free; V = vegan.
Jumpstart your meatless morning with this vegan Pumpkin Spice Latte! (GF, V)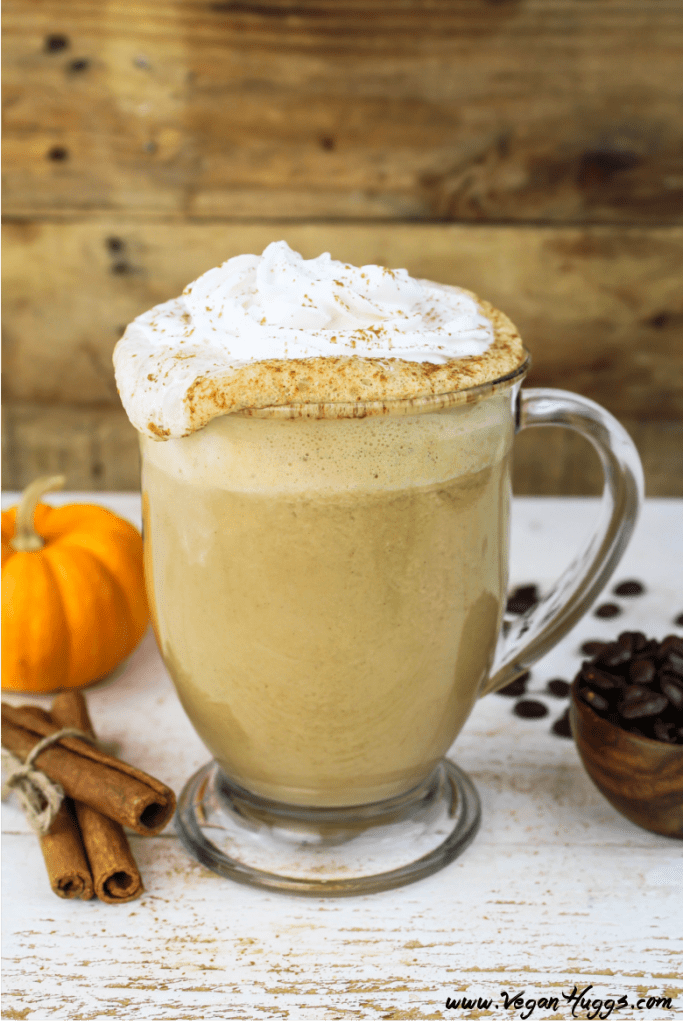 2.  While you're waiting for the coffee to brew, why not whip up some fluffy Pumpkin Pancakes? (GF, V)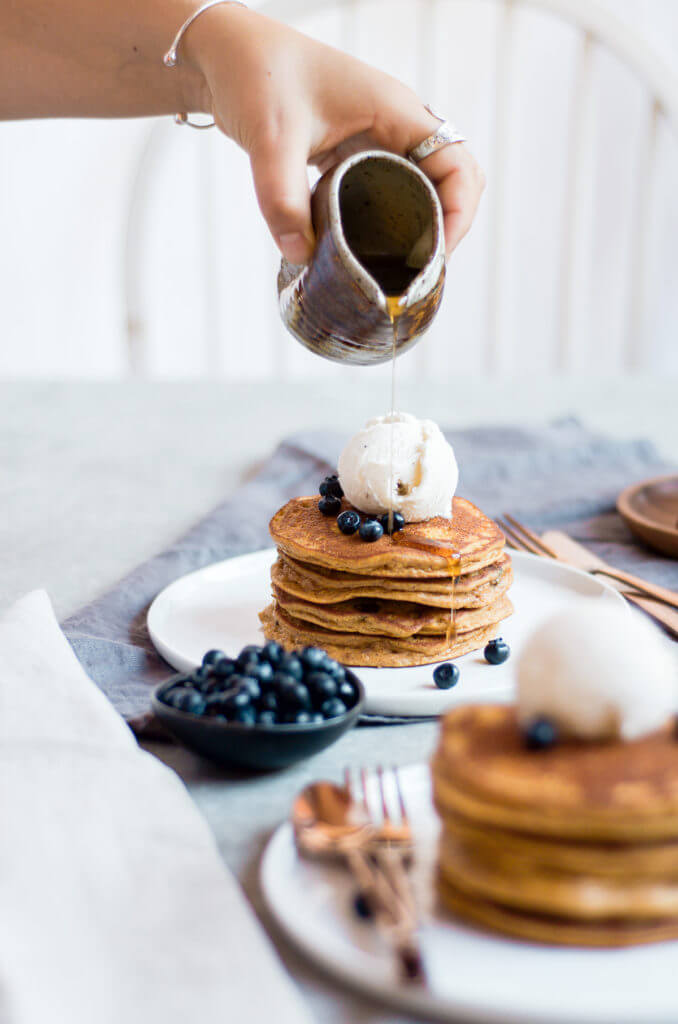 3. If you're not much of a pumpkin person but still want to get into the fall spirit, how about these sinfully syrupy Oatmeal Apple Blender Pancakes?  (GF, V)
4. Okay, we get it — it's fall, the kids are back to school (or your back to school yourself), and you have ZERO time to put together a beautiful stack of pancakes. In that case, why not try these Pumpkin Spice Latte Overnight Oats? Minimal effort, maximum fall flavour. (GF, V)
5. In need of breakfast on the go? Check out these Easy Pumpkin Carrot Muffins! They're an easy grab-and-go breakfast that's packed with hidden veggies! (GF, V)
6. We know going "meatless" around the holidays can be particularly challenging, especially with turkey traditionally being the star of the show. However, there's a new star in town… and it's name is cauliflower.
Check out this Whole Roasted Cauliflower Skillet, basted with a vegan gravy and bearing a striking resemblance to the traditional turkey roast — especially with the two little cauliflower 'bones' sticking out the back! (GF, V)
7. Or, try Jamie Oliver's festive Whole Roasted Cauliflower: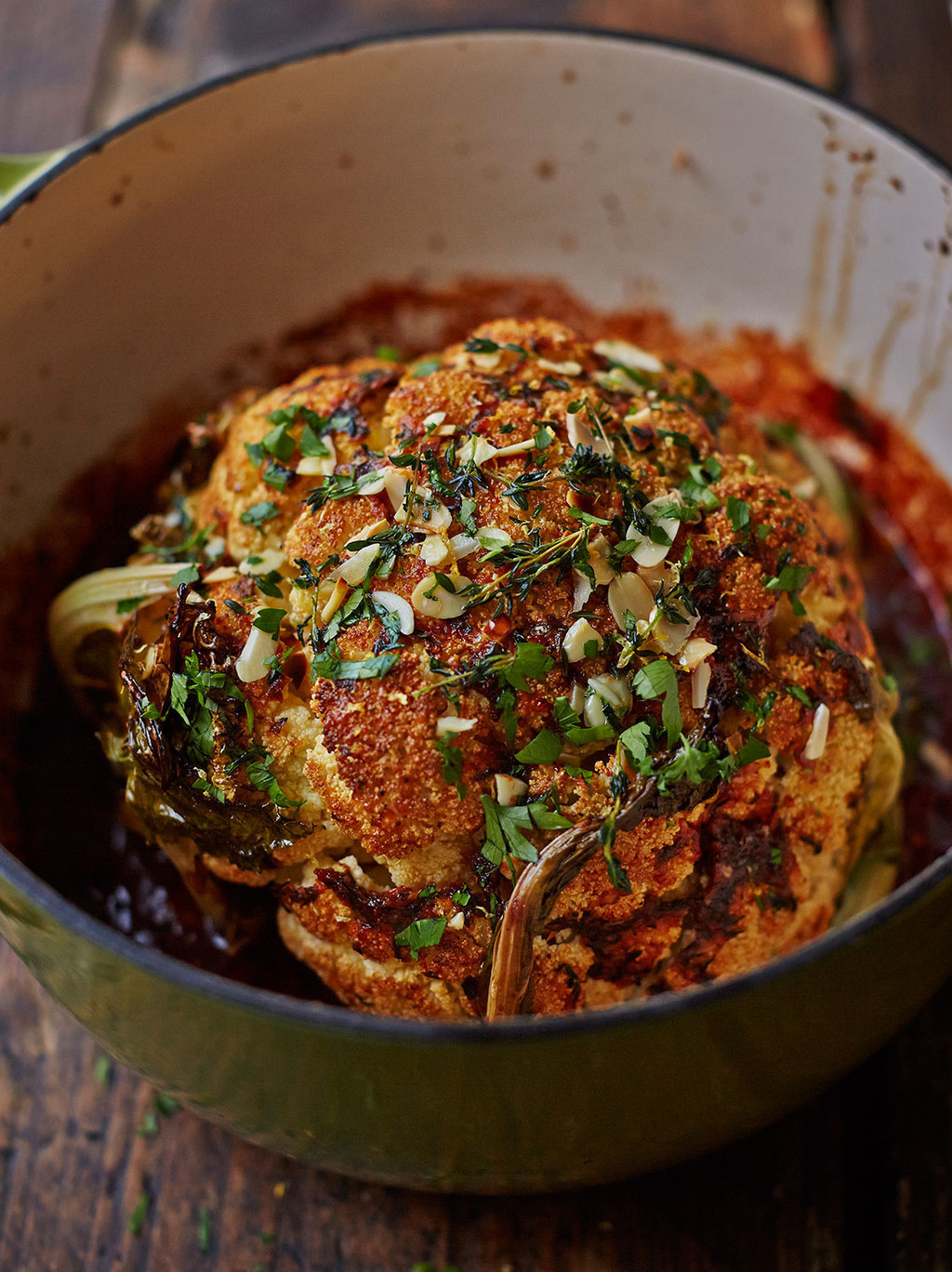 Looking for some meat-free side dishes to impress your guests? Check out these 6 mouth-watering options:
8. Vegan Porcini Mushroom Gravy: (V, can be GF)
9. The Creamiest Vegan Mashed Potatoes: (V, GF)
10. Vegan Mushroom Sausage Rolls: (V, can be GF)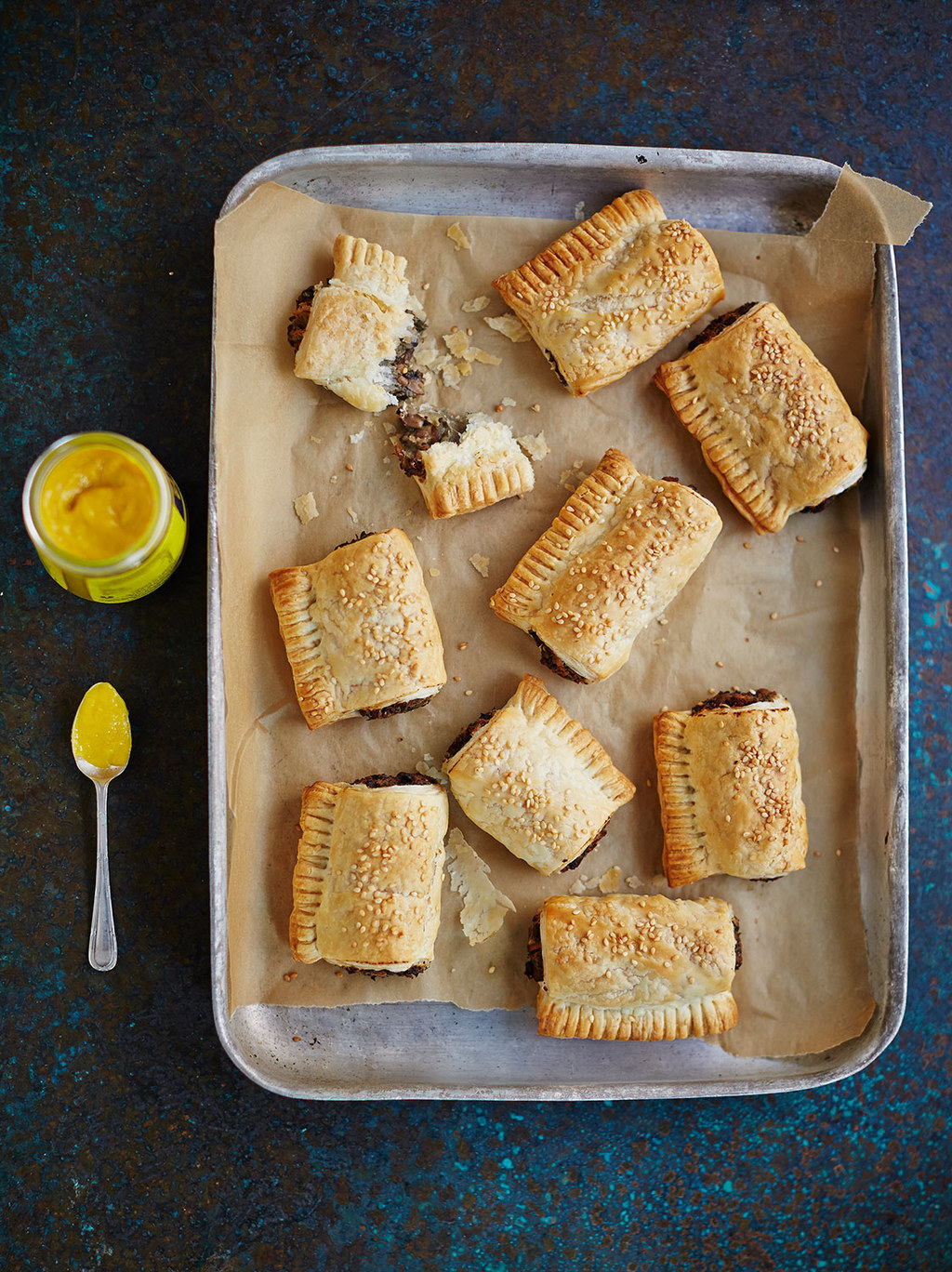 11. Maple Pecan Hasselback Butternut Squash: (V, GF)
12. Roasted Carrots with Farro, Chickpeas & Herbed Crème Fraîche:
13. Healthy Green Bean Casserole:  (V, can be GF)
And of course, no Thanksgiving meal would be complete without a devilish dessert. Check out these 7 terrifyingly tempting recipes:
14. Classic Pumpkin Pie: (GF, DF)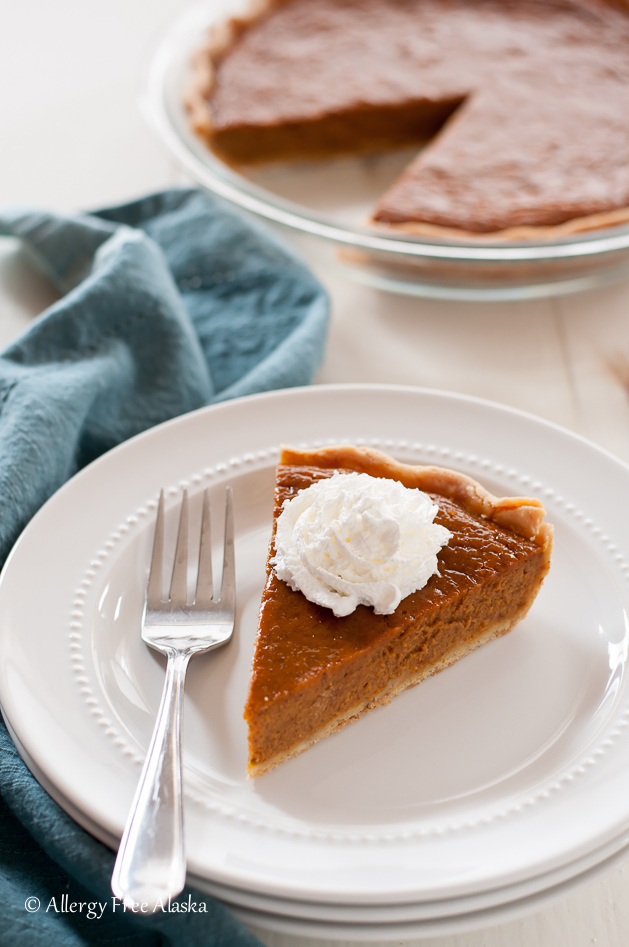 15. Apple Pie Bites: (V, can be GF)
16. Moist Carrot Cake: (V, can be GF)
17. Pumpkin Cheesecake: (V, GF)
18. Soft Pumpkin Ginger Cookies: (V, can be GF)
19. Vegan Cranberry Orange Scones: (V, can be GF)
20. Pumpkin Pecan Cinnamon Rolls with Cream Cheese Frosting: (V, can be GF)
Let us know if you've FALLen in love with one of these meatless recipes by posting a photo on Facebook or Instagram with the hashtag: #HallowGreenMeatlessMeal